Beyond the Classroom
China Forum
For more than 30 years, the SAIS China Forum has brought leading experts on China to the Johns Hopkins School of International Studies (SAIS) from academia, business, and the policy world, to speak to the Washington community on important topics of the day.
China Studies Luncheons
Throughout the academic year, the China Studies lunch series provides opportunities for students and faculty in the China Studies Program and others in the school's community to explore current China-related topics with experts in a small and informal setting.
 
Research and Publication Opportunities
Since 2015, the China Studies Program has published the China Studies Review, which features top student writing on China from the past year. The program also offers an annual China-focused research seminar for which students complete research papers of publishable quality. Students may also have opportunities to serve as research assistants for the school's faculty or as interns for scholars in area research institutions.   
Study Trips
The program organizes small study trips for students, focused on topics involving Chinese domestic or foreign policy. Recent trips include:
 
China's Urbanization and the Quest for Sustainable Prosperity (photo below)
Climate Change and the Water-Energy Nexus along the Mekong River (China and Vietnam)
China's Energy Transition: Governance, Innovation, and Society
Internships
The program provides limited funding to support summer internships. In 2019, the program will make three internship awards of $2,500 to $3,000.  Learn more.
Annual Rome Endowment Photo Contest
The China Studies Program hosts the annual Rome Endowment Photo Contest each year. This contest encourages the creative and perceptive use of photography to tell compelling stories based on our China Studies students' travel experiences in Greater China. Contest winners are voted on by their peers and top photographers win a cash prize and have the opportunity to speak about their work and experience. The contest grants three third place awards ($100), two second place awards ($200), and one first place award ($300). Past photographs appear below.


China Studies Review
Since 2014, the China Studies Program has published the China Studies Review, an annual student journal featuring interdisciplinary work by graduate students conducting research on China, including political science, economics, public policy, and area studies. Look through the latest issue below, and find out much more at the CSR website.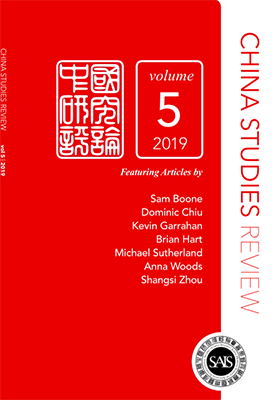 Prior to the creation of the Review, the program also featured research conducted by MA students on China in the China Studies Working Paper Series.
Mini-Courses
China Studies periodically hosts mini-courses taught by practitioners and outside experts that offer practical professional insights, highlight key skills sought by employers, and provide strong networking opportunities.

For example, in Spring 2018, Practitioner-in-Residence Beth Keck '85, a former Senior Director at Walmart and and expert on sustainability and women's empowerment in China, taught "Public Affairs in China: A Practical Approach." Ms. Keck has taught mini-courses  at Johns Hopkins SAIS in Washington DC, Nanjing, and Beijing. Read a Hopkins Nanjing student's reflection on the course.
Financial Aid
General Funds
The Financial Aid Office provides general financial aid resources and advisory services for all Johns Hopkins SAIS students.
China Studies Funds
Each year, the program offers top applicants funding through the Starr Excellence in China Studies Scholarship.

Students can also apply for the following scholarship:
 
The Christine and Erik Brown Fellowship for China Studies (open to new students): This scholarship provides two years of partial tuition support for an American citizen offered admission to the MA program with a concentration in China Studies. The recipient must declare his or her intention to pursue employment in US government service, education, journalism or the non-profit/non-government sector for five years after graduation.
The Stephen and Christine Liu Fellowship (open to rising second-year students): This scholarship is awarded to students who have distinguished themselves in China Studies and have exhibited the potential to lead in the field of US-China relations.
The James and Margaret Loe Fellowship (open to rising second-year students): Established in memory of James and Margaret Loe by their family, this scholarship supports students who have distinguished themselves in China Studies and contributed to better understanding between the people of the United States and China.