On the Bright Side: Updates for the Johns Hopkins SAIS community

May 22, 2020

SAIS Europe Receives Largest Gift in its History 
SAIS Europe received an unprecedented $10 million gift from James Anderson, a Johns Hopkins trustee, Bologna Advisory Council Chair, and alumnus (B'81), during its 65th anniversary and virtual alumni weekend, May 1-2. The contribution will not only benefit the school directly, but it also offers as much as $4 million in matching funds to encourage renewed and new philanthropy toward critical areas for SAIS Europe.
 
This contribution will support students, faculty, and new programming initiatives at SAIS Europe and will also enable better integration between the school, Johns Hopkins SAIS campuses in Nanjing, China, and Washington, DC, and the university's main campus. In addition, a portion of the gift will be directed toward SAIS Europe's COVID-19 Emergency Relief Fund.
SAIS faculty among COVID-19 Launchpad Grant Recipients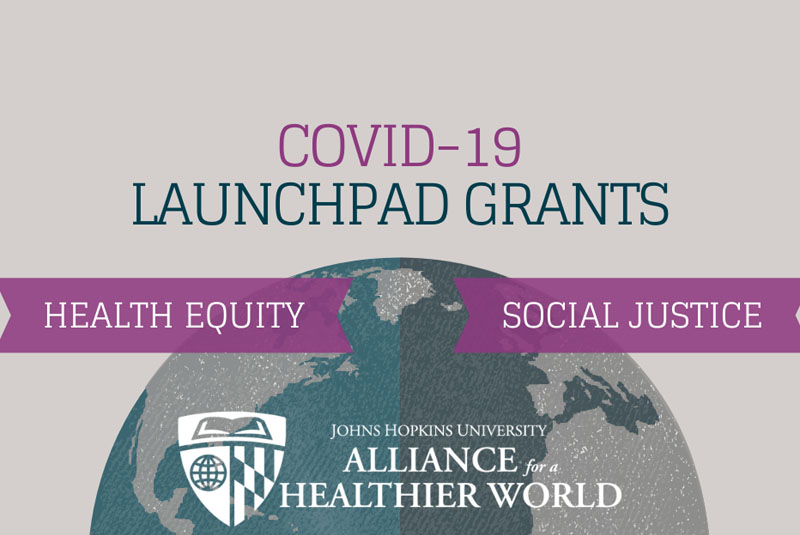 Jessica Fanzo, Bloomberg Distinguished Professor of Global Food & Agricultural Policy and Ethics, Jonas Nahm, Assistant Professor of Energy, Resources and Environment, Jeremy Shiffman, Bloomberg Distinguished Professor of Global Health Policy, and Johannes Urpelainen, Director and Prince Sultan bin Abdulaziz Professor of Energy, Resources and Environment, were recently awarded $25,000 COVID-19 Launchpad Grants from The Alliance for a Healthier World, Johns Hopkins signature initiative that integrates university-wide expertise and diverse perspectives to unlock groundbreaking knowledge in addressing unresolved global health equity challenges.
With these grants, Fanzo will oversee research into how coronavius policies will impact food security among vulnerable groups in Sri Lanka; Nahm and Urpelainen will create a website that will compare countries' COVID-19 stimulus packages in order to gauge how investments may lead to avoided emissions; and Shiffman will contribute to a project that seeks to track national policy responses that are dedicated to supporting vulnerable populations impacted by the pandemic.
#GiveTueHopkinsNow Beneftis Student Emergency Fund
The #GiveTueHopkinsNow campaign that took place May 5 raised more than $7,000 for the Johns Hopkins SAIS Student Emergency Fund, increasing the total amount raised to nearly $78,000. To date, 60 donors, including 13 members from the school's Board of Advisors, have contributed to the fund.
The school's Office of Student Affairs has distributed approximately $60,000 from the fund to more than 70 students who applied for assistance during the COVID-19 pandemic. If you are interested in contributing to the Student Emergency Fund, visit the
Giving section
of the school's website.
Special COVID-19 Section Added to SAIS Perspectives Website
International Development (IDEV) students who contribute to SAIS Perspectives, IDEV's student-run publication, have created a special COVID-19 section within its website. This special section will highlight content developed by students and faculty that examines the impact coronavirus will have on populations in developing countries.
Articles to date include a macroeconomic assessment of Ghana, an interview with a leader of the World Food Programme, a conversation on energy and development in Africa with an expert from the Center for Global Development, and a look at potential economic impacts in Ethiopia. Visit the
COVID-19 section
of the
SAIS Perspectives
website.
Coronavirus Pen Pal Project
David Lee '20 has launched
Penpaloo.com
, a project designed to connect people as pen pals for sharing thoughts and concerns to overcome the isolation of the pandemic.
SGA Election Results 
The votes are in and a new SGA team has been elected for the 2020-21 academic year. The new SGA team will consist of:
SGA President: Maya Allaf
SGA Vice President: Kim Jasmin
SGA Social Chairs: Aaron Zorman & Will Zhao
SGA Bologna Representative: Hayden Hubbard
Alumni named 2020 Next Generation Leaders of National Security and Foreign Policy
Jafer Ahmad '13, Carrie Kagawa '18, and Sid Ravishankar '17 were named to the Diversity in National Security Network and New America's second list of next generation Asian American Pacific Islander Foreign Policy and National Security experts. Ahmad, Kagawa, and Ravishankar were included in the list due to their current work in national security and foreign affairs and contributions to their issues of expertise through thought leadership.
Strategic Studies Hosts Virtual "Parting Shots"
More than 90 graduating students, faculty, and staff from the Strategic Studies program continued a tradition virtually with  "Parting Shots" on May 18. "Parting Shots" is an annual event in which Strategic Studies faculty and staff pass along final words of wisdom and toast graduating students.
As a result of the pandemic, Dan Gagliano '20 and Nora Bensahel, Visiting Professor of Strategic Studies, arranged for this year's graduates to receive celebratory boxes via the mail, featuring a mortarboard of letters from their professors and other goodies, and a magical virtual toast from John McLaughlin, Distinguished Practitioner-in-Residence at the Philip Merrill Center for Strategic Studies.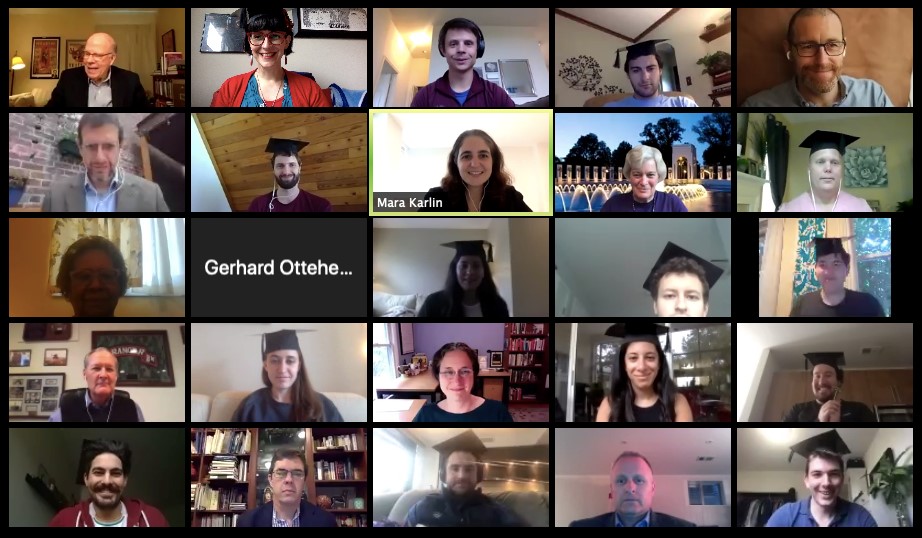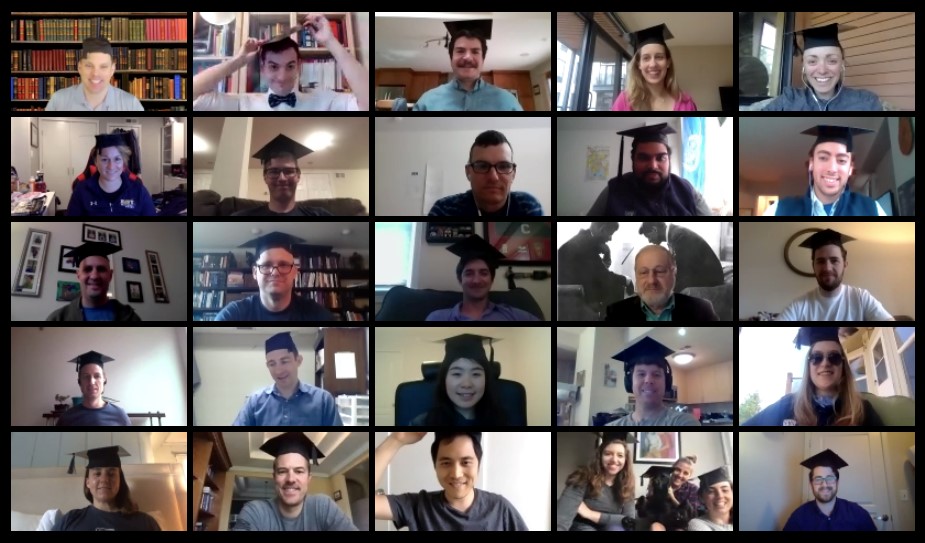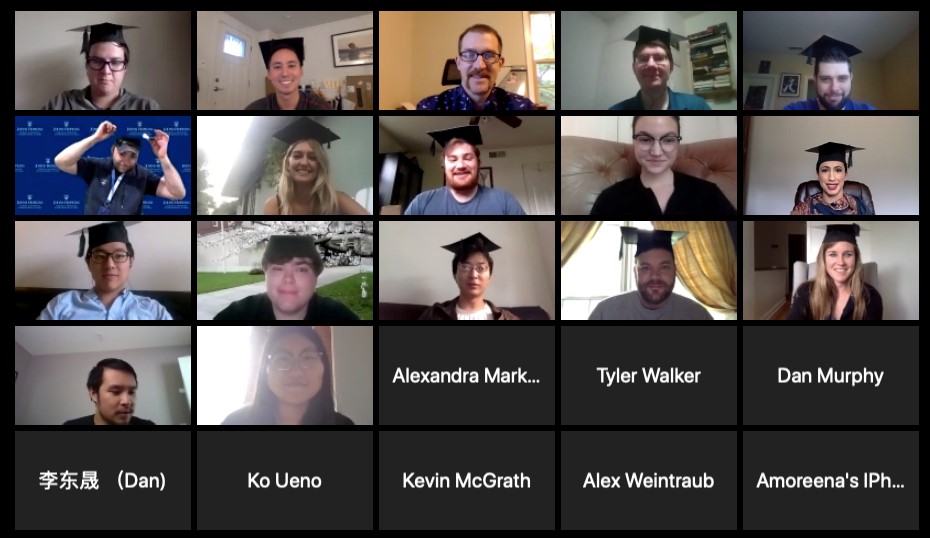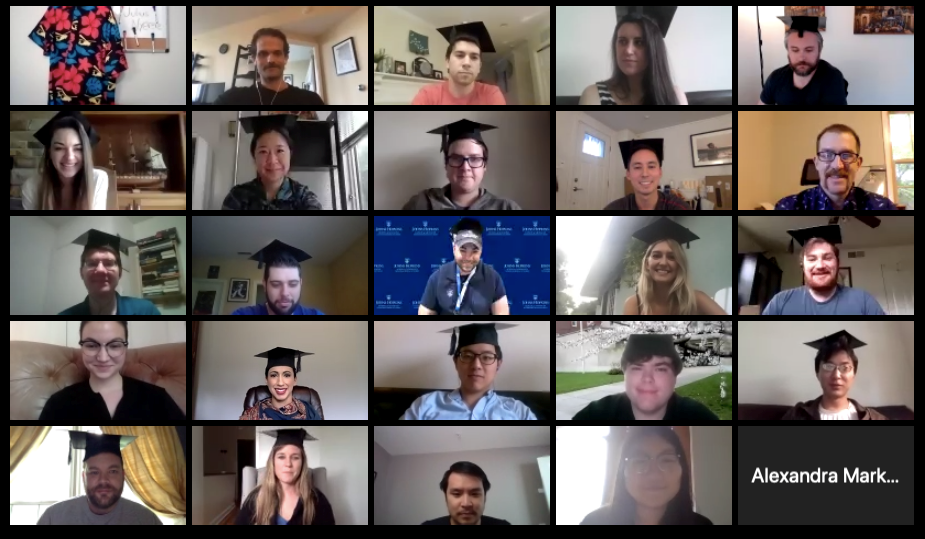 Have an update to share with Johns Hopkins SAIS students, staff, and faculty for this newsletter? Please submit it for consideration to JohnsHopkinsSAIS@jhu.edu .