2023 SAIS Europe Commencement Ceremony
On Saturday, May 20, SAIS Europe held its annual Commencement ceremony, a joyous occasion to celebrate all members of the SAIS Europe Class of 2023, including students who have just completed their year in Bologna, and most importantly, the 78 SAIS Europe degree candidates.
Graduates from the MAGR, MAIA, MEPP, MIPP, MAIR, and Diploma programs were individually recognized as family, friends, and loved ones looked on, both in person and over Zoom.

SAIS Europe Commencement 2023

Commencement Photo Album

---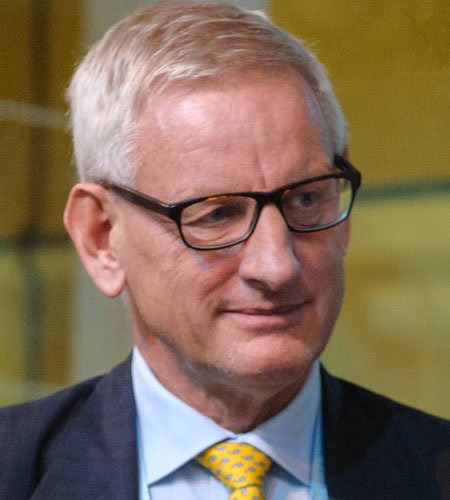 Commencement Speaker
Carl Bildt, Former Prime Minister and Foreign Minister of Sweden, will deliver the keynote address during the SAIS Europe 2023 commencement ceremony for the Johns Hopkins University School of Advanced International Studies (SAIS). The ceremony will be held on Saturday, May 20 at 4.00 P.M. CEST (10.00 A.M. EDT) at Aula Magna Di Santa Lucia.
Michael G. Plummer, SAIS Europe Director and Eni Professor of International Economics, will lead the event and introduce Carl Bildt. Carl Bildt is currently Co-Chair of the European Council on Foreign Relations, a contributing columnist to the Washington Post as well as a columnist for Project Syndicate. He serves as Senior Advisor to the Wallenberg Foundations in Sweden and is on the Board of Trustees of the RAND Corporation in the US. During his career, he served in international functions with the EU and UN, primarily related to the conflicts in the Balkans. He was Co-Chairman of the Dayton peace talks in Bosnia and become the first High Representative in the country and was the Special Envoy of UN Secretary-General Kofi Annan to the region.

For the first time, the SAIS Europe Commencement will take place in the Aula Magna di Santa Lucia located in the center of Bologna on Via Castiglione, 23, 40124 Bologna BO, courtesy of our collaborations with the University of Bologna. The Aula Magna is a beautiful historical space that was created as a church in the 5th century and was then transformed into a secular building for important ceremonies for UNIBO.

---
Class of 2023 Toast Reception
The ceremony will be followed by a Cocktail and Dinner Reception at SAIS Europe Bologna Center, Via B. Andreatta, 3 - Bologna.
Contact Us
For any questions about the event please contact [email protected]