Mason Library | Washington DC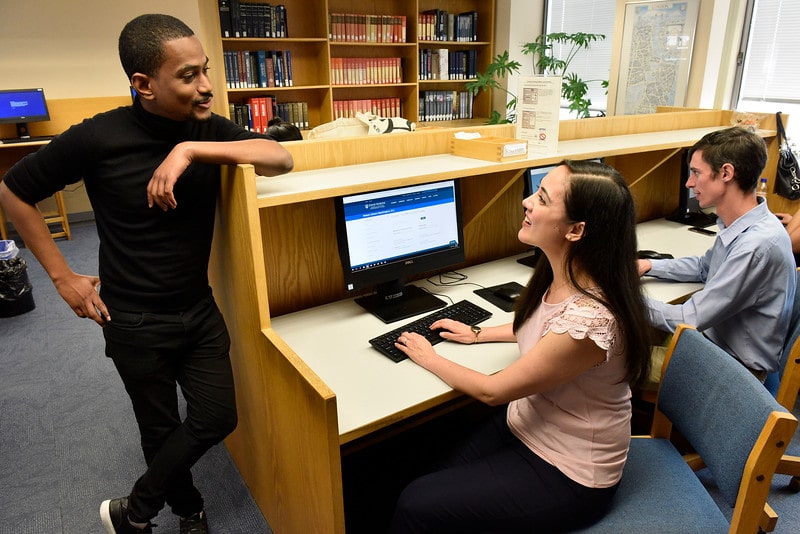 Mason Library provides services, collections, and technologies that support the Johns Hopkins SAIS community.
Library Hours
SAIS Library's physical spaces will close from May 27 to mid-August (date TBC). While preparing for the move to 555 Pennsylvania Avenue, Library staff will provide support via email or Zoom. Contact us at [email protected]

Librarians are available from Monday - Friday: 9:00 a.m. – 5:00 p.m. Book Pickup/Return hours: Monday - Friday: 7:00 a.m. – 7:00 p.m. in the Nitze Lobby. More details.

Using The Library, Summer 2023
Book Pickup Service
Research Tools
Catalyst, the JHU Libraries Catalog
Research Guides by Topic
SAIS Databases
Find It Journal Linker
All JHU Libraries Databases
Library Policies
Access requires a valid Johns Hopkins University ID or Alumni Card. A Library Visitor Pass may be obtained if you are a:
Johns Hopkins University alumnus
Johns Hopkins University retiree
Spouse/registered domestic partner of Johns Hopkins SAIS students, faculty or staff
Current Johns Hopkins students have priority over alumni and other library guests. In-library privileges may be limited based on availability of seating and resources.
Direct questions about access, including obtaining a Visitor Pass, to [email protected]. You can also call +1 (202) 663-5900 between the hours of 9:00 am and 5:00 pm (EST), Monday through Friday.
Additional information on Alumni Library Services
Johns Hopkins SAIS students can reserve one of the Library's four group study rooms for a maximum of two hours per day, per group. Repeating event booking is not allowed; reservations expire after 15 minutes.
Mason Library rooms can be booked 
here
.
Additional study rooms are located in the Johns Hopkins Washington DC Learning Commons located on the 3rd floor of the Bernstein-Offit Building (1717 Massachusetts Ave.). Those rooms can be booked here and are available to all DC-based Johns Hopkins students.
Loan period: 16 weeks, all Hopkins non-reserve books; no limit to the number of books you may check out.
Renewals: Unlimited renewals, unless someone else has requested the book. You can renew 16-week books online via your Catalyst account, by email, or by phone at +1(202) 663-5900.
E-reserves: When possible, the Library posts as much required material as we can, in accordance with copyright law guidelines. Access the materials via Canvas (click on eReserves on your class site).

"Reserve" books are required readings for each course, made available for short-term loan at the Circulation Desk. 
Loan policy: Two items at a time, three hours or overnight*
Renewals: In person only 
Overdue fines: $1.00 an hour or fraction of an hour 

Overnight checkout begins:
Sunday through Thursday: 5 pm, due back next day at 12 pm. 
Friday and Saturday: 3 pm, due back next day at 1 pm.
Holds: You may place a hold on a reserve reading which is in use or which you would like to borrow later the same day (not for another day)

*Summer policies may vary. Check with the Circulation Desk for more details.
Food and drink are permitted in the Library, but should be kept away from computers and printers. In consideration of your fellow students, avoid consuming food items that create messy work spaces, strong odors, and/or noise. Please dispose of all trash and take responsibility for cleaning spills, food crumbs, etc.
No alcohol may be brought in and/or consumed by individuals without prior permission, in writing, from the Director of Student Life and the Library Director.
Multi-function machines are located on the 6th floor.
-Single or double sided: 7 cents per sheet
-Color prints: 20 cents per side
-Scanning is free
Add value to your JCard or copy card account at the vend station opposite the Library's Circulation Desk or deposit money online.
Library workstations default to double-sided printing, unless you specify single-sided.
Printing from Laptops and Mobile Devices
Printing from your laptop or mobile device requires a one-time configuration to your device.
Library Staff
The Mason Library's staff are here to help. Don't hesitate to reach out if we can be of assistance to you.

Jacqueline Ganem 
Circulation / Research Specialist / +1(202) 663-5900
Susan High
Circulation Supervisor / Research Specialist / +1(202) 663-5900
Jenny Kusmik 
Cataloger / Research Librarian / +1(202) 663-5958
Bart LaFaso 
Library Assistant / +1(202) 663-5913
Wanda Notzon 
Library Assistant / +1(202) 663-5958
Stephen Sears 
Associate Director / +1(202) 663-5907
Sheila Thalhimer 
Director of the Library / +1(202) 663-5905
The Mason Library also employs a team of student assistants each semester. Evening and weekend hours are required. Contact [email protected] for more information. Applications are taken throughout the year, with preference given to students able to work more than one semester.
Apply here.