H.E. Ambassador Lana Nusseibeh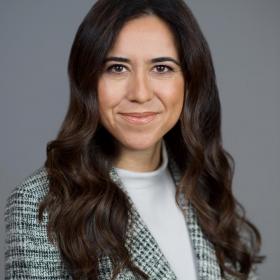 Ambassador Lana Nusseibeh presented her credentials as Ambassador and Permanent Representative of the United Arab Emirates to the United Nations in New York in September 2013. In December 2021, President His Highness Sheikh Khalifa bin Zayed Al Nahyan issued a Federal Decree granting her the rank of Minister. In February 2021, she was appointed Assistant Minister for Political Affairs. She also presented her credentials as non-resident Ambassador of the UAE to Grenada in November 2017.

Ambassador Nusseibeh served as Co-Chair of the Intergovernmental Negotiations on Security Council Reform for three sessions of the UN General Assembly from 2017 to 2020. She previously served as Vice-President of the General Assembly for the 72nd session. She has also served as President of the UN Women Executive Board in 2017, as Cofacilitator of the Ad Hoc Working Group on the Revitalization of the UN General Assembly for the 71st session of the General Assembly, and as Co-facilitator for the overall review of the implementation of the outcomes of the World Summit on the Information Society (WSIS) in 2015.

Alongside the Permanent Representative of the United Kingdom, Ambassador Nusseibeh CoChairs the Friends of the Future of the UN (FFUN), a small group of Permanent Representatives who convene regularly for briefings and unscripted, substantive discussions on the most pressing issues affecting the future of the organization. In 2017, she was awarded the UAE Prime Minister's Government Excellence Award (the UAE Medal of Pride).

Prior to her appointment as Permanent Representative to the UN, Ambassador Nusseibeh served in several capacities within the UAE Ministry of Foreign Affairs, establishing the Ministry's Policy Planning Department in 2009 and serving as its first Director for three years. During this time, she was also the UAE Deputy Sherpa at the G20 Leaders' Summit under the Presidency of France in 2011. From 2010 – 2011, she also served as the UAE Co-Special Envoy to Afghanistan and Pakistan. Previously, she was the Head of the International Renewable Energy Agency (IRENA) Campaign Task Force at the Ministry of Foreign Affairs, and Director of Research and Communications for the Ministry of State for Federal National Council Affairs.

Ambassador Nusseibeh received an MA (Cantab) and BA (Hons) in History from the University of Cambridge in the United Kingdom, and an MA with Distinction in Israeli and Jewish Diaspora Studies from the School of Oriental and African Studies (SOAS), University of London in 2003.

She is a member of the Board of Trustees of the Emirates Diplomatic Academy, Treasurer on the Board of Directors of Security Council Report (SCR), and serves on the Advisory Board of The London School of Economics' Middle East Centre, and on the Advisory Board of Johns Hopkins School of Advanced International Studies (SAIS).