Future Strategy Forum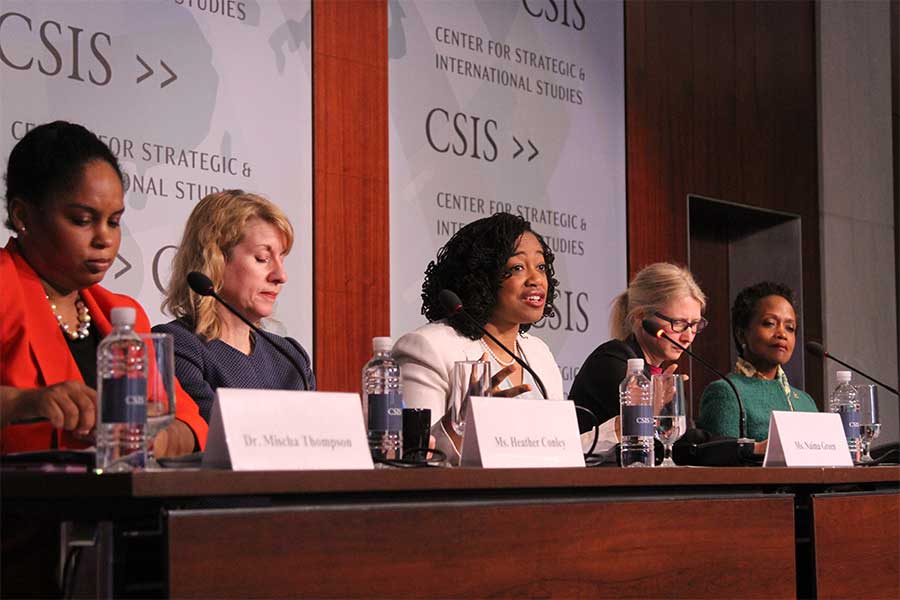 Hosted by the Kissinger Center and the Smart Women, Smart Power Initiative at the Center for Strategic and International Studies (CSIS) in collaboration with PhD candidates in MIT's Security Studies program, the Future Strategy Forum is an initiative that connects scholars who research national security with leading practitioners, showcases female talent in the field, and builds a vertical and horizontal network across the policy-academic gap.
U.S. national security would be better served if all talent were empowered to contribute, regardless of gender, and if cutting-edge academic research spoke directly to practitioner communities. Yet, women remain underrepresented in national security research and policy making, and national security academics remain siloed from policy. FSF confronts these two challenges by bringing together female scholars and practitioners to address critical policy dilemmas and advance women in foreign policy. 

Open to all, the forum hosts annual conferences bringing together more than 300 academics, practitioners and graduate students. The inaugural conference, The Future of Force featured all women-panels devoted to the changing character of warfare and applying scholarship from the seminar room to the situation room.
2018 Forum on the Future of Force
The 2018 Future Strategy Forum focused on the evolution of modern warfare and its implications for U.S. national security. It included discussions on the future of non-state power, security competition between states, the future of warfare technology, and applying scholarship from the situation room to the seminar room.
2019 Forum on the Future of Statecraft
The 2019 Future Strategy Forum explored the future of international cooperation and engagement. Defending national interests and solving international problems often calls for cooperative approaches. The day's three panels discussed the changing nature of U.S. engagement with the world, from the expanding list of actors with whom we engage, to the shifting tools of engagement, to the challenges of cooperating in a period of heightened geopolitical competition.
Future Conferences
2020 Forum on Cooperation and Conflict in the Time of Covid-19
What does the global response to the Covid-19 pandemic tell us about prospects for cooperation in the face of future global threats to human health and security? How has Covid-19 changed military doctrine and challeneged our understanding of civ-mil relations? What has Covid-19 revealed about the way policymakers use technology and how do we debate the trade-offs between increased surveillence and privacy rights in the midst of a pandemic? The Covid-19 pandemic has introduced many questions and challenges to our time. Join us the first week of June as we discuss questions around Covid-19 and its impact on grand strategy, military use and democracy and governence.

You can register for our sessions here: 
June 2 at 9am ET: Keynote with the Hon. Michele Flournoy
June 3 at 1pm ET: Covid-19 and Grand Strategy
June 4 at 1pm ET: Covid-19 and the Military
June 5 at 1pm ET: Covid-19 and Democracy and Governance 

2021 Forum on the Future of Technology and National Security
With both the security and technology fields traditionally dominated by men, it is time to introduce and showcase female leadership in these fields. Our forum will explore the implications for US national security, international security, and transnational conflict of technological developments in cyberspace, outer space, nuclear, unmanned systems, artificial intelligence and bio-engineering. Our experts—all of them women—will address pressing questions and advance cooperative solutions to the challenges of emerging technologies and international security.
 
2022 Forum on the Future of Climate Change and Security
It is time to explore the intersection of climate change and international security. We aim to bring together female leaders to discuss the implications of a changing climate, including extreme weather, drought, food insecurity and rising temperatures, on the prevalence of conflict, economic prosperity, and human security. The forum will also explore the challenges and prospects for international cooperation to resolve or mitigate these issues.


This series is made possible with support by The Center for Strategic and International Studies (CSIS) and the Henry A. Kissinger Center for Global Affairs at Johns Hopkins School of Advanced International Studies (SAIS).