Sean Ryan '93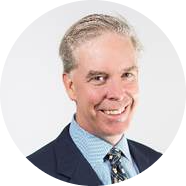 Sean is a partner at Kearney where he is a member of the Americas Leadership Team and leads the Global CPG Sector Team.  He has twenty-five years of consulting experience working and living in the Americas, Europe and Asia.  He has held several leadership positions within the Firm – Global Partner Selection Committee; Americas lead: Strategy, Marketing and Sales Practice. He led the establishment of Kearney's DEI initiative: People Advocating for Real Change (PARC).
Sean's client work focuses on growth and profitability transformation.  Active work is focused on digital platform strategy, merger integration, route to market and data management.  Sean serves global clients across multiple CPG sectors: Food & Beverage, Beverage Alcohol, Beauty and Personnel Care and Household.
He publishes and speaks at industry conferences.  He has been quoted by the Wall Street Journal, The New York Times, CNN Money.  He is recognized by the Chicago Council on Global Affairs as one of Chicago's emerging leaders and serves on the Advisory Board of Johns Hopkins University School of Advanced International Studies.
Selected Publications
"How Loss Aversion and Conformity Threaten Organization Change", Harvard Business Review
"Death of the (Traditional) Salesperson", Ivey Business Journal
"Four Possible Recovery Scenarios for the Hospitality Industry", HospitalityTech
"The Economic and National Security Rationale for Free Trade", The Hill
"Transformation Through M&A Integration", Kearney White Paper
"Principles and Practicality: Foreign Trade and the Global Supply Chain Executive", ISM
"Greece Has Spoken, How Will EU Leaders Respond?" LinkedIn Pulse
"Greece's Vote On Sunday: Between Scylla and Charybdis", LinkedIn Pulse
"Decision Making In A World of Uncertainty", American Management Association
Board Memberships
The Johns Hopkins University Paul H. Nitze School of Advanced International Studies
Public Sector and Defense Sector, Kearney
Education
M.B.A.,   University of Chicago, Booth School of Business
M.A.,      The Johns Hopkins University School of Advanced International Studies (SAIS)
A.B.,       Boston College
In process: Harvard University, Business Analytics and Data Science