"Are We Living Through Another Cold War?" Kissinger Center Professor Sergey Radchenko Delivers Inaugural Wilson E. Schmidt Lecture at SAIS Europe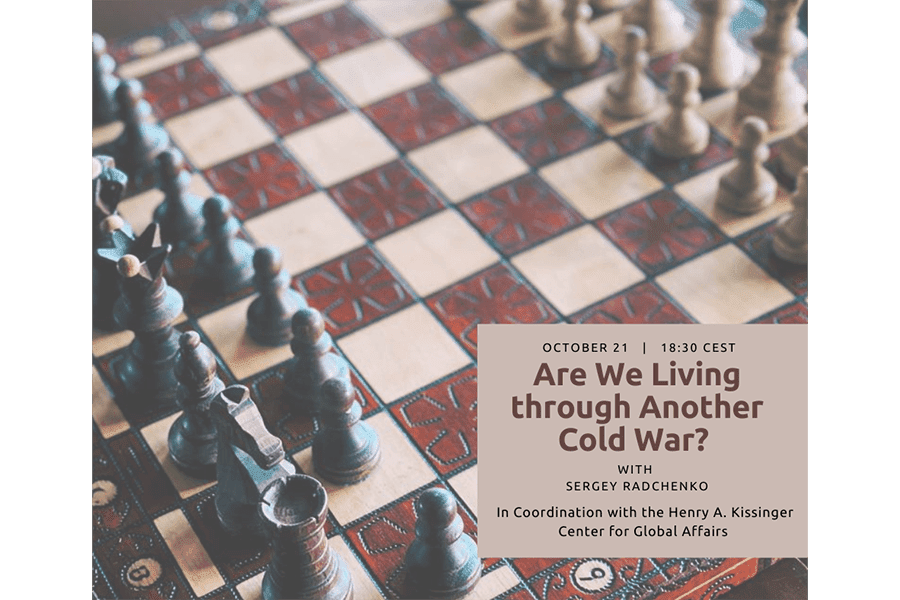 Professor Radchenko's lecture was followed by a discussion moderated by the Director of the Kissinger Center and the Giovanni Agnelli Distinguished Professor, Francis J. Gavin, and hosted by Professor Michael G. Plummer, Director of SAIS Europe and the Eni Professor of International Economics.
Professor Sergey Radchenko
 is the Wilson E. Schmidt Distinguished Professor at the Johns Hopkins School of Advanced International Studies and a Senior Fellow at the Henry A. Kissinger Center for Global Affairs. He has written extensively on the Cold War, nuclear history, and on Russian and Chinese foreign and security policies. He has served as a Global Fellow and a Public Policy Fellow at the Woodrow Wilson Centre and as the Zi Jiang Distinguished Professor at East China Normal University (Shanghai). Radchenko's books include 
Two Suns in the Heavens: the Sino-Soviet Struggle for Supremacy
 (Wilson Center Press & Stanford UP, 2009) and 
Unwanted Visionaries: the Soviet Failure in Asia 
(Oxford UP, 2014). Radchenko is a native of Sakhalin Island, Russia, was educated in the US, Hong Kong, and the UK, where he received his PhD in 2005 (LSE). Before he joined SAIS, Radchenko worked and lived in Mongolia, China, and Wales.
Professor Francis J. Gavin
 is the Giovanni Agnelli Distinguished Professor and the inaugural director of the Henry A. Kissinger Center for Global Affairs at Johns Hopkins SAIS. In 2021, Professor Gavin was named a 2021-2022 Ernest May Senior Visiting Fellow of the Applied History Project at Harvard's Belfer Center for Science and International Affairs. In 2013, he was appointed the first Frank Stanton Chair in Nuclear Security Policy Studies and Professor of Political Science at MIT. Before joining MIT, he was the Tom Slick Professor of International Affairs and the Director of the Robert S. Strauss Center for International Security and Law at the University of Texas. From 2005 until 2010, he directed The American Assembly's multiyear, national initiative, The Next Generation Project: U.S. Global Policy and the Future of International Institutions. Gavin's writings include 
Gold, Dollars, and Power: The Politics of International Monetary Relations, 1958-1971
 (University of North Carolina Press, 2004), 
Nuclear Statecraft: History and Strategy in America's Atomic Age
 (Cornell University Press, 2012), and 
Nuclear Weapons and American Grand Strategy
 (Brookings Institution Press, 2020), which was one of five titles selected for the Choice Reviews 2020 Outstanding Academic Titles List in international relations.
Professor Michael G. Plummer
 has been Director of SAIS Europe since 2014. A SAIS Professor of International Economics since 2001 and the Eni Professor of Economics since 2008, he was Head of the Development Division of the Organization for Economic Co-operation and Development (OECD) in Paris from 2010 to 2012; an associate professor at Brandeis University (1992-2001); and Editor-in-Chief of the 
Journal of Asian Economics
 (Elsevier) 2007-2015 (currently Editor-in-Chief Emeritus). He was president of the American Committee on Asian Economic Studies (ACAES) from 2008 until 2015. A former Fulbright Chair in Economics and Pew Fellow in International Affairs at Harvard University, he has been an Asian Development Bank (ADB) distinguished lecturer on several occasions and team leader of projects for various organizations including the Association of Southeast Asian Nations, the United Nations, the OECD, the ADB, the World Bank, and the World Trade Organization. He has taught at more than a dozen universities in Asia, Europe, and North America. Professor Plummer has advised several governments on the Transpacific Partnership (TPP) negotiations and is member of the editorial boards of 
World Development
, the 
Asian Economic Journal
; and the 
Journal of Southeast Asian Economics
 (formerly 
ASEAN Economic Bulletin
). He is author/co-author of over 100 journal articles and book chapters. His PhD is in economics from Michigan State University.