Annual Conferences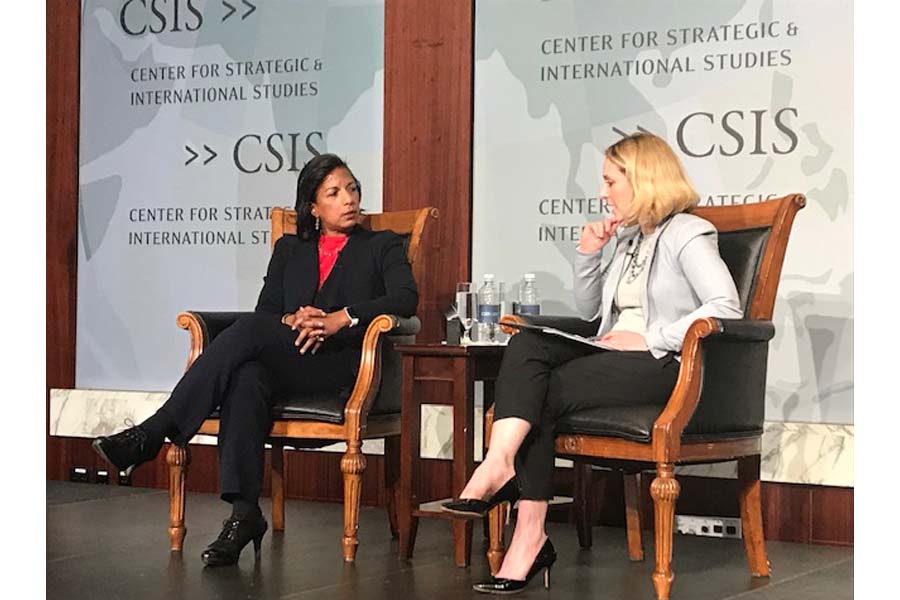 Annual Conferences
Each year, the Future Strategy Forum (FSF) hosts a conference open to the public that highlights the expertise of leading women on key national security issues of the day. In addition to our public event, we sponsor PhD students to attend and participate in mentorship sessions.
2021 Forum on the Future of National Security and Technology
The Henry A. Kissinger Center for Global Affairs at Johns Hopkins School of Advanced International Studies (SAIS) and the Center for Strategic and International Studies (CSIS) are pleased to have hosted the 2021 Future Strategy Forum, an initiative to connect scholars who research national security with its leading practitioners. With both the security and technology fields traditionally dominated by men, it is time to introduce and showcase female leadership in these fields. Our forum explores the implications for US national security, international security, and transnational conflict of technological developments in cyberspace, outer space, nuclear, unmanned systems, artificial intelligence and bio-engineering. Our experts—all of them women—address pressing questions and advance cooperative solutions to the challenges of emerging technologies and international security.
Learn more
Conference Agenda

Day One
Monday, May 10 
3:30 PM Guest Keynote: Anne Neuberger
Deputy National Security Advisor, Cyber & Emerging Technology
National Security Council, The White House


Introductory Remarks: Francis J. Gavin
Giovanni Agnelli Distinguished Professor and Director of the Henry A. Kissinger Center for Global Affairs
Johns Hopkins SAIS


Panel 1: Emerging Technologies and Warfighting
4 pm EST

The panel considered the ways in which emerging technologies are shaping the battlespace and changing the nature of warfare. What are the most important emerging technologies for warfighting? What impact will emerging technologies have on the traditional domains of conflict (e.g. air, sea, and land) and on emerging ones (e.g. space and cyberspace)? Do the benefits and costs of these technologies accrue differently to state and non-state actors, or across political systems? This panel assesses how prepared the U.S. military is to acquire, integrate, and adapt these technologies into warfighting, and how prepared competitors such as China and Russia are able to do the same.
Ulrike Franke, Senior Policy Fellow, European Council on Foreign Relations
Julie George, PhD Candidate, Cornell University 
Evanna Hu, CEO and Partner, Omelas
Nina Kollars, Associate Professor, U.S. Naval War College
Sara Plana (moderator), PhD Candidate, MIT
Day Two
Tuesday, May 11
Panel 2: Emerging Technologies and Statecraft
1 pm EST

This panel considers the ways in which emerging technologies are shaping interstate interactions across the spectrum short of kinetic action, from statecraft and diplomacy to information operations, and more. Which elements of emerging technologies are driving cooperative behaviors, and which are driving competitive behaviors? Are emerging technologies increasing the risks of misperception and miscalculation or contributing to deterrence? How successful have efforts been to establish laws or norms governing the use of emerging technologies? Does the emergence of these technologies suggest a need to restructure the national security apparatus and the responsibilities assigned to different bureaucracies? How does emerging technology impact the relationship between states and non-state actors, like private sector companies?
Ginny Badanes, Director of Strategic Projects, Cybersecurity and Democracy, Microsoft
Christie Lawrence, Director, Research and Analysis, National Commission on Artificial Intelligence
Suzanne Spaulding (moderator), Senior Advisor, Homeland Security, International Security Program
Camille Stewart, Head of Security Policy - Google Play & Android, Google
Sanne Verschuren, PhD Candidate, Brown University
Panel 3: Janne Nolan Prize Winners: Discussion of Emerging Technology and National Security
3 pm EST
In 2020, as part of the Future Strategy Forum, the Henry A. Kissinger Center for Global Affairs, in cooperation with CSIS and the Texas National Security Review, offered prizes to the best new scholarship from early career scholars in national and international security. Winners of the Janne Nolan Prize competition, Dr. Jane Vaynman, Dr. John Emery and Ms. Saher Naumaan speak on their winning essays to be published this summer in a special edition of the Texas National Security Review. Their articles focus on the implications of emerging technology on arms control, the origins of political-military wargaming and issues around surveillance, security and privacy. This panel will also illuminate other technology-driven challenges in national security.

Concluding Keynote with Rose Gottemoeller
4 PM EST
In this keynote address, Rose Gottemoeller, former Deputy Secretary General of NATO, Under Secretary for Arms Controls and International Security at the U.S. Department of State, and chief U.S. negotiator of the New Strategic Arms Reduction Treaty (New START), spoke with Beverly Kirk, Fellow and Director for Outreach in the CSIS International Security Program and Director of the CSIS Smart Women, Smart Power Initiative, about the potential impact of emerging technologies on nuclear security, including cybersecurity, AI, quantum computing, and others.



Day Three
Wednesday, May 12
1 pm EST 
This 
war game
 explored the relationship between new technologies, domestic politics, conventional military capabilities, and nuclear threats. Players simulated decisionmaking roles in a national security cabinet and come to the war game as leaders in private industry, government, academia, and the military. The aim is to better understand the role that emerging technologies play in crisis decisionmaking and how Cold War paradigms of deterrence and crisis escalation apply in a world with new capabilities and vulnerabilities.
2020 Forum on Cooperation and Conflict in the Time of Covid-19
What does the global response to the Covid-19 pandemic tell us about prospects for cooperation in the face of future global threats to human health and security? How has Covid-19 changed military doctrine and challeneged our understanding of civ-mil relations? What has Covid-19 revealed about the way policymakers use technology and how do we debate the trade-offs between increased surveillence and privacy rights in the midst of a pandemic? The Covid-19 pandemic has introduced many questions and challenges to our time. Watch our conference on Covid-19 and its impact on grand strategy, military use and democracy and governence below at the links below.

Learn More
Watch our sessions here: Keynote with the Hon. Michele Flournoy
Covid-19 and Grand Strategy
Covid-19 and the Military
Covid-19 and Democracy and Governance
2019 Forum on the Future of Statecraft
The 2019 Future Strategy Forum explored the future of international cooperation and engagement. Defending national interests and solving international problems often calls for cooperative approaches. The day's three panels discussed the changing nature of U.S. engagement with the world, from the expanding list of actors with whom we engage, to the shifting tools of engagement, to the challenges of cooperating in a period of heightened geopolitical competition.

Learn More


2018 Forum on the Future of Force
The 2018 Future Strategy Forum focused on the evolution of modern warfare and its implications for U.S. national security. It included discussions on the future of non-state power, security competition between states, the future of warfare technology, and applying scholarship from the situation room to the seminar room.

Learn More