Mentorship
Graduate Student Cohort
FSF provides vertical and horizontal mentorship and professional development opportunities for PhD students. Each year, FSF offers a small stipend to select PhD students of all genders from around the United States to attend our conference in Washington, D.C., based on a competitive application process. These FSF Graduate fellows benefit from:
A stipend to attend the in-person conference in Washington, D.C.
Opportunity to attend graduate student sessions with scholars, and practitioners, highlighting both the substantive expertise and professional advice of panelists.
Preference for publication opportunities, including our Op-Ed series.
Network-building with other PhD students committed to rigorous scholarship and policy relevance in international security.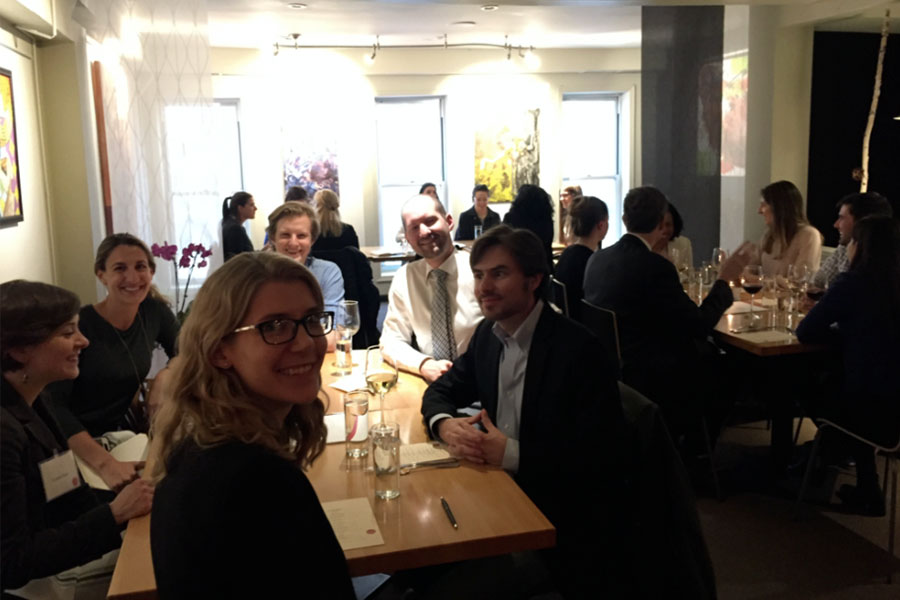 Sessions
Our graduate student sessions offer a chance to meet established and early-career scholars and practitioners in an informal and constructive setting. Each session focuses on a substantive area of focus for the conference, but reserves time for career and professional advice.
How to Apply
If you are a current PhD student in a field related to international security, you are eligible to become an FSF fellow. We release applications in February, with final decisions in March. Interested applicants should check this page or sign up for our newsletter to get notified that applications have opened. 
FSF Graduate Fellows
2020 FSF Graduate Student Cohort
Abby Fanlo, PhD Candidate, Stanford University
Autumn Perkey, PhD Student, The University of Maryland
Ayse Deniz Lokmanoglu, PhD Candidate, Georgia State University
Caitlin McCulloch, PhD Candidate, The University of Maryland
Dakota Foster, JD Candidate, Stanford University
Diana Wueger, PhD Candidate, University of Chicago
Dora Hu, PhD Student, UC San Diego
Emily Przyborowski, MA Student, Johns Hopkins School of Advanced International Studies
Fola Aina, PhD Student, King's College London
Jamie Kwong, PhD Student, King's College London
Jayme Schlesinger, PhD Candidate, Rutgers University
John R. Emery, Stanton Nuclear Security Fellow, Stanford University (CISAC)
Kendrick Kuo, PhD Candidate, George Washington University
Leore Ben-Chorin, PhD Candidate, George Washington University
Nandita Balakrishnan, PhD Candidate, Stanford University
Naomi Egel, PhD Candidate, Cornell University
Nina Miller, PhD Student, Massachusetts Institute of Technology
Rebecca Lucas, PhD Candidate, King's College London
Ryan Dukeman, PhD Student, Princeton University
Sanne Verschuren, PhD Candidate, Brown University
Sylvia Mishra, PhD Student, King's College of London
Viola Rothschild, PhD Student, Duke University
Whitney Grespin, PhD Student, King's College London
FSF Graduate Student Cohort: 2019
Alexandra Evans, Associate Policy Researcher at the RAND Corporation
Alexandra Stark, Senior Researcher, New America
Andres Gannon, PhD Candidate at UC San Diego, Department of Political Science
Andy Halterman, PhD Candidate at Massachusetts Institute of Technology, Department of Political Science
Angely Martinez, PhD Candidate and NNSA Graduate Fellow, Syracuse University and Pacific Northwest National Lab
Audrye Wong, Grand Strategy, Security, and Statecraft Postdoctoral Fellow, Harvard Kennedy School/MIT
Cassandra Emmons, Postdoctoral Fellow, Weatherhead Center for International Affairs at Harvard University
Laura White, PhD candidate in the Politics Department at the University of Virginia
Lindsay Hundley, Postdoctoral Fellow at Stanford's Center for International Security and Cooperation
Lydia Sizer, PhD Candidate, The Fletcher School, Tufts University
Minseon Ku, PhD Student at Ohio State University, Political Science