Kissinger Center launches the America and the Future of World Order Project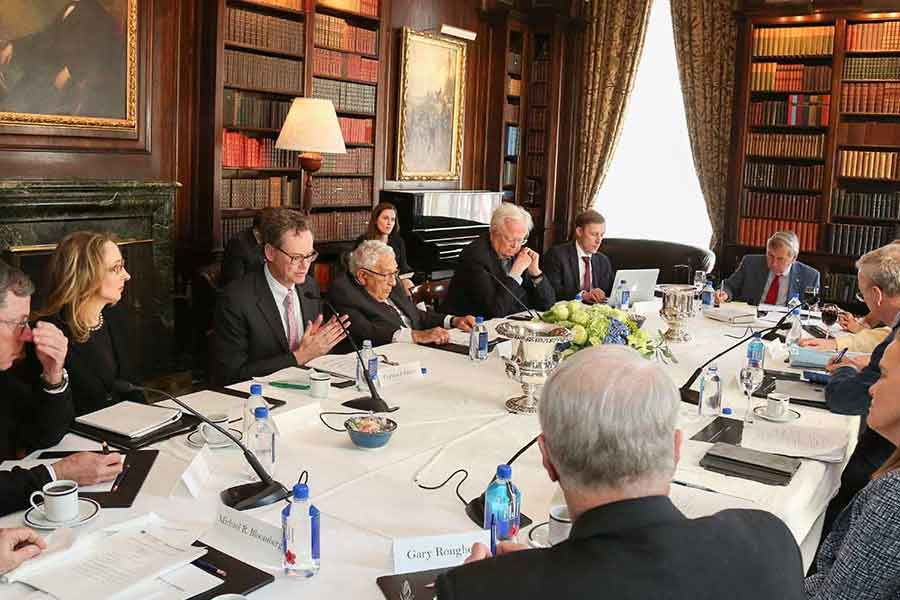 March 27, 2019
The Kissinger Center is proud to announce a major multi-year Project on America and the Future of World Order. At an inaugural meeting of the Project's distinguished Study Group, Dr. Henry A. Kissinger, its Honorary Chairman, stressed that: "The world has reached a key transition point, yet the United States lacks an effective and convincing response to challenges in the changing world order. What is needed is to better understand the world and to challenge assumptions and evaluate options in a nonpartisan way." 
 
In this context, the contemporary international system is under the most stress in more than half a century. The U.S.-led rule-based system of sovereign states, based upon American values and Westphalian rules, constructed after the Second World War and expanded since the end of the Cold War, is being challenged from forces without and within. The dramatic rise of China, combined with weakening international institutions, new technological, socio-economic, and domestic political challenges, pose dangerous risks and uncertainties. How should we best understand and respond to these challenges? There is no greater question facing American decision-makers and international relations scholars today. The Project's mission is to systematically analyze these and other world order issues and to prescribe policies to meet them through dialogue and scholarship.
 
The Project's Study Group members are: Honorary Chairman, Dr. Henry A. Kissinger, Dr. Graham T. Allison, Ambassador Robert D. Blackwill, Mayor Michael Bloomberg, Ambassador William Burns, Michèle Flournoy, Lyndsay Howard, Admiral Gary Roughead, Dr. Francis J. Gavin, Dr. Eric Schmidt, James Steinberg, Jake Sullivan, Dr. Lawrence H. Summers, Frances Fragos Townsend, Dr. Philip Zelikow, and Robert Zoellick. Lyndsay Howard, Distinguished Scholar at the Kissinger Center, will serve as Executive Director of the Project.
 
The America and the Future of World Order Project draws from Dr. Kissinger's extraordinary contributions to understanding both world order and how the United States should craft grand strategies in response to a changing international system. The Project was also inspired by a similar group that convened in Bellagio, Italy in 1965 to discuss world order issues, whose twenty-one distinguished participants included Dr. Kissinger, Stanley Hoffmann, and Raymond Aron, among other luminaries. The Kissinger Center has secured support to host a major international conference on the Future of World Order, in the Washington, D.C. area in the spring of 2020, which will in many ways parallel the effort Dr. Kissinger participated in 54 years ago. 
 
Other activities of the Kissinger Center's America and the Future of World Order Project will include: efforts to identify and bring together leading global thinkers—including younger, newer voices to debate the most important questions surrounding world order and grand strategy; to commission major papers and monographs in the spirit and by the rigorous methodology of earlier historic meetings on world order and American grand strategy; to explore and convene opportunities for scholars and policymakers from other major powers to discuss world order and grand strategy; to develop and advance innovative curricula to train a new generation of scholars in the Kissinger tradition of world order, grand strategy, and applied history, at both the undergraduate as well as graduate levels, given the urgency and intensive demands for scholarly training; to recruit additional scholars and practitioners to the Kissinger Center to teach and participate in these programs to advance the Project's mission and policy implementation.