Milton S. Eisenhower Symposium with Jake Sullivan on U.S. Foreign Policy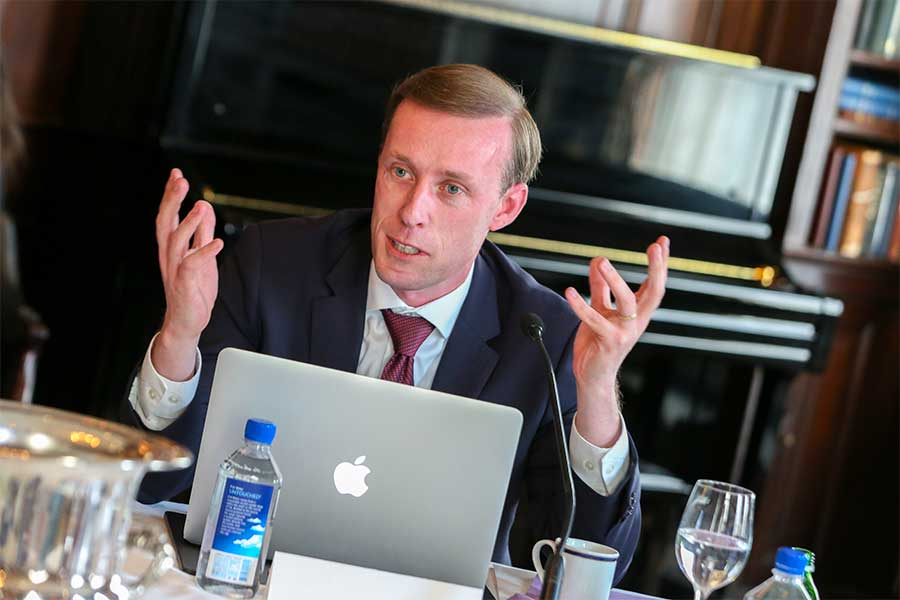 November 13, 2019


In collaboration with the Milton S Eisenhower Symposium and the Stavros Niarchos Foundation Agora Institute, the Kissinger Center brought Jake Sullivan to the Johns Hopkins University undergraduate campus in Baltimore for a discussion, moderated by Professor Hal Brands, on America's role in the world. Sullivan, currently a nonresident senior fellow in Carnegie's Geoeconomics and Strategy Program and a Martin R. Flug visiting lecturer in law at Yale Law School, has had a distinguished career in public service.
 
Sullivan served in the Obama administration as national security adviser to Vice President Joe Biden and director of policy planning at the U.S. Department of State, as well as deputy chief of staff to Secretary of State Hillary Clinton. He was the senior policy adviser on Secretary Clinton's 2016 presidential campaign and previously served as deputy policy director on Hillary Clinton's 2008 presidential primary campaign and as a member of the debate preparation team for Barack Obama's general election campaign.
 
Sullivan began by discussing what he believed the Obama administration did well, highlighting the administration's success in assembling coalitions to address global problems, such as the response to the Ebola crisis and the coalition against ISIS. This strategy originated in a recognition that the U.S. would have to take the lead to help solve problems that other countries could not solve on their own, but could limit direct American involvement and increase flexibility by working cooperatively with local partners.
 
Moving on to the current administration, Sullivan outlined what he believed were the key tenets of the "Trump Doctrine": allies are more of a burden than a benefit for the United States; values have no place in American foreign policy; the United States should deal with other countries bilaterally rather than multilaterally; and that other countries' safety limits the strength of the United States. Sullivan characterized the Trump Doctrine as a deliberate departure from the general course of post-WWII American foreign policy, as he believes Trump views this period as one where other countries were allowed to succeed at the expense of overall American prestige and power. 
 
The discussion concluded with Sullivan's thoughts on the impeachment proceedings and his predictions for the 2020 presidential election, as well as an audience Q&A.