IPSCON Program hosts 20 PhD Candidates for Summer Retreat on Policy-Relevant Research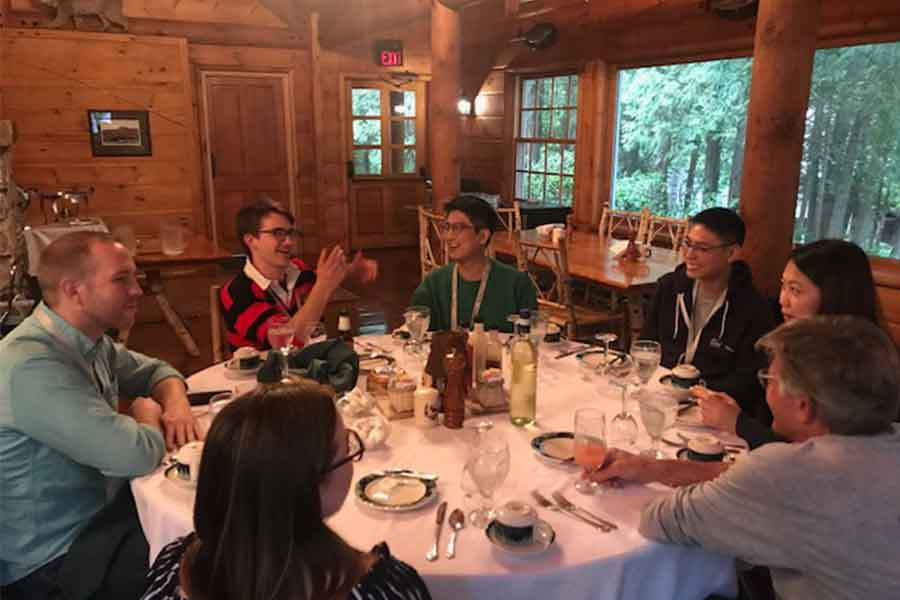 June 13, 2019
The Carnegie International Policy Scholars Consortium and Network (IPSCON) program hosted its fifth annual Minnowbrook Retreat in Blue Mountain Lake, New York in June. The conference brought together promising PhD students interested in generating policy-relevant research in a three-day retreat centered on bridging the academy-policy gap.
The conference began with an historical exercise led by Dr. Philip Zelikow based on his book, Suez Deconstructed, that simulates the perspectives of the six different countries involved in the Suez Crisis at three distinct time periods. Students write memos evaluating the positions different actors took at each time period, rotating their analysis of different perspectives to gain insight into the myriad of challenges facing policy makers.
The conference also included opportunities for Junior Scholars to workshop their dissertation proposals in both review panels with a series of Senior Scholars and one-on-one feedback sessions. Junior scholars also had the chance to engage in conversations on alternative career paths to academia.  Kath Hicks, Senior Vice President at CSIS, hosted an information session Influencing from the Outside: Think Tanks and Policy on the many roles PhDs can take on in think tanks, the way these organizations hire, and the qualities of successful candidates. 
The Program's co-leader, Jim Steinberg, former Deputy Secretary of State and Professor at the Maxwell School at Syracuse, hosted a session assessing different methodologies by analyzing the Good Friday Agreement.  His talk centered on his recently published TNSR article, The Good Friday Agreement: Ending War and Ending Conflict in Northern Ireland.
The Cohort Members that Attended the DC Policy Workshop Include:
1.     Shazeda Ahmed, University of California, Berkeley
2.     Leyatt Betre, Princeton University
3.     Rebecca Dudley, Duke University
4.     Andrew Ehrhardt, Kings College London
5.     Abby Fanlo, Stanford University
6.     Dani Gilbert, The George Washington University
7.     Meghan Herwig, University of Virginia
8.     Lindsay Hundley, Stanford University
9.     Kendrick Kuo, The George Washington University
10.  Jason Jung Jae Kwon, MIT
11.  John Minnich, MIT
12.  Aroop Mukharji, Harvard Kennedy School
13.  Mina Ericka Pollmann, MIT
14.  Will Quinn, Johns Hopkins SAIS
15.  Katherine Russell, Syracuse, Maxwell School
16.  Kyungwon Suh, Syracuse, Maxwell School
17.  Henry Tugendhat, Johns Hopkins SAIS
18.  Pei-Yu Wei, Duke University
19.  Laura White, University of Virginia
20.  Scott Williamson, Stanford University
The IPSCON initiative is sponsored by the Carnegie Corporation of New York. You can learn more about the program
here
.