World Order after COVID-19 Forum: June 30-July 1, 2020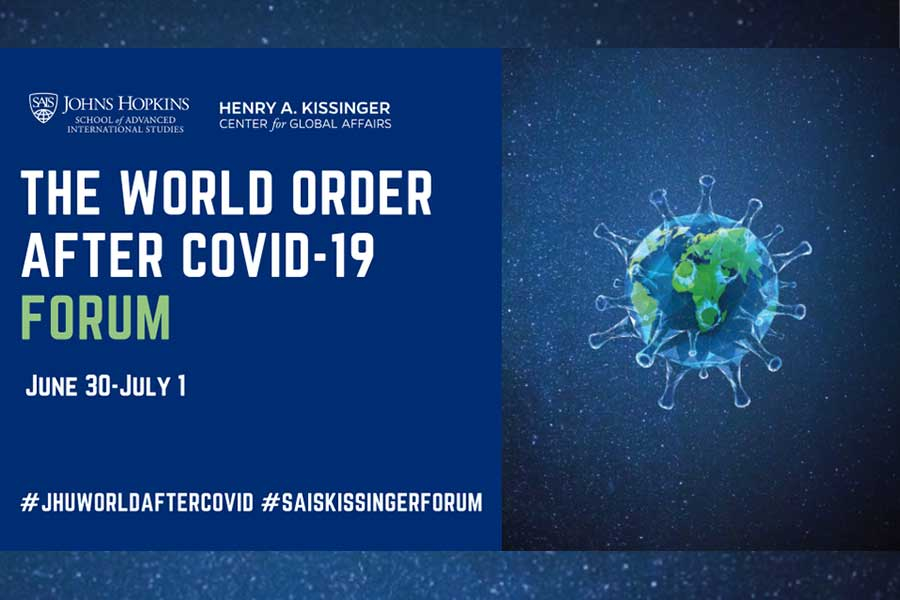 Join leading global experts as they debate national and international trends in a post-COVID-19 world.

Register here
A VIRTUAL GLOBAL CONFERENCE ON
TUESDAY, JUNE 30 AND WEDNESDAY, JULY 1, 2020
KEYNOTE BY FORMER GOOGLE CEO AND CHAIRMAN ERIC SCHMIDT AND CONVERSATION WITH FORMER U.S. TREASURY SECRETARY LAWRENCE H. SUMMERS
Join Johns Hopkins University President Ron Daniels, the JHU School of Advanced International Studies and the Henry A. Kissinger Center for Global Affairs for an event that draws upon the deep expertise and global academic leadership form among Johns Hopkins' ten schools and departments as well as its unique programs including the Agora Institute and the Applied Physics Lab.

The ongoing COVID-19 pandemic dealt a crippling blow to global public health while devastating the world economy. As Henry Kissinger recently warned, "The coronavirus epidemic will forever alter the world order." Moments of great shock, however, can also provide an opportunity to boldly re-imagine our future to build a new and better world. Access the Agenda and learn more here. 

Building upon its existing America and the Future of World Order project, the Kissinger Center has commissioned research from cross-cutting thinkers who will gather at this mid-summer, two-day, virtual global forum on June 30 and July 1, to discuss and chart world order after COVID-19. Content presented at the Forum will become the basis for the upcoming book  COVID-19 and World Order: The Future of Conflict, Competition, and Cooperation, to be published by Johns Hopkins University Press in fall 2020. Buy the book here. 



Watch the event live here. 

Ask Questions to our panelists here.