Graduate Seminar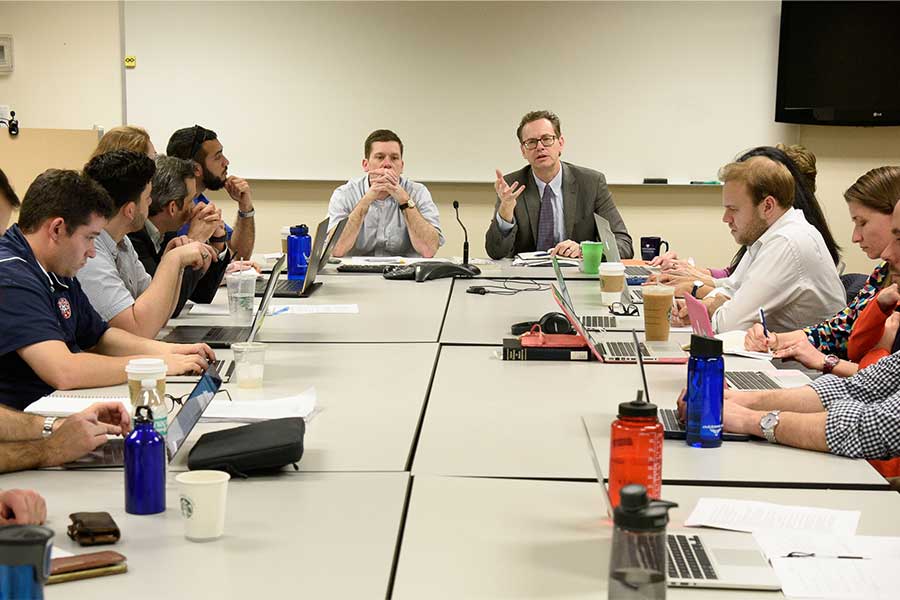 The centerpiece of the Center's academic curriculum is the graduate-level Kissinger Seminar.
The centerpiece of the Center's academic curriculum is the graduate-level Kissinger Seminar.

A unique two-part experience, the first half of the course focuses on the significance of history in foreign policy analysis, requiring students to select and research "critical choices" as inflection points in U.S. policy. The second portion of the course requires students to apply historical research to modern policy problems and present a national security policy briefing on a topic of their choice.
 
The Kissinger Center courses combined academic rigor with practical application in a way that encouraged students to rise to meet the challenges of the future policy landscape.

Cecilia Panella, MA '19
Past presentations have included the role of climate change in national security, the ongoing crisis in Venezuela, methods for working with Turkey within the existing NATO framework, and best courses of action for competing with a rising China in 5G, artificial intelligence, and high-performance computing. 
 
Marked by visits from prominent practitioners like Kelly Magsamen and Derek Chollet, this class is meant to meld academic study with rigorous practical application of foreign policy tools to meet the challenges posed by changing international system.
 
Courses
The course begins with a discussion of classic works on strategy and the role of history in policymaking; the bulk of the course then covers key strategic choices and periods in U.S. foreign policy from 1776 to the present, focusing on the post-1945 period. The course addresses subjects from the grand strategy of Washington's Farewell Address, to U.S. strategy in the early nuclear age, to decision-making surrounding the Iraq War and the U.S. response to 9/11. The course can serve as preparation for the core exam in American Foreign Policy (offered during the fall semester).
 
What is America's purpose in international affairs? What are the major challenges in U.S. foreign policy? What is the future of American power in a changing global system? This course examines these and other critical issues in U.S. foreign policy and global strategy. We will study the opportunities and dilemmas the United States confronts in dealing with terrorism and the Islamic State, great-power competition vis-a-vis Russia and China, the threat of nuclear proliferation and "rogue states," and other issues from international economics to transnational threats. We will consider whether America can maintain its international primacy, and what alternative strategies it might pursue in the future (offered during the spring semester).