The Future Strategy Forum: The Future of Statecraft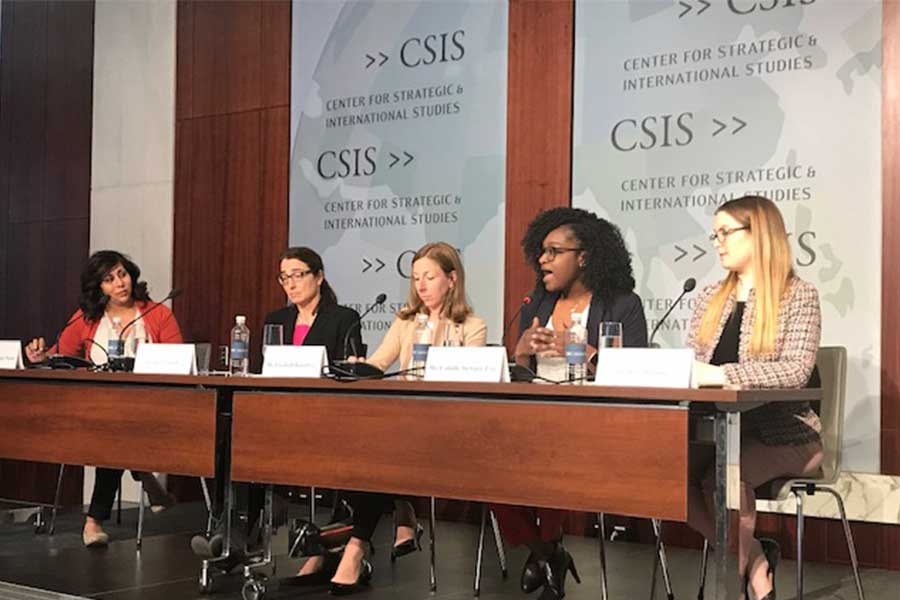 April 2, 2019
The Kissinger Center for Global Affairs, in partnership with the Center for Strategic and International Studies (CSIS) hosted the second annual Future Strategy Forum, The Future of Statecraft to bring together scholars and practitioners focused on cooperative approaches to national security to discuss the future of cooperation, utilizing international institutions and economic statecraft.  The day's three panels discussed the changing nature of U.S. engagement with the world, from expanding list of actors with whom the U.S. engages, to the shifting tools of engagement, to the challenges of cooperating in a period of heightened geopolitical competition.
Ms. Meg Guiliford, PhD candidate at The Fletcher School at Tufts University, moderated the conference's opening session, Future of Great Power Cooperation with panelists Ms. Lindsay Ford, Director of Political Security Affairs, Richard Holbrooke Fellow and Deputy Director of the Washington D.C. Office of the Asia Society Policy Institute; Dr. Angela Stent, Director of the Center for Eurasian, Russian and East European Studies and Professor of Government and Foreign Service at Georgetown University; Ambassador Linda Thomas Greenfield, Distinguished resident fellow in African Studies at the Institute of the Study of Diplomacy at Georgetown University; and Dr. Irene Wu, Former Fellow at the Wilson Center and Georgetown University. Their panel discussed how the US and other should adapt cooperation to renewed great-power competition, how cooperation with partners changes under current circumstances and whether there are opportunities to cooperate with Russia and China to pursue common goals.
The day's second panel, Future of International Institutions, moderated by Dr. Mischa Thompson, Director of Global Partnership, Policy and Innovation at the Commission on Security and Cooperation in Europe, addressed what a more overtly competitive global system could do to international institutions and how to assess recent efforts to create competitive international institutions.  Panelists also explored issues facing the African Union, ASEAN, EU, NATO, the UN and other international organizations, development banks and free trade agreements.  Panelists included, Dr. Esther Brimmer Executive Director and CEO of NAFSA: Association of International Educators; Ms. Heather Conley Senior Vice President for Europe, Eurasia, and the Arctic and Director, Europe Program, CSIS; Ms. Naima Green, PhD Candidate at Harvard University; Dr. Kristina Spohr, Helmut Schmidt Distinguished Visiting Professor, Henry A. Kissinger Center for Global Affairs, Johns Hopkins SAIS.
The final panel addressed questions of economic statecraft and how the global economy will likely both enable and constrain competition and cooperation.  Panelists discussed the major tools available to state actors, the capacity of the private sector and other non-state actors to affect the exercise of power and how trade relationships advance or hinder national interests. The Future of Economic Statecraft was moderated by Dr. Radha Iyengar Plum, Adjunct Economist at the RAND Corporation and panelists included Ms. Elizabeth Rosenberg, Senior Fellow and Director, Energy Economics and Security Program, Center for a New American Security; Dr. Sarah Sewall Executive Vice President for Policy at In-Q-Tel; Ms. Camille Stewart, Esq., Cybersecurity Policy Fellow at New America; and Ms. Tori K. Whiting
Jay Van Andel, Trade Economist at the Roe Institute for Economic Policy Studies at The Heritage Foundation.
You can learn more about the Future Strategy Forum and our upcoming FSF conference on our FSF
page
.