Rethinking the Nuclear Future: Perspectives from Europe and America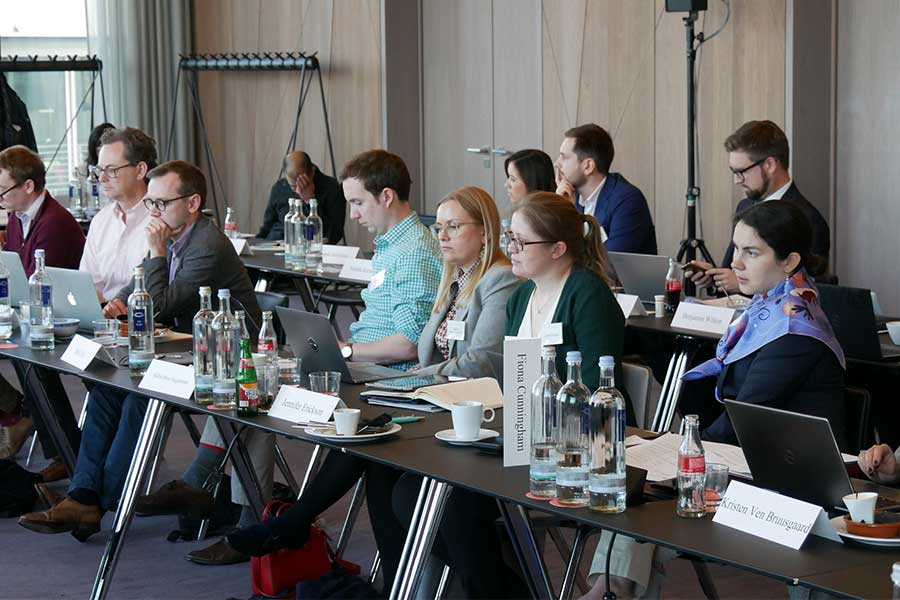 December 12, 2019
In partnership with the Institute for Peace Research and Security at the University of Hamburg (IFSH), The Henry A. Kissinger Center for Global Affairs at Johns Hopkins to hosted its 2019 Nuclear Studies Research Initiative (NSRI) conference, Rethinking the Nuclear Future: Perspectives from Europe and America in Hamburg, Germany in December 2019.  Since its founding six years ago, The Nuclear Studies Research Initiative (NSRI) has identified and supported the best new work on the influence and consequences of nuclear weapons. NSRI's conference series has traditionally provided a space for discussions that expand the disciplinary range of nuclear studies, engage a global community of scholars and policymakers and most importantly look at the question of nuclear weapons through the lens of grand strategy and world order.

This year's conference reexamined fundamental questions in nuclear scholarship, from technological advancements to questions of strategy and proliferation policy. The conference featured six sessions focused on the most popular topics that emerged. A summary of these topics and the questions the conference explored in panels and roundtables include:
1. Strategy and Posture: This session explored the prospects for future multilateral agreements given current arms control bargaining dynamics and how we should frame the discussion of nuclear weapons in crisis stability.  Scholars debated the implications of nuclear weapons for grand strategy and world order and how nuclear weapons affect deterrence and compellence and peace and conflict more broadly. Scholars also debated how to frame thinking on the integration of nuclear with other military strategy including conventional, cyber, and space.
2. Proliferation and Counterproliferation: This discussion addressed the intersection of counter-proliferation policy and nuclear strategy and the key questions around nuclear proliferation policies and regimes in multilateral and multipolar conditions. It also included discussion of proliferation from a historical perspective highlighting the challenges to managing emerging nuclear powers.
3. Nuclear Ideas: This session broached some ideas outside the traditional focus that have proven particularly relevant or pressing but that have gone under-discussed and explored new ways of looking at superpower norm suppression strategies and how to account for the rise of populism in nuclear disorder.
4. Arms Control: In this panel, scholars debated whether arms control agreements work and how to explain the considerable variation among the various frameworks designed to regulate, constrain, or ban military technologies. Scholars also discussed the role of scientific expertise in negotiating arms control agreements and whether technological justifications by experts serve broader political functions in treaty negotiations. Finally, this session addressed how to use current research to challenge conventional wisdom and debate the fortitude of arms control regimes.
5. Emerging Technology and New Actors: This session offered scholars the opportunity to engage several questions around the impact of emerging technology on the nuclear future including: Can artificial intelligence-infused counterforce capabilities imperil nuclear stability? What is the impact of AI on first-strike incentives? How can we use a historical perspective to examine how previous arms control agreements dealt with pervasive and dual-capable technologies? And, what would we seek to control under cyber arms control agreements?
6. Nuclear Strategy and Europe: This session addressed how alliances can be a cause of nuclear escalation and how alliance bargaining dynamics can result in patrons yielding to their clients.  It also explored how the conventional military balance impacts bargaining both between allies and between adversaries and what the non-military significance of nuclear weapons is for grand strategy and world politics under conditions of nuclear stalemate.
The NSRI Initiative is sponsored by the Carnegie Corporation of New York and the MacArthur Foundation. You can learn more on our Nuclear Studies Research Initiative
page
.  Please visit our webpage for recent updates on calls for papers and more information on our upcoming conferences.