America in the World Consortium (AWC)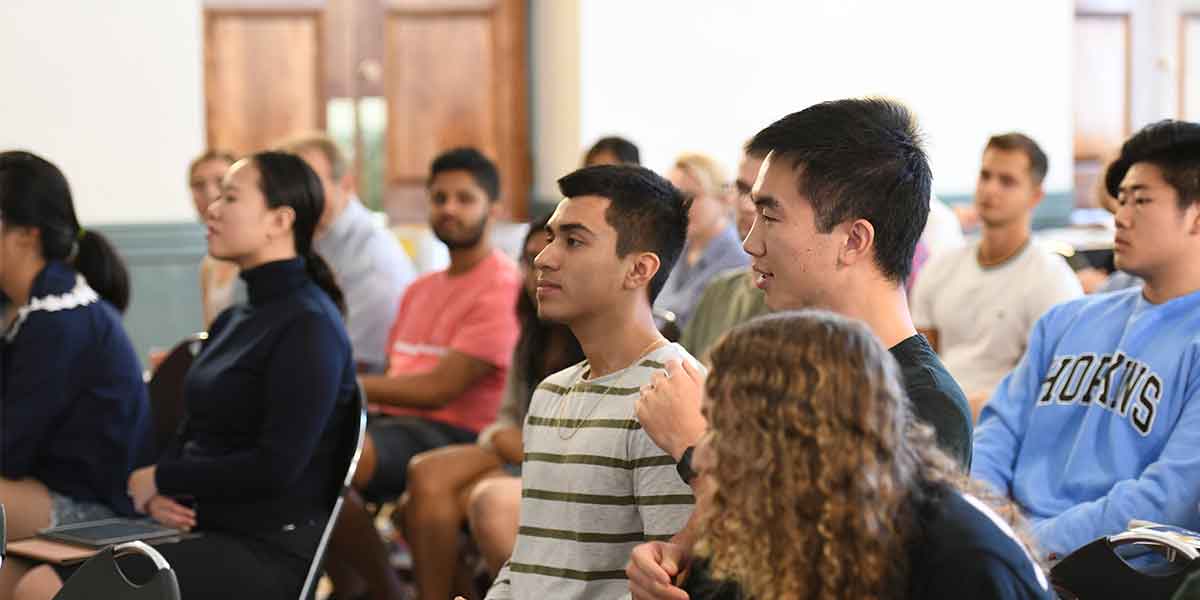 The Kissinger Center and Johns Hopkins SAIS have partnered with Duke University and the University of Texas at Austin to launch the America in the World Consortium (AWC)

The America in the World Consortium aims to prepare the next generation to confront geopolitical challenges and understand American national interests abroad to participate in the debate about America's role in the world. The Kissinger Center, together with the Philip Merrill Center for Strategic Studies at SAIS, oversees activities at the undergraduate, master's, and doctoral levels of education.

Connecting with Policymakers
With support from AWC, the Kissinger Center has connected students with current and former policymakers to hear their views on topics in national security and foreign policy, their experience in the policymaking process, and career advice. Guests at the undergraduate Homewood campus have included Michael Morell, former Deputy Director of the CIA, and Robert O. Work, former Deputy Secretary of Defense and Richard Fontaine, Chief Executive Officer of the Center for New American Security. Students from the undergraduate and graduate Kissinger Seminars have had the opportunity to interact with policymakers through class visits and small group dinners.

Linking Undergraduates with SAIS
As part of a wider effort by Johns Hopkins University to increase engagement between the undergraduate population at Homewood and the graduate campus in Washington DC, AWC supports SAIS professors teaching undergraduate courses as well as opportunities for undergraduates to enroll in courses at SAIS. Johns Hopkins SAIS will host a Summer Academy in 2020, offering opportunities for non-degree seeking undergraduate students from across the country to take courses in Washington, DC. JHU will offer multiple AIW-funded fellowships to JHU undergraduates who wish to take this summer's course on The Essentials of Statecraft, Strategy, and U.S. National Security.

Funding Opportunities
AWC provides funding for pre- and post-doctoral fellowships at the Kissinger Center. Fellows pursue research on American grand strategy and foreign policy, and contribute to the intellectual life of the consortium and participate in its programming. To facilitate graduate and undergraduate students in entering the policy world, AWC provides funding for awards to students pursuing internships or independent research projects in national security and U.S. foreign policy. Please visit our awards and fellowships page to learn more about the application process for pre- and post-doctoral fellowships. You can also learn more about and apply directly to the predoctoral fellowship at https://academicjobsonline.org/ajo/jobs/20481 and the postdoctoral fellowship at https://www.awconsortium.org/opportunities/awc-post-doctoral-fellowships/.

The deadline to apply for the 2022-2023 AWC Postdoctoral Fellowship has now passed.

 
The Consortium is also proud to announce a call for submissions for the America in the World Consortium (AWC) Article Prizes. It will offer two prizes for articles on issues in American foreign policy and grand strategy: 
Best Research Article on U.S. Foreign Policy and Grand Strategy - $3,500 (Runner-up - $1,500)
Best Policy Article on U.S Foreign Policy and Grand Strategy - $3,500 (Runner-up - $1,500)
Research articles must have appeared in a peer-reviewed journal. Policy articles are defined as substantial works of analysis, addressing a major issue in American foreign policy and grand strategy, that have appeared in reasonably accessible policy-focused publications. These articles need not be peer-reviewed, but they should be based on significant research and systematic analysis. No op-eds.

The Consortium encourages submissions by graduate students, pre- and post-doctoral fellows, untenured faculty, and faculty who received tenure in the three years preceding the submission deadline. To be eligible for the contest, articles must have been published, either in print or in digital form, between June 1, 2020  and May 30, 2021. Articles with two or more authors are eligible, so long as all authors meet the eligibility criteria. Articles must be submitted on or before the deadline and must focus on a topic in the broad remit of the scope outlined above to be eligible. Authors are encouraged to submit their own work. Scholars may also nominate articles written by other scholars. To apply, please submit: a) a PDF copy of the article being nominated; and b) a CV of the author(s). 

The submission deadline for the 2021 competition has now passed. You may contact Nathaniel Wong (nwong17@jhu.edu) with questions regarding this opportunity.