Fellowships and Awards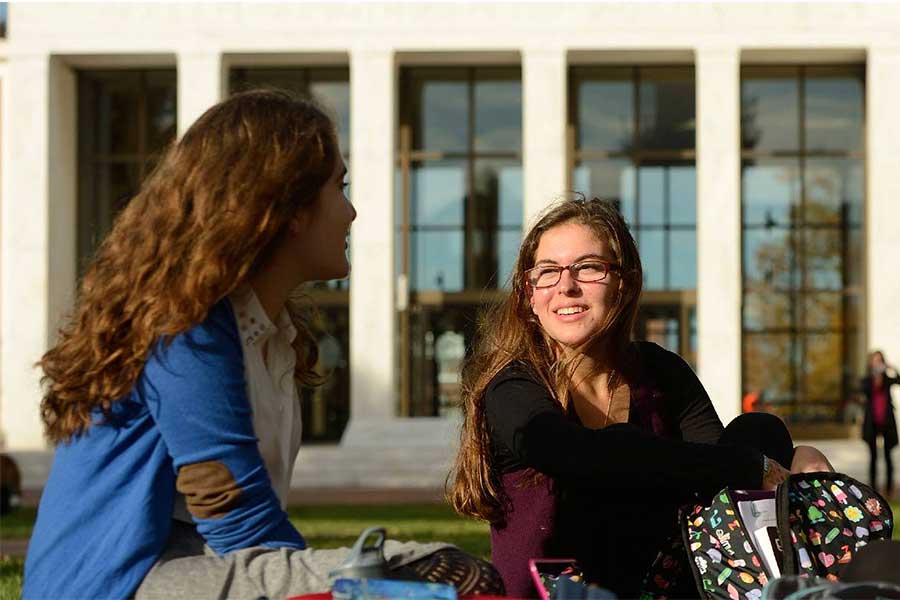 To foster academic achievement, facilitate primary-source research, and encourage opportunities to explore policymaking, the Kissinger Center provides fellowships and awards at the undergraduate, graduate, and post-graduate level.
Undergraduate Opportunities
As part of its mission to advance academic excellence at Johns Hopkins University and help bridge the divide between scholarly research and policymaking, the center is pleased to offer three funding opportunities to undergraduate students.
The Center's Kissinger Seminar on American Grand Strategy and World Order engages Johns Hopkins University undergraduate students in the enriching study and practice of U.S. foreign policy.

An initiative of the Henry A. Kissinger Center for Global Affairs at Johns Hopkins SAIS, the Kissinger Seminar exposes exceptional undergraduate students to the study of grand strategy and the history of U.S. foreign policy by exploring critical moments, themes, and people in the history of American grand strategy.
To learn more about the course, the application process, and eligibility, visit our dedicated Kissinger Undergraduate Seminar Page.

Note: Applications for the Kissinger Undergraduate Seminar are closed. 
Students admitted into the Kissinger Summer Academy are Kissinger Summer Fellows. The Kissinger Summer Academy is a one-week intensive course for select undergraduate students and recent graduates. It is held at the Johns Hopkins SAIS campus in Washington DC. The cost of the course, as well as the cost of travel and lodging, will be covered for all admitted fellows. If travel is restricted, the course will be held virtually.

The course "Nuclear Weapons and American Grand Strategy" will feature a variety of opportunities and activities:
Lectures and discussions led by world experts on nuclear strategy and statecraft
Meetings with U.S. policymakers
An introduction to nuclear technology by leading scientists
Simulations and (public health permitting) visits to important sites
Learn more about the Kissinger Summer Academy here 2023 Kissinger Summer Academy Course Details
This is a one-week, intensive course taking place from July 10-14, 2023. It will be held at the Johns Hopkins SAIS Campus in Washington, DC. The cost of the course, as well as the all costs associated with travel and lodging, will be covered for admitted participants.
Eligibility
You must either be a current undergraduate or have received your undergraduate degree no earlier than January 2021 to apply. We welcome applications from students and graduates from all universities and colleges. 
Note: 
Applications for the Kissinger Summer Academy are closed.
Graduate Opportunities 
To encourage primary-source research at SAIS and help bridge the divide between the worlds of scholarly research and policy-making, the center seeks to offer three opportunities to current SAIS graduate students. Currently there are no graduate funding opportunities at this time.
Junior Scholar Opportunities
The center offers a series of programs, projects and prizes to early career scholars inside and outside the Johns Hopkins community including PhD students, advanced graduate students, tenure track faculty and think tank fellows.
International Policy Scholars Consortium and Network (IPSCON)
The Kissinger Center is pleased to host the International Policy Scholars Consortium and Network (IPSCON), a multi-year initiative funded by the Carnegie Corporation of New York for PhD students approaching the dissertation phase of their PhD.
At the core of the many "bridging the gap" efforts over the past several years is the conviction that foreign policymaking in the United States and elsewhere is seriously compromised by the disconnect between the academy and the world of practice. The challenge is especially acute in doctoral programs in history, political science, and related disciplines. Many students begin their studies with a strong interest in policy and a significant number look to have a policy dimension to their subsequent careers. Yet few schools are able to give those students the coursework and mentoring they need to perform at a high-level in senior policy roles, or to address their research to the real-world problems policymakers confront.
 
IPSCON connects graduate students interested in conducting scholarly research on key policy questions, working directly in policymaking roles, or both. These aims are rarely celebrated in traditional programs, which tend to bifurcate into two distinct tracks – a professional masters degree program and an academic PhD program. IPSCON junior scholars are typically PhD students nominated by one of the consortium institutions. By linking junior scholars to senior faculty from across the network, IPSCON's unique consortium model draws on the diverse strengths of its constituent institutions, while cultivating a robust network of scholars with a shared interest in international affairs and policy. Key activities for junior scholars include the Minnowbrook retreat, virtual seminars, and the DC Policy Workshop.

Learn more about IPSCON here

Application Components and Deadline: 
Note: Applications for the IPSCON Junior Scholar Cohort are closed. Candidates will be notified by April 1, 2023.  
Please email IPSCON[email protected] with any questions.
Nuclear Studies Research Initiative (NSRI) 
NSRI was established to support and expand a renaissance in nuclear studies by creating a platform for intellectual exchange, cross-fertilization, and mentorship. 

The initiative actively promotes work that transcends both national and disciplinary boundaries and seeks to contribute to addressing core policy challenges. Through its workshops and collaborations, the project has been highly effective in improving academic scholarship on nuclear questions; the majority of original research presented at NSRI events has been published in top peer-reviewed journals. NSRI has facilitated unique connections between scholars across fields which have led to fruitful research collaborations and increased participation of younger academics in policy debates. 
 
Learn more about the NSRI here
 
Please check back for updates on calls for papers for NSRI workshops and conferences.
Fellowships
The center offers a select number of pre- and post-doctoral fellowships each academic year.
Equal Employment Opportunity Statement
The Johns Hopkins University is committed to equal opportunity for its faculty, staff, and students. To that end, the university does not discriminate on the basis of sex, gender, marital status, pregnancy, race, color, ethnicity, national origin, age, disability, religion, sexual orientation, gender identity or expression, veteran status or other legally protected characteristic. The university is committed to providing qualified individuals access to all academic and employment programs, benefits and activities on the basis of demonstrated ability, performance and merit without regard to personal factors that are irrelevant to the program involved.