World Order after Covid-19 Forum
June 30 – July 1, 2020
Johns Hopkins University
Keynote Address by Former Google CEO and Chairman Eric Schmidt
Tuesday, June 30
11:00 a.m. – 12:00 p.m. (EDT)

Introduction of President Daniels
Hal Brands, Henry Kissinger Distinguished Professor, Johns Hopkins SAIS; Scholar, American Enterprise Institute

Opening Remarks
Ronald J. Daniels, President, Johns Hopkins University

Introduction of Dr. Eric Schmidt
Francis J. Gavin, Giovanni Agnelli Distinguished Professor and Director, Henry A. Kissinger Center for Global Affairs, Johns Hopkins SAIS

Keynote Address
Eric Schmidt, Former chairman and CEO of Google and co-founder of Schmidt Futures

Keynote Q & A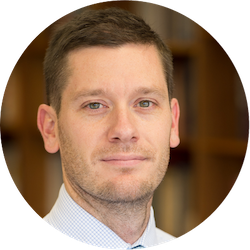 Hal Brands
Henry Kissinger Distinguished Professor, Johns Hopkins SAIS; Scholar, American Enterprise Institute
Hal Brands is the Henry A. Kissinger Distinguished Professor of Global Affairs at the Johns Hopkins School of Advanced International Studies (SAIS) and a scholar at the American Enterprise Institute. He is also a columnist for Bloomberg Opinion.
He is the author or editor of several books, including American Grand Strategy in the Age of Trump (2018), Making the Unipolar Moment: U.S. Foreign Policy and the Rise of the Post-Cold War Order (2016), and What Good is Grand Strategy? Power and Purpose in American Statecraft from Harry S. Truman to George W. Bush (2014) His newest book is The Lessons of Tragedy: Statecraft and World Order, co-authored with Charles Edel.

Hal served as Special Assistant to the Secretary of Defense for Strategic Planning from 2015 to 2016. He has also consulted with a range of government offices and agencies in the intelligence and national security communities and served as lead writer for the Commission on the National Defense Strategy for the United States.
---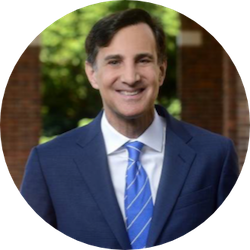 Ronald J. Daniels
President, Johns Hopkins University
Ronald J. Daniels has served as the 14th president of Johns Hopkins University since 2009.  Under his leadership, Johns Hopkins continues its preeminence in education, patient care, and innovative discovery, and has received more competitively allocated federal research funding than any other university in the country for more than 38 years.
During his tenure, Daniels has focused his efforts on several key areas: strengthening inter-disciplinary collaboration in research and education, enhancing student access, deepening engagement with the city of Baltimore, and supporting economic and social innovation. These priorities are embedded in the university's first comprehensive strategic planning document—the Ten by Twenty—and in the $6 billion Rising to the Challenge campaign, which concluded in 2018.

Daniels' focus on interdisciplinary collaboration has produced a series of transformative initiatives aimed at addressing some of society's most commanding challenges, from realizing the promise of precision medicine to responding to the needs of 21st-century cities. With support from alumnus Michael Bloomberg, Daniels initiated the Bloomberg Distinguished Professors program to recruit 50 scholars from across the globe to hold joint appointments in two or more divisions of the university. Daniels also led the creation of several other ambitious, multidisciplinary initiatives, including the Stavros Niarchos Foundation Agora Institute, which aims to strengthen civic engagement and encourage robust dialogue among all citizens; the Henry A. Kissinger Center for Global Affairs; the William H. Miller Department of Philosophy; and the Bloomberg American Health Initiative.

Long a champion of reducing barriers to participation in higher education by students from diverse and lower socioeconomic backgrounds, Daniels committed the university at his installation to enhancing its financial aid program and becoming need-blind. A landmark gift of $1.8 billion for student financial aid from alumnus Michael Bloomberg has now made Hopkins permanently need-blind and no-loan. During his presidency, the university has succeeded, year after year, in welcoming a diverse and high-achieving undergraduate study body, now ranked second in the selectivity of its entering class according to U.S. News & World Report.

Daniels also has strengthened the quality of graduate education at Johns Hopkins, ushering in a series of reforms to PhD education: from the creation of a PhD innovation fund, to systematic collection and public dissemination of data on PhD program performance, to the creation of the first university wide board charged with evaluating and supporting PhD education.

As Daniels has often said, Johns Hopkins is "truly and proudly of Baltimore." This public commitment has fueled myriad initiatives designed to support the city and its residents, including renewed and expanded investment in an 88-acre revitalization plan near the Johns Hopkins campus in East Baltimore; construction and operation of the Henderson-Hopkins K-8 school as the first new school built in East Baltimore in more than 20 years; the Homewood Community Partners Initiative, a $10 million commitment that has leveraged more than $200 million in investments from others to strengthen the physical, social, and economic well-being of 10 neighborhoods around the Homewood campus; and HopkinsLocal, a major economic inclusion effort through which Johns Hopkins University and Health System are expanding business and workforce opportunities in Baltimore. Under this program, more than 1,000 citizens from the most distressed neighborhoods in the city have been recruited into entry-level jobs, and Johns Hopkins has continued to be a national leader in the hiring of ex-offenders.

Throughout his tenure, Daniels has championed a university wide vision for innovation, bolstering efforts to unleash entrepreneurial instincts, translate discoveries into novel technologies, and foster enterprises that are developed, and remain, and grow in Baltimore. The university's ecosystem now facilitates startup activity through four innovation hubs offering more than 37,000 square feet of incubation space near its main Baltimore campuses—including a dedicated student facility and makerspace, a Social Innovation Lab supporting mission-driven organizations with disruptive technologies from Johns Hopkins and across Baltimore, and a suite of supports for faculty inventions and affiliated companies.

A law and economics scholar, Daniels is the author or co-author of seven books and dozens of scholarly articles on the intersections of law, economics, development, and public policy in areas such as corporate and securities law, social and economic regulation, and the role of law and legal institutions in promoting third-world development. His recent writing has focused on the constraints facing young investigators in American life-science research, the opportunities for anchor institutions to support local economic growth, the significance of the humanities in education and society, the governance of public and private universities, and the role of the research university in liberal democracy. He chaired a congressionally mandated National Academies of Sciences, Engineering, and Medicine commission whose 2018 final report addressed the challenges confronting postdoctoral students and young faculty members in the life sciences.

Daniels is a fellow of the American Academy of Arts & Sciences and the American Philosophical Society. He received a Carnegie Corporation of New York Academic Leadership Award in 2015 and was named a member of the Order of Canada in 2016. Before coming to Johns Hopkins, he was provost and professor of law at the University of Pennsylvania and dean and James M. Tory Professor of Law at the University of Toronto.

Daniels earned an LLM from Yale University in 1988 and a JD in 1986 from the University of Toronto, where he served as co–editor-in-chief of the law review. He received a BA from the University of Toronto in 1982, graduating with high distinction. He has been visiting professor and Coca-Cola World Fellow at Yale Law School and John M. Olin Visiting Fellow at Cornell Law School.

---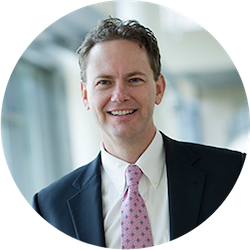 Francis J. Gavin
Giovanni Agnelli Distinguished Professor and Director, Henry A. Kissinger Center for Global Affairs, Johns Hopkins SAIS
Francis J. Gavin is the Giovanni Agnelli Distinguished Professor and the inaugural director of the Henry A. Kissinger Center for Global Affairs at Johns Hopkins SAIS. In 2013, Gavin was appointed the first Frank Stanton Chair in Nuclear Security Policy Studies and Professor of Political Science at MIT.
Before joining MIT, he was the Tom Slick Professor of International Affairs and the Director of the Robert S. Strauss Center for International Security and Law at the University of Texas. From 2005 until 2010, he directed The American Assembly's multiyear, national initiative, The Next Generation Project: U.S. Global Policy and the Future of International Institutions. Gavin's writings include Gold, Dollars, and Power: The Politics of International Monetary Relations, 1958-1971 (University of North Carolina Press, 2004) and Nuclear Statecraft: History and Strategy in America's Atomic Age (Cornell University Press, 2012).

He received a PhD and MA in History from the University of Pennsylvania, a Master of Studies in Modern European History from Oxford University, and a BA in Political Science from the University of Chicago. Gavin is an Associate of the Managing the Atom Program at the Belfer Center for Science and International Affairs at Harvard University, Senior Fellow of the Clements Program in History, Strategy, and Statecraft, a Distinguished Scholar at the Robert S. Strauss Center, a Senior Advisor to the Nuclear Proliferation International History Project at the Woodrow Wilson Center, and a life-member of the Council on Foreign Relations.
---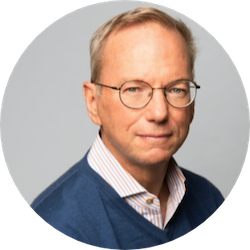 Eric Schmidt
Former chairman and CEO of Google and co-founder of Schmidt Futures
Eric Schmidt joined Google in 2001 and helped grow the company from a Silicon Valley startup to a global leader in technology. He served as Google's Chief Executive Officer from 2001-2011, Executive Chairman 2011-2018 and Technical Advisor 2018-2020. Prior to Google, Eric held leadership roles at Novell and Sun Microsystems, Inc.
He holds a bachelor's degree in electrical engineering from Princeton University as well as a master's degree and Ph.D. in computer science from the University of California, Berkeley. He was a member of the President's Council of Advisors on Science and Technology. Eric is Chairman of the Department of Defense's Innovation Board and was awarded the Medal for Distinguished Public Service by Secretary of Defense Ashton Carter. Eric is a member of NASA's National Space Council User Advisory Group which is chaired by the Vice President.

He is the co-author of The New Digital Age, How Google Works, and Trillion Dollar Coach, and serves on the boards of the Mayo Clinic and the Broad Institute. He's a Gulfstream pilot, and his philanthropic efforts through The Schmidt Family Foundation focus on climate change, including support of ocean and marine life studies at sea, as well as education, specifically cutting-edge research and technology in the natural sciences and engineering. He is founder of Schmidt Futures which helps exceptional people do more for others by applying science and technology thoughtfully and working together across fields.