America and the Future of World Order Project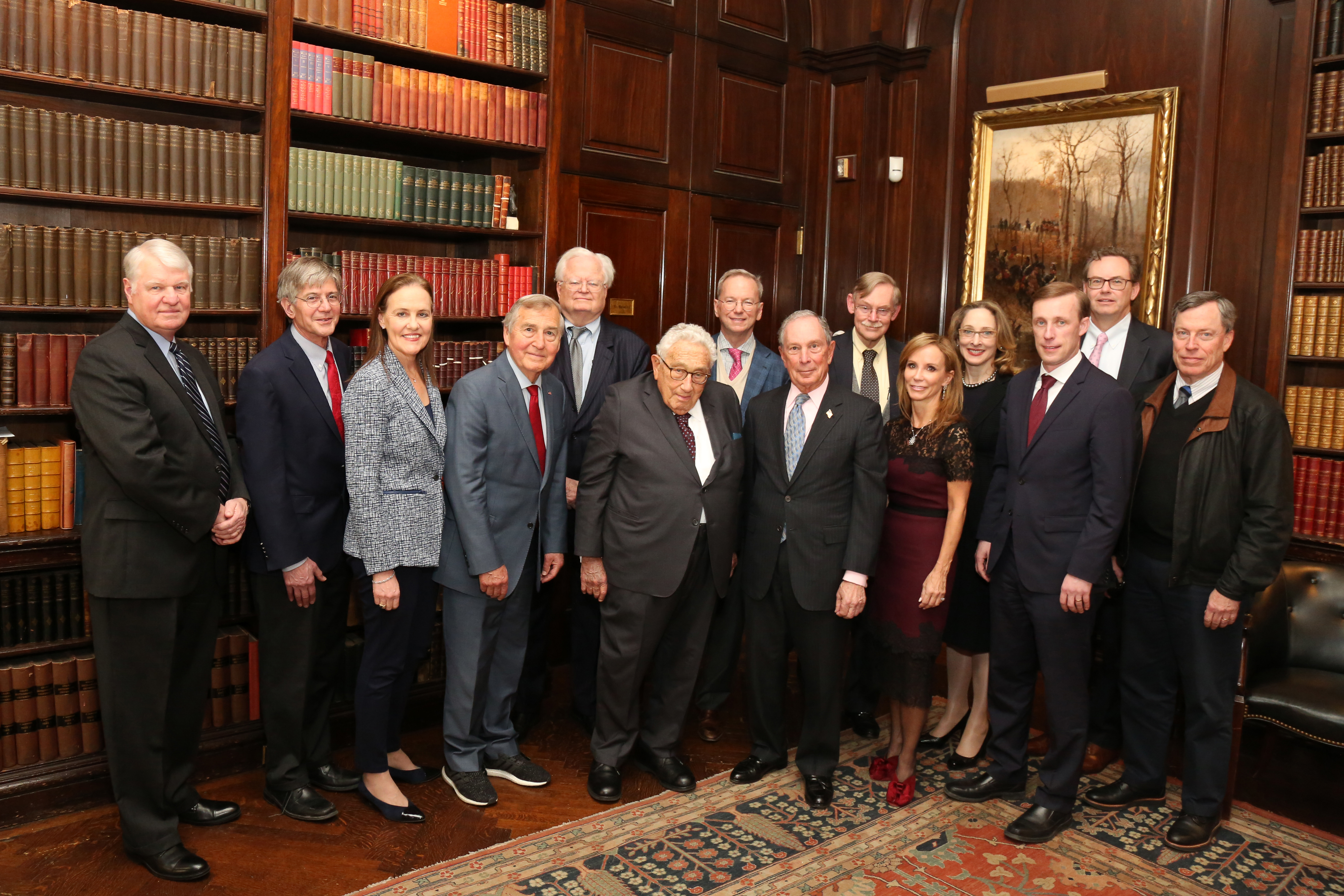 The America and the Future of World Order Project draws from Dr. Kissinger's extraordinary contributions to understanding both world order and how the United States should craft grand strategies in response to a changing international system.
The Project was also inspired by a similar group that convened in Bellagio, Italy in 1965 to discuss world order issues, whose twenty-one distinguished participants included Dr. Kissinger, Stanley Hoffmann, and Raymond Aron, among other luminaries.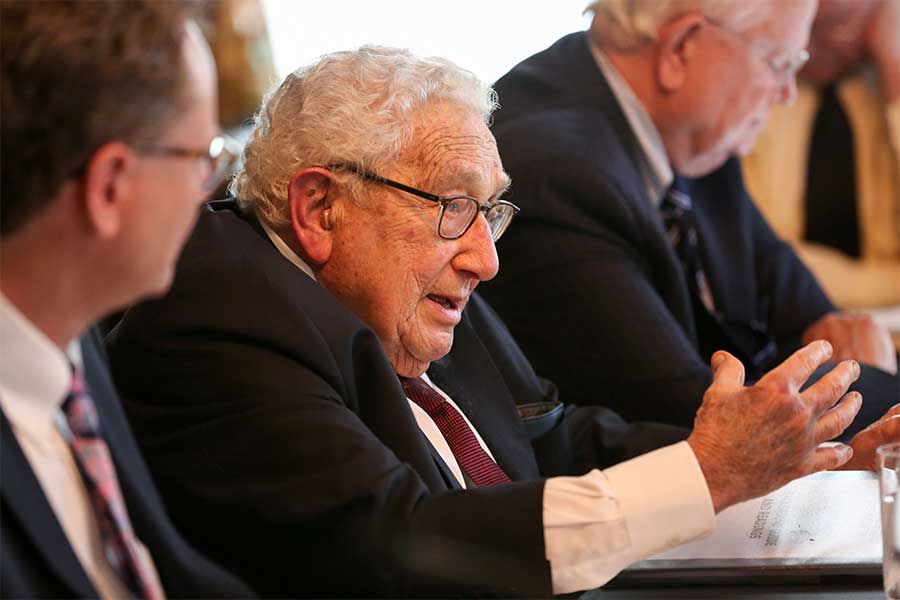 AFWO Project Programs:
Study Group
AFWO convenes a small, bi-partisan, off the record study group with leading thinkers and policymakers to discuss contemporary and future challenges and solutions. Inspired by the world-renowned Harvard international seminar created by Dr. Kissinger in the 1950s and 1960s, the gathering brings together leading thinkers and leaders from government, the private sector, think tanks, and leading universities. Dr. Kissinger serves as the Honorary Chairman. The goal will be to create an informal but high-powered global network of scholar-practitioners interested in maintaining and strengthening global order and managing our most vexing global challenges. 

The Project's Study Group members are: Honorary Chairman, Dr. Henry A. Kissinger, Dr. Graham T. Allison, Ambassador Robert D. Blackwill, Mayor Michael Bloomberg, Ambassador William Burns, Michèle Flournoy, Dr. Francis J. Gavin, Lyndsay Howard, Admiral Gary Roughead, Dr. Eric Schmidt, James Steinberg, Jake Sullivan, Dr. Lawrence H. Summers, Frances Fragos Townsend, Dr. Philip Zelikow, and Robert Zoellick. Lyndsay Howard, Distinguished Scholar at the Kissinger Center, will serve as Executive Director of the Project. The Study Group will address issues surrounding world order, America's tactical and strategic responses, and consider Kissinger Center programs to meet these challenges.



Other Activities
Other activities of the Kissinger Center's America and the Future of World Order Project will include:

Opportunities for New Scholars: efforts to identify and bring together leading global thinkers—including younger, newer voices to debate the most important questions surrounding world order and grand strategy;
 
Publications: commissioning major papers and monographs in this spirit and by the rigorous methodology of earlier historic meetings on world order and American grand strategy;
 
Conferences: an annual conference gathering experts to discuss current events and world order such as our World Order after COVID-19 Forum which convened scholars from across disciplines to debate the impact of COVID-19 on the international system and boldy reimagine our future to build a new and better world;
 
Dialogue: exploring and convening opportunities for scholars and policymakers from other major powers to discuss world order and grand strategy;
 
New Curricula: developing and advancing innovative curricula to train a new generation of scholars in the Kissinger tradition of world order, grand strategy, and applied history at undergraduate as well as graduate levels given the urgency and intensive demands of scholarly training;
 
Expanding a Discipline: recruiting additional scholars and practitioners to the Kissinger Center to teach and participate in these programs to advance the Project's mission and policy implementation.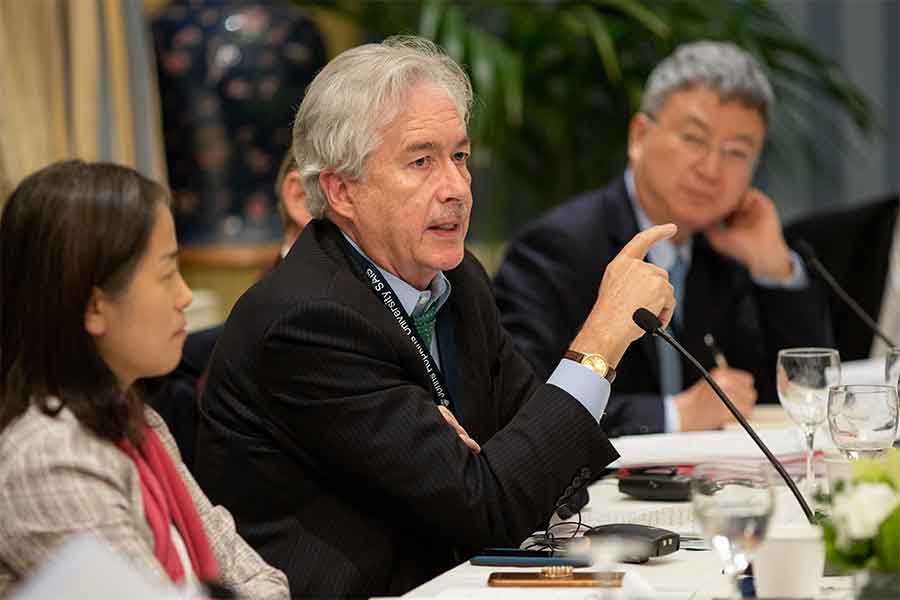 Featured Events
Inaugural Meeting of the AFWO Study Group
March 27, 2019 
New York, New York

September 2019 Meeting of the AFWO Study Group 
September 9, 2019
New York, New York

December 2019 AFWO Meeting with the Chinese People's Institute of Foreign Affairs 
December 6-7, 2019
New York, New York

May 2020 Meeting of the AFWO Study Group
May 4, 2020
Virtual

World Order after COVID-19
June 30 - July 1, 2020
Virtual

October 2020 Meeting of the AFWO Study Group
October 23, 2020
Virtual

June 2021 Meeting of the AFWO Study Group with National Security Advisor Jake Sullivan
June 21, 2021
Virtual