Exploring China's Borders in Yunnan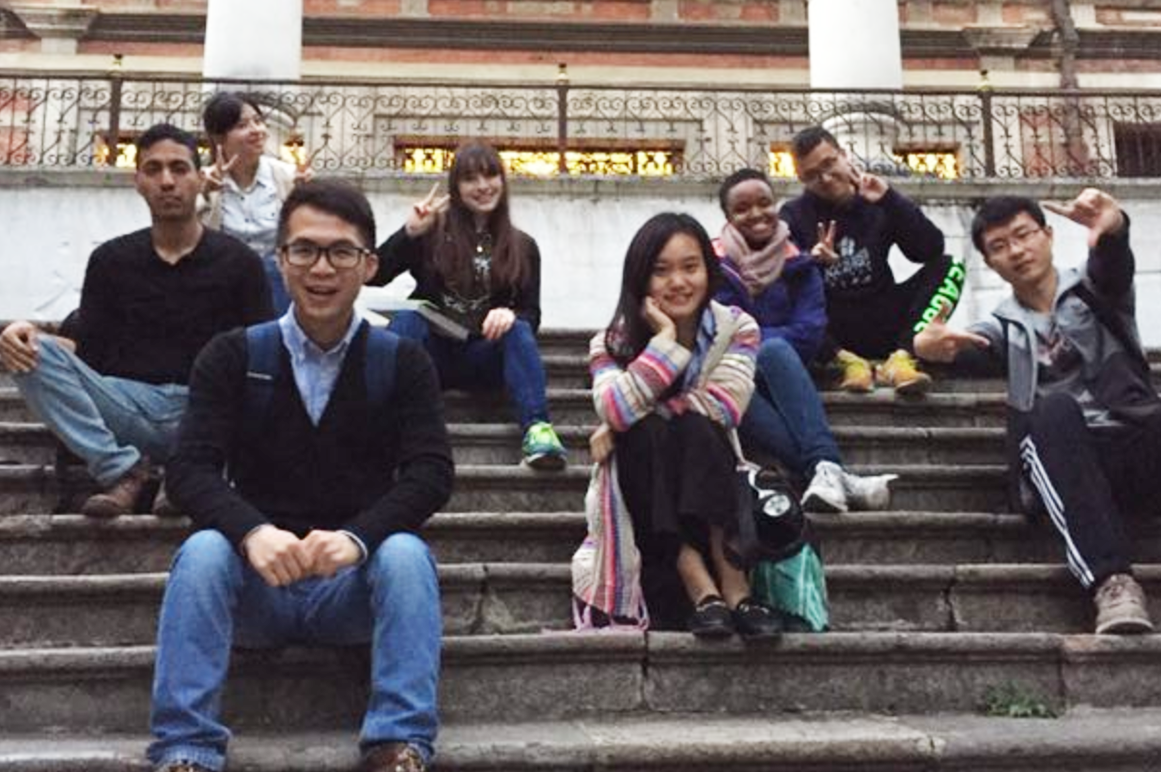 Photo Caption: Tarela Osuobeni (third row, right) with classmates in front of Yunnan University.
During the 2017 spring break, Hopkins-Nanjing Center (HNC) student Tarela Osuobeni participated in a field research trip for her course China on the Border: Provincial Relations on the Periphery taught by Professor Gaye Christoffersen. The purpose of the trip was to visit Ruili, a city along China's border with Myanmar in order to learn about relations between the two countries. These included non-governmental organizations (NGOs) in Yunnan, Myanmar refugees in Ruili and the economic relationship between Myanmar and China. Going to Ruili gave Tarela a firsthand account of people-to-people relations and grassroots projects along the border.
Tarela and her classmates took the fast train from Nanjing to Yunnan's capital, Kunming. It was 7 hours filled with talking, eating, sleep and gazing out the window at the changing landscape. She spent a couple days exploring Kunming through the Yunnan museum celebrating the Dai ethnic minority culture, and a Dai village. Tarela conducted interviews in Chinese with Green Watershed and The Nature Conservancy, two environmental NGOs that shared about the current successes and challenges of NGOs in China. At the Institute for Indian and Ocean Economics, she interviewed two professors about the economic relationship between China and its southeast neighbors as well as the impact of the One Belt One Road project on diplomatic and economic relations.
Next, Tarela and the group visited a Dai ethnic minority village that was sectioned off and preserved on the outskirts of the city. The Dai's cultural symbol is the peacock which was displayed everywhere in different parts of the village. Through observing and researching on the character for Dai (傣), she found that they were descendants of Thai peoples from many years ago who used to control the area through their own kingdom. Now, they were integrated into Chinese society making up one of the 55 ethnic minorities of China.
On the last day of the trip, she visited the Ruili Women and Children Development Center, an NGO that was specifically designed to offer health and life services to Chinese, Dai and Myanmar women and children. They shared about their health and orphanage programs, volunteer opportunities and the work of their office in Myanmar. This organization exemplified the value of NGOs in border city areas; they generously helped those in need regardless of a person's cultural heritage. Interviewing this organization opened her eyes to different parts of Chinese society and helped put faces to societal situations that are often discussed at HNC. It was truly a time well spent for Spring Break.