Visit Us
Our team of global admissions professionals can help you decide which program best meets your academic and professional goals.
The Office of Admission and Financial Aid would love to connect with you virtually while we are working remotely. Learn more about our virtual events below.

We are currently not open for any face-to-face visits, but we invite you to contact admissions with any questions you may have.
Admissions Events
The Office of Admissions has suspended all prospective and admitted student campus visits until further notice at all campus locations.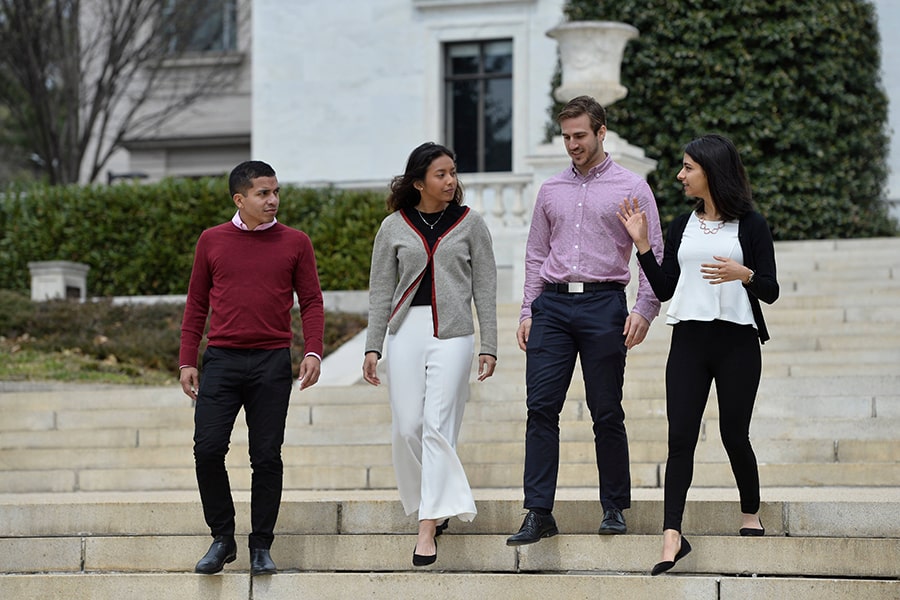 Global Recruiting Schedule
Information Sessions
Admissions representatives at each campus offer on-campus and virtual information sessions. Join us in-person or online to learn more about our programs and to gain insider tips on the application process.

Information Sessions
Interviews
Interviews are a wonderful way to personalize your application, demonstrate your professional focus, and academic interest in our programs.
If you intend to study at the Washington DC campus, you are encouraged to schedule an optional interview. Interviews are available in September through early December and are conducted in-person or via Skype. Candidates applying to the MIPP, MAGP, or MIEF degree programs will be contacted by the Office of Admissions to schedule an interview, if needed.
If you plan to begin in Bologna, Italy (along with applicants to the Diploma, MAIA, MEPP, and MAGR degrees), the SAIS Europe Admissions Office will contact you to arrange an interview, so you are not required to self-schedule an interview. 
To schedule an interview with the Hopkins-Nanjing Center Admissions Office, please email nanjing@jhu.edu.