Visit Us
Our team of global admissions professionals can help you decide which program best meets your academic and professional goals.
Admissions Events
Our admissions representatives organize and host events around the world.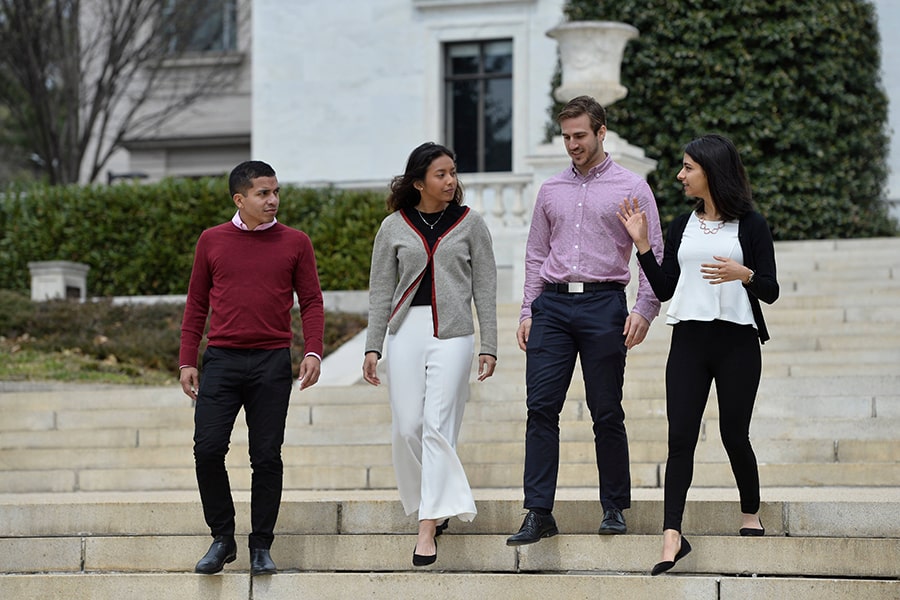 Global Recruiting Schedule
Information Sessions
Admissions representatives at each campus offer on-campus and virtual information sessions. Join us in-person or online to learn more about our programs and to gain insider tips on the application process.

Information Sessions
Interviews
Interviews are a wonderful way to personalize your application, demonstrate your professional focus, and academic interest in our programs.
If you intend to study at the Washington DC campus, you are encouraged to schedule an optional interview. Interviews are available in September through early December and are conducted in-person or via Skype. Candidates applying to the MIPP, MAGP, or MIEF degree programs will be contacted by the Office of Admissions to schedule an interview, if needed.
If you plan to begin in Bologna, Italy (along with applicants to the Diploma, MAIA, MEPP, and MAGR degrees), the SAIS Europe Admissions Office will contact you to arrange an interview, so you are not required to self-schedule an interview. 
To schedule an interview with the Hopkins-Nanjing Center Admissions Office, please email nanjing@jhu.edu.
Schedule a Class or Campus Visit
To learn firsthand what it would be like to be a part of our community, schedule a campus visit. Campus visits are a great way to meet current students, attend a class, and experience the Johns Hopkins SAIS advantage for yourself.
Visit Washington DC
Office of Admissions
Johns Hopkins SAIS
1740 Massachusetts Ave. NW
Washington, DC 20036
+1 (202) 663-5700
+1 (877) JHU-WASH (US toll free)
Attend a Class
Class visits are available during the fall semester from early September to early December and during the spring semester from early February to mid-April. Class visits are not available during the summer.
Please click on the link below to confirm your class visit. Should you have any questions, please email us at
sais.dc.admissions@jhu.edu
.
Visit a Class
To schedule a visit email: 
sais.dc.admissions@jhu.edu
Directions to the Washington DC Campus
The school is located two blocks from the Dupont Circle Metro Station and is in close proximity to three major airports. The closest airport to campus is Reagan National Airport (DCA) which is located approximately four miles from campus. Virginia-based Dulles International Airport (IAD) is nearly 30 miles from campus and Maryland-based Baltimore-Washington International Airport (BWI) is less than 40 miles from campus.
Visit SAIS Europe
Office of Admissions in SAIS Europe
Johns Hopkins School of Advanced International Studies
via Beniamino Andreatta, 3
40126 Bologna, Italy
+39.051.29.17.811

To schedule a visit email: sais.eu.admissions@jhu.edu
Annual Open Day
In addition to encouraging visits by prospective students throughout the academic year when classes are in session, the annual Open Day in December is an excellent opportunity to tour the campus, meet current students and faculty, and attend classes. For details, visit 
Open Day Registration
.
Directions to the SAIS Europe Campus
Bologna has an efficient bus system that connects the city center to the train station. High speed trains offer a great way to get you from Bologna to Florence (30 minutes), to Milan (1 hour), and to Rome (2 hours). The G. Marconi International Airport (BLQ) is the third largest in Italy, 20 minutes from campus.
Visit The Hopkins-Nanjing Center
International applicants for programs at the Hopkins-Nanjing Center in Nanjing, China typically do not have an opportunity to travel to the center before they arrive to begin their studies. However, applicants are welcome to schedule a visit during the academic year when classes are in session by contacting the Office of International Admissions in Washington.
Note that the Hopkins-Nanjing Center is closed from July until September and during the Chinese New Year break. 

The Hopkins-Nanjing Center
Washington Office
1619 Massachusetts Ave NW
Washington, DC 20036
+1 (202) 663-5800
To schedule a visit to the Hopkins-Nanjing Center or the Washington Office email: nanjing@jhu.edu
Directions to the Hopkins-Nanjing Center Campus
The Hopkins-Nanjing Center is located at 162 Shanghai Road, at the corner of Beijing West Road and Shanghai Road and across the street from the State Grid Building. Nanjing Lukou International Airport is the main airport serving Nanjing. It takes approximately 45 minutes (via taxi) to travel from the airport to the school and Nanjing is a major stop on the Beijing-Shanghai train line. The Hopkins-Nanjing center is also short walk from the Yunnan Road metro stop.