Advancing Diplomacy Between the U.S. and the International Community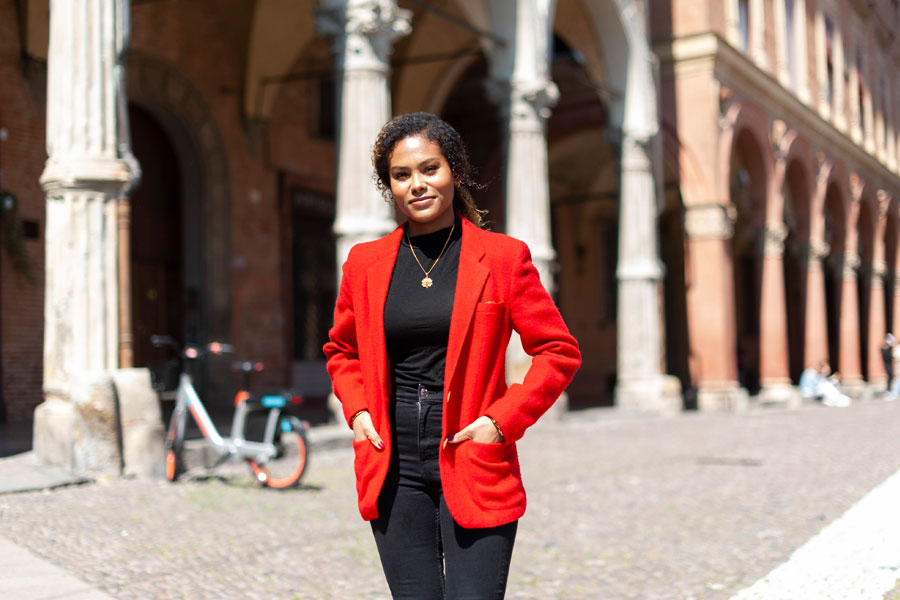 Ghaida Ahmad
Master of Arts in International Relations

What encouraged you to apply to Johns Hopkins SAIS and what were you doing before you came here?
While researching international relations graduate programs, SAIS came up in every article, so naturally, the prestige of SAIS is what originally caught my eye. However, after inquiring into the program and learning about what SAIS has to offer, my interests mushroomed as I found out about the interdisciplinary yet flexible course selections, reputable staff, and remarkable post-grad employment statistics.

Before SAIS, I was an undergraduate at George Mason University, majoring in Global Affairs with a double concentration in Global Governance and MENA. I decided to enter a master's program immediately after graduating because I knew what I wanted. 

What program were you in and what do you hope to gain from it?
I am in the MAIR program, completing my first year in Bologna and the second in Washington D.C. After completing the program, I hope to have gained skills I can utilize throughout my professional career. Generating and developing complex, novel ideas, developing awareness of multiple viewpoints, and attaining an advanced level of Arabic are a few examples. 

Tell us about one of your favorite experiences, classes, or memories at school.
One of my favorite classes at SAIS was Arabic Mid 1. With eight students in the classroom, Professor Amina Serghini developed an intimate, collaborative, and comprehensive curriculum in which we could all practice our Arabic skills audaciously without judgment. The class was fun and stimulating so we didn't mind coming in three days a week!

Do you do an internship or job this summer?
During my first and second year of SAIS I am interned at the U.S. Department of State with the Bureau of Democracy, Human Rights & and Labor in the Office of Near Eastern Affairs. I support human rights policy efforts for Syria and Lebanon and work on projects to advance justice for victims and accountability for those who commit abuses and violations in the region, I have researched and drafted interagency information packages on profiles of human rights ​abusers and ​allegations of ​their abuses​;​ attend​ed meetings with foreign government officials and drafted ​readouts of the subject matter​; ​researched and analyzed emerging human rights developments to draft updates for the interagency; ​updated the 2022 State Department Human Rights Report ​for Syria, and briefed Department officials on labor abuses against women in the MENA region through an oral presentation and self-drafted issue paper.

SAIS prepared me for this experience by equipping me with adequate regional expertise on the MENA ​region, strengthening my expository writing skills, and providing me with a multidisciplinary understanding of global processes and relationships."

As a graduating student/second-year student what is some advice you'd give to future students?
I would tell future students to utilize the array of resources SAIS has to offer. As a SAIS student, you have access to a remarkable group of professors who provide you with extraordinary advice and guidance. Additionally, I would say to attend the world-class events that offer you a specialized and exclusive insight into complex global issues.

What career pathways do you see for yourself following your studies at SAIS? How has your experience here changed you and your views for the future?
Following SAIS, I plan to enter a career in U.S. Foreign or Civil Service at the Department of State, working to advance diplomacy between the U.S. and the international community. My experience at SAIS has improved my views by teaching me the value of international relations. At SAIS, I learned the importance of cross-cultural management, theoretical and factual knowledge of a particular region, and advanced competence in a foreign language. All of these factors inspired me to pursue a career in which I can make a meaningful impact on foreign affairs.

Do you have anything to add about your experience here?
My student cohort added great value to my experience at SAIS Europe. Coming from different corners of the world and possessing a vast range of experiences, the cohort stimulated classes with their evocative ideas and impressive knowledge. The faculty at SAIS Europe displayed a prodigious number of accomplishments and intelligence. They offered valuable knowledge with well-thought-out lessons that activated my critical thinking and problem-solving capabilities. I can confidently attest to the value that both the SAIS Europe cohort and faculty added my superlative experience this year. 

---
Enjoyed reading Ghaida's experience? Learn more about our Master of Arts in International Relations.

Back to Student Stories