Balancing an Internship with HNC Studies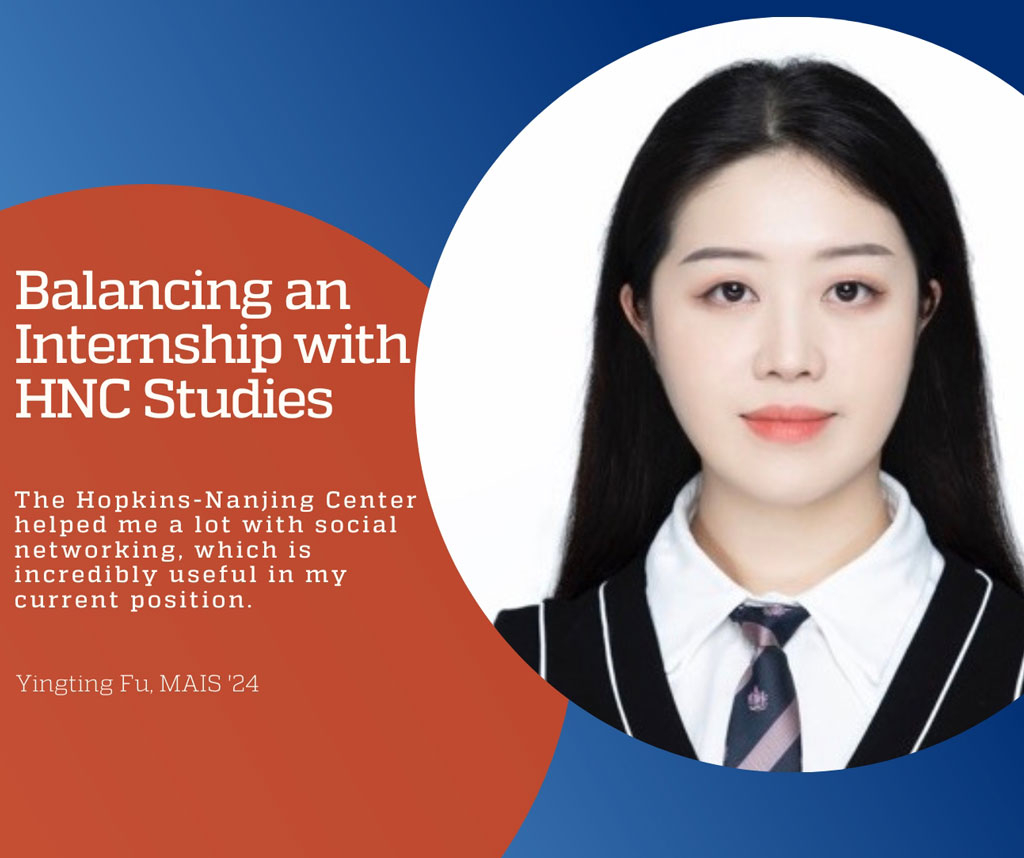 Yingting Fu
Master of Arts in International Studies
Yingting Fu is a Master of Arts in International Studies student at the Hopkins-Nanjing Center. Yingting is originally from Philadelphia, Pennsylvania and attended Pennsylvania State University as an undergraduate. Her specialization is Energy, Resources, and Environment.
What motivated you to apply to the Hopkins-Nanjing Center and how did you choose your concentration?
When I first heard about the Hopkins-Nanjing Center MAIS degree, it stood out as a really strong program that allows you to study in China and get in-depth cultural immersion. Typically, the cohort is made up of half international students, and half Chinese students, which creates a balance between different cultures, and really promotes a sense of community. When I first applied, I just wanted to concentrate on Chinese studies because I was primarily focused on Chinese culture and was really interested in Professor Hua Tao's "Social Issues of China's Modernization" class. I then decided to add on my ERE concentration after taking Professor Raufer's class on air pollution, sparking my interest in that field of research.
The HNC organizes several events, such as the Asia Career Trek, that took us to Shanghai and Hong Kong. This experience helped me understand social networking in a work environment, which now has helped me connect better with clients.
What do you hope to do after you graduate?
I would like to stay in China, preferably in Nanjing. I previously did an internship in business development and am now doing another internship in sales and marketing, which I really enjoy. Even though it can get quite overwhelming, I enjoy the balance between a very busy pace and at times a steadier and slow rhythm. I am therefore exploring different options in business development or sales and marketing.
What is your current role in your internship, and how does that tie in with your HNC studies?
In my current internship, I focus on the US area in the sales and marketing department of a translation company. I am responsible for contacting clients in the US to find potential leads or new clients that would like to partner with us or use our services. The Hopkins-Nanjing Center helped me a lot with social networking, which is incredibly useful in my current position. The HNC organizes several events, such as the Asia Career Trek, that took us to Shanghai and Hong Kong. This experience helped me understand social networking in a work environment, which now has helped me connect better with clients.
I also had a previous summer internship at AmCham Shanghai (American Chamber of Commerce), where I mostly helped organize events, such as seminars on applying for a work visa for foreigners, to help China-based companies learn how to recruit foreign talent, and a dragon-boat race for a team-bonding activity. This summer internship worked out well because it still gave me time to work on my thesis.
Before that, while taking classes at the HNC I also interned for IPwe, a global innovation management platform. It was my first formal internship, and it helped me gain a better understanding of what I would or would not want to focus on for my future career. At IPwe, I researched the company's competitors and submitted reports on their activities.
How do you balance your studies and internship? Do you have any advice or tips for future students?
I think the key to balancing studies and an internship is time management and organization. With my current internship, I make sure to optimize my time as much as possible, by taking advantage of my lunch breaks to get some editing or research done for my thesis, and by getting some reading done on my phone during my commute. Once I get home, I also strive to get an hour's worth of work done on my thesis before starting anything else. For the weekends, I try to allocate 5 hours to my thesis on Saturdays and Sundays, be it adding information or reading more articles. During an earlier internship at IPwe, I also had to manage my time quite seriously, to make sure I could get all my coursework done during the week and then work 20 hours for my internship on Saturdays and Sundays. This kind of discipline and habit can go a long way in balancing studies and internships. With some organization and long-term planning of your school and internship workloads, balancing both is entirely doable.
My main advice would be to not overdo it, especially when discussing your work hours with your employer. They will consider the fact that you are a student, but it is also a good idea to start small, maybe around 10 hours per week, and then increase your work hours depending on your comfort level. You also want to be sure you're getting enough sleep! Lack of or poor-quality sleep will have a real impact on your studies, so remember that it is important not to overwork yourself.
---
Enjoyed reading Yingting's experience? Learn more about our Master of Arts in International Studies.

Back to Student Stories