Celebrating 75 Years of Shaping the World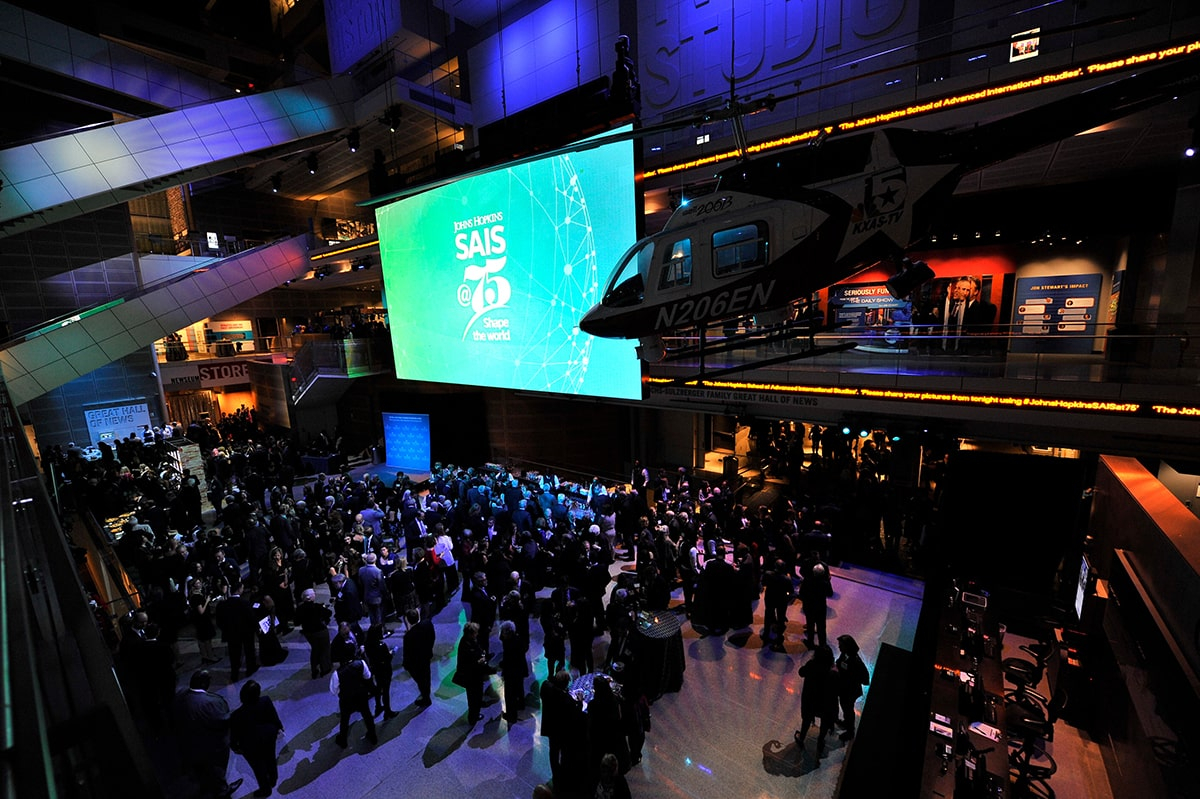 October 24 in Washington, DC, more than 500 alumni and guests gathered for the "Shape the World Celebration" to commemorate the school's 75th anniversary at a special reception at 555 Pennsylvania Avenue, the future home of the school, along with other programs of Johns Hopkins University in Washington.

The evening began with a special screening of a new video about the Johns Hopkins SAIS legacy of defining international affairs, featuring appearances by well-known alumni including CNN anchor Wolf Blitzer, former US Secretary of the Treasury Timothy Geithner, and former US Secretary of State Madeleine Albright.

Student Government Association President Shamaila Ashraf welcomed attendees with brief comments about students' excitement for the future of the school, and especially the move to its new home in the heart of the US policymaking community. Johns Hopkins University President Ronald J. Daniels gave opening remarks and congratulated alumni and supporters for building a network vitally important to the study and practice of international affairs.
  
Dean Eliot A. Cohen delivered an inspiring speech celebrating the legacy of the school, what its scholarship and teaching mean to the world today, and the vision for the school's future. Cohen called on alumni to help transform the school as it diversifies its instructional formats, adds programs for students ranging from undergraduates to lifelong learners, and better integrates with our world-class university.

An alumni panel moderated by Jessica Fanzo, Bloomberg Distinguished Professor of Ethics & Global Food and Agriculture and Director of Global Food Ethics and Policy Program, featured Kristie Canegallo '06, Vice President of Trust & Safety for Google and former White House Deputy Chief of Staff, and Isabel Studer '92 PhD '99, Director for Strategic Partnerships, Latin America at The Nature Conservancy. Canegallo and Studer shared their perspectives about what the school means to them and to the world, highlighting the unparalleled experiences and professional opportunities that helped them become successful leaders. Besides the panel, numerous alumni shared their pride for the international perspective they gained by studying at the school's campuses in Nanjing, China, and SAIS Europe in Bologna, Italy, which will mark its 65th anniversary in the spring of 2020.

Visit the event album for selected photos of the Shape the World Celebration. For more special coverage of Johns Hopkins SAIS' 75th anniversary, see the Fall 2019 issue of SAIS Magazine.