Examining Conflict in Ukraine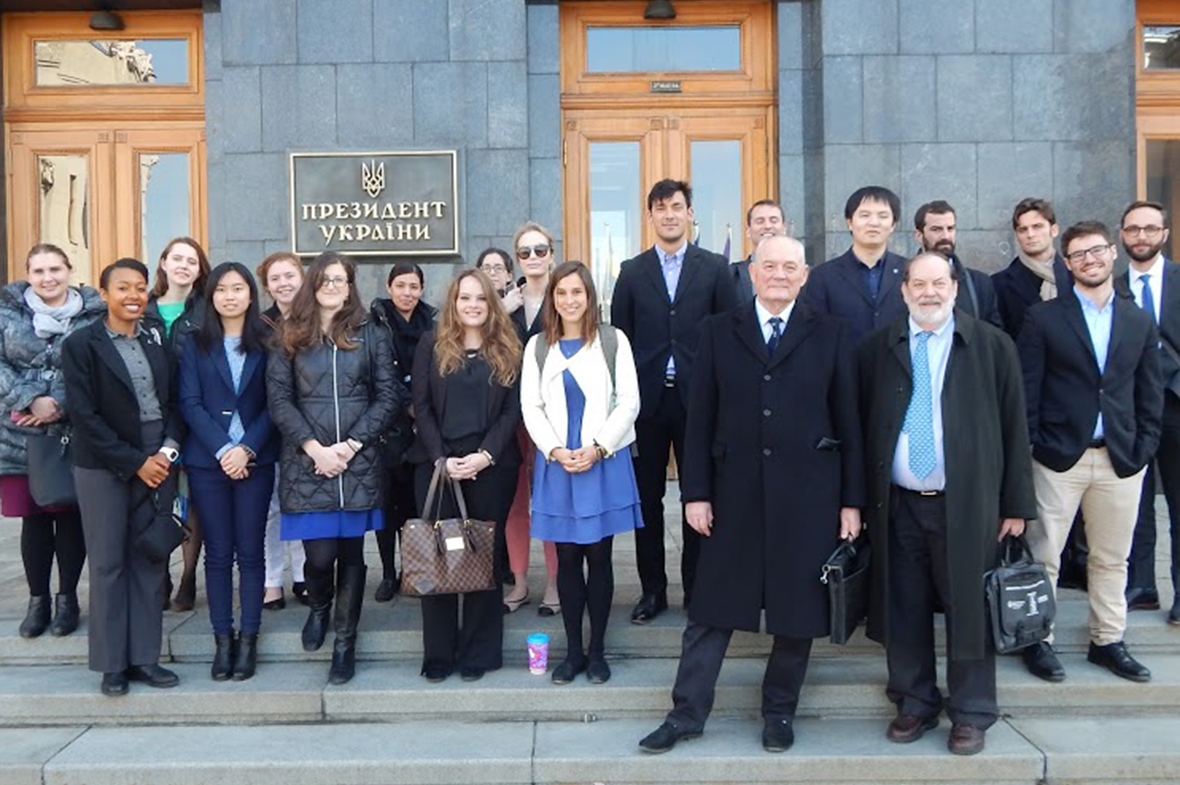 A group of 16 students traveled with the Conflict Management program to Kyiv, Ukraine, over the 2017 spring break to learn more about the ongoing conflict in the eastern parts of the country. The purpose of the trip was to gain a deeper understanding of the conflict and produce a finished booklet at the end of the semester that contains detailed information on the war. Each student was responsible for drafting a book chapter. As students concentrating in Conflict Management, European and Eurasian Studies, and International Law, all were very excited to apply what they learned in the classroom to understand a current conflict in their region of interest.
Representatives from the Ukrainian government, local NGOs, and international organizations spoke with students about the conflict. These professionals spoke with students about their work assisting internally displaced peoples (IDPs), tackling political corruption, and promoting economic reform. Participants learned about the origins of the conflict and discussed different approaches to the peace process and the future of Ukraine. The US embassy in Kyiv also hosted students for an evening reception and discussion. The diversity of perspectives gave students an in-depth look at the conflict and its impact on Ukrainian society.
The highlight of the trip for many was meeting students at Donestk National University in Vinnytsia. The university moved from Donestk to Vinnytsia after fighting broke out, and administrators rebuilt the college in a new building. Most of the university's students are from the Donbass region, as they moved to Vinnytsia to continue their studies in economics, languages, or other fields. Johns Hopkins SAIS students had the privilege of meeting their peers from Donestk to learn about their experiences at the university over tea and coffee. Afterwards, trek participants toured the university and learned more about how it was set up. The meeting provided a clearer image of how the conflict has affected the day-to-day lives of Ukrainians.
Before leaving Ukraine, students did some sight-seeing around Kyiv, including the famous Maidan square, where protests began in 2014, and memorials surrounding it commemorating those that lost their lives in fighting. Students also explored St. Sophia's Cathedral, enjoyed a ballet performance at the gorgeous Kyiv Opera House in the evening, and thrifted through local markets.
Chapters of the booklet highlighted lessons learned on human rights, the role of international actors, ceasefire violations, the economics of war, and the role of women in the conflict.