Examining the Current State of the Refugee Crisis in Jordan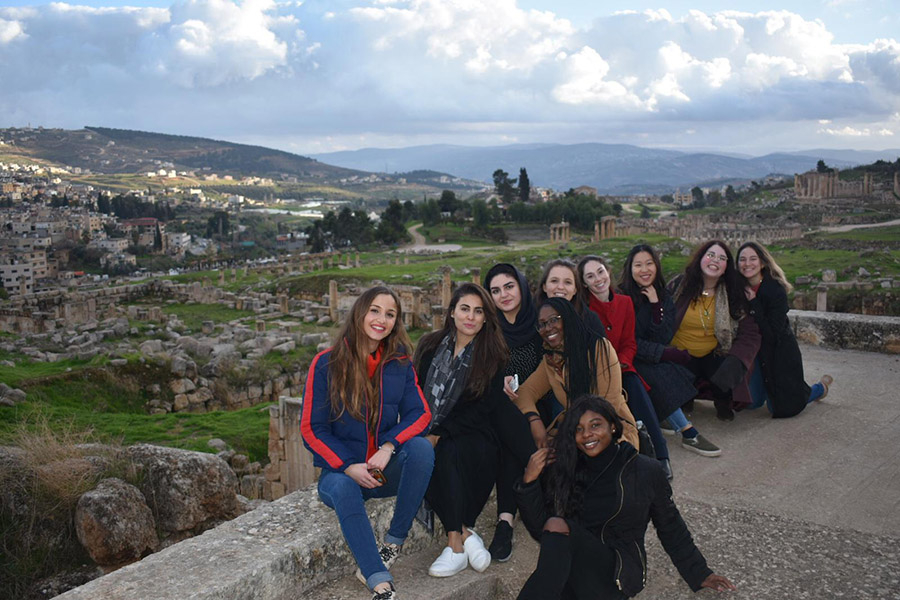 On February 1, thirteen SAIS Europe students from the Middle East and North Africa (MENA) club and Conflict Management club went on a four-day student-led study trek to Amman, Jordan to gain insights into the regional refugee crisis and meet with international and local organizations involved in working directly with refugees. Hosting one of the largest refugee populations in the world, Jordan is a key location for students to learn more about how international and national bodies are tackling issues of permanent settlement and inclusion, affordable housing, and economic opportunities for refugees from Syria, Palestine, Iraq, Yemen, Somalia, and more.
 
On Day 2, the group spoke with Muriel Tschop, country-director of the Norwegian Refugee Council (NRC) – Jordan. She explained the different ways in which the NGO has aided displaced people in Jordan since 2012 by helping meet their basic needs in camps and host communities throughout the country. Students also visited the United Nations Relief and Works Agency for Palestine Refugees (UNRWA) office, where Johns Hopkins SAIS alumnus and UNRWA Human Resources Director Antonino Brusa, discussed the organization's history, work, and their Sustainable Development Goals (SDGs). He also graciously organized a tour of the Amman Training Center, an education center part of the UNRWA that offers post-secondary, semi-professional courses on paramedical, commercial, hairdressing, and computer information systems to over 1,100 students.
 
On Day 3, students met with country director Kari Diener and program director Matt Lucas of Mercy Corps, an American NGO operating in Jordan since 2003 that provides support to hundreds of thousands of refugees, primarily from Syria in recent years, to adjust to life in Jordan. The last meeting in Amman was with the Collateral Repair Project (CRP), a small yet highly effective NGO established in 2006 by two American women who had the objective of establishing "an organization that allowed for a direct connection between citizens of coalition countries and innocent Iraqis who suffered from the consequences of war."
 
Students also had an opportunity to venture out of the city center on two cultural excursions to the Roman ruins of Jerash in Day 1 and Petra, a UNESCO World Heritage Site, on Day 3. Overall, the daily meetings with organization leaders and the cultural treks provided students the chance to not only experience the beauty and culture of Jordan, but also hold meaningful discussions about these organizations' daily operations and challenges, address difficult questions about local tensions, and expose students to a future in NGO work in Amman.