Examining Islamic Finance, Its history and Current Trends in Malaysia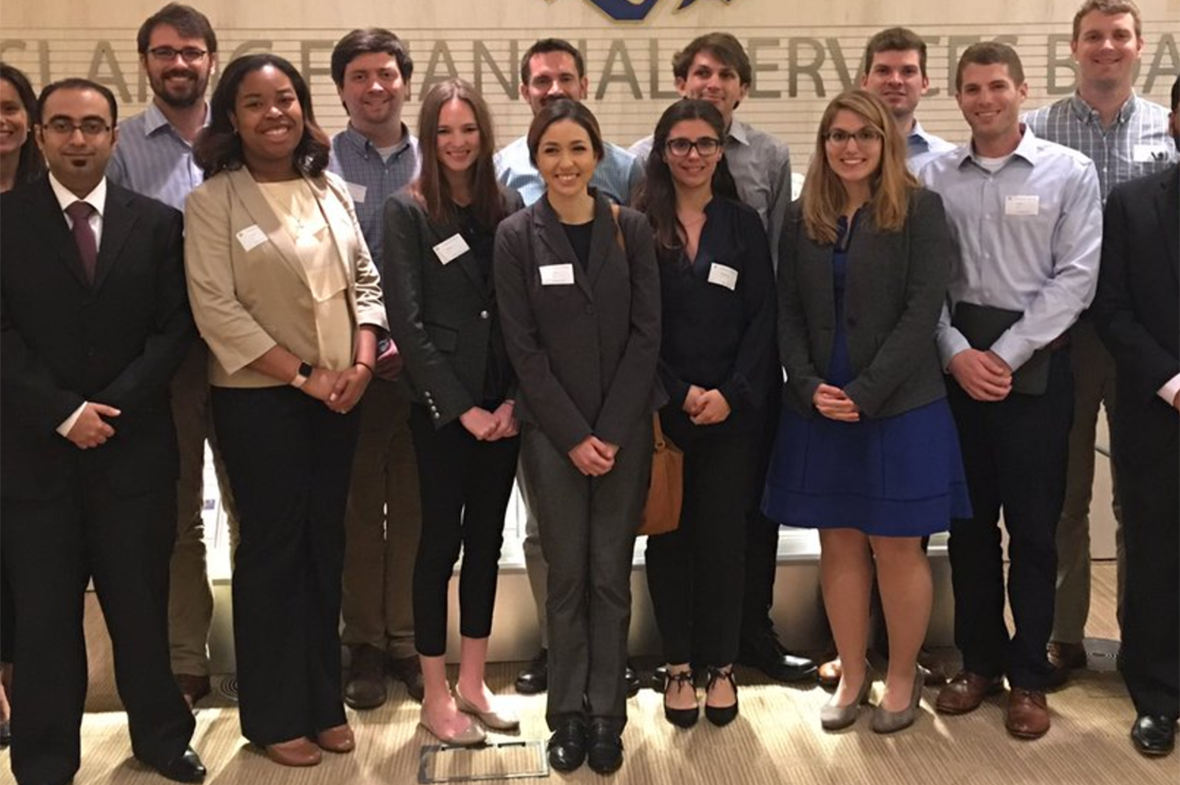 Photo Caption: Matthew Kostman (back row, fourth from the left) at the Islamic Financial Services Board in Malaysia.
During spring break, European and Eurasian Studies program student at SAIS Europe Matthew Kostman participated in a study trip to Malaysia. Up until this year, Southeast Asia and Islamic Finance were never areas of consideration of academic study for Matthew. As a US student spending his first extended period of time in Europe, his focus was set on Eastern Europe. However, when the European and Eurasian Studies (EES) program announced a department-wide lottery to spend a week in Kuala Lumpur, Matthew took his chance, and, thanks to the EES, the Middle East Studies (MES) department, and Starr Foundation, he had the incredible opportunity to spend a week in a country he never thought he would visit, studying a topic he didn't know anything about.
This trip was possible thanks to a fellowship grant by the Starr Foundation centered on giving the opportunity to students outside of Asian Studies disciplines to have meaningful contact with the region, offering students the opportunity in both the European and Eurasian as well as the Middle East Studies programs at Johns Hopkins SAIS to travel to the region.
To prepare for the trip, Matthew and his eleven travel companions, from the Bologna and Washington campuses researched the basics of Islamic Finance and put together a collective syllabus to familiarize with the topic before their meetings in Kuala Lumpur. After a guest lecture by Professor Camille Pecastaing, Senior Associate Director of the Middle East Studies Program, and numerous virtual conferences with the student group at the DC campus, they gained a good understanding of Islamic Finance, its history, the current trends, how its principles are implemented currently and the plans for the future.  Matthew said it was great to have the opportunity to learn about the inner-workings and future plans of Islamic Finance directly from the source.
Matthew met remarkable individuals at different institutions who were true experts and practitioners of Islamic Finance in Malaysia. His discussions with people from the Malaysian Securities Commission, Malaysian National Bank, and the Islamic Financial Services Board were particularly enlightening. He found himself having in-depth policy and technical discussions with high-ranking leaders in Malaysian finance, enhancing his understanding of a topic he had only heard about a few months ago.
Matthew's meeting with Members of Parliament gave him a better understanding of the current political situation in the Country and some of the issues they are dealing with. Malaysia has an incredibly multi-ethnic population with large Chinese and Indian communities that add a fascinating element to the Country's history, culture, and politics. Matthew got to see this up close when he attended a discussion conducted by a group of Malaysian college students about race, ethnicity, and the conflicts they raise. Befriending these students and hearing their stories and experiences was incredible and gave him a window into their lives and cultures.
In his down time Matthew got a taste of the culinary diversity Malaysia enjoys. Along with his classmates, he searched the city for the best local and authentic foods, discovering wonderful Indian, Chinese, Malay, and Korean food. He even tried the durian fruit, a staple of Malaysia.
This trip also allowed Matthew to get to know his classmates across the Atlantic Ocean. Studying, exploring, and attending meetings with the students in the EES and MES programs was a great way to get to know them, and he is looking forward to his time on the DC campus.