Examining Sanitation Systems Up Close Ahead of World Toilet Day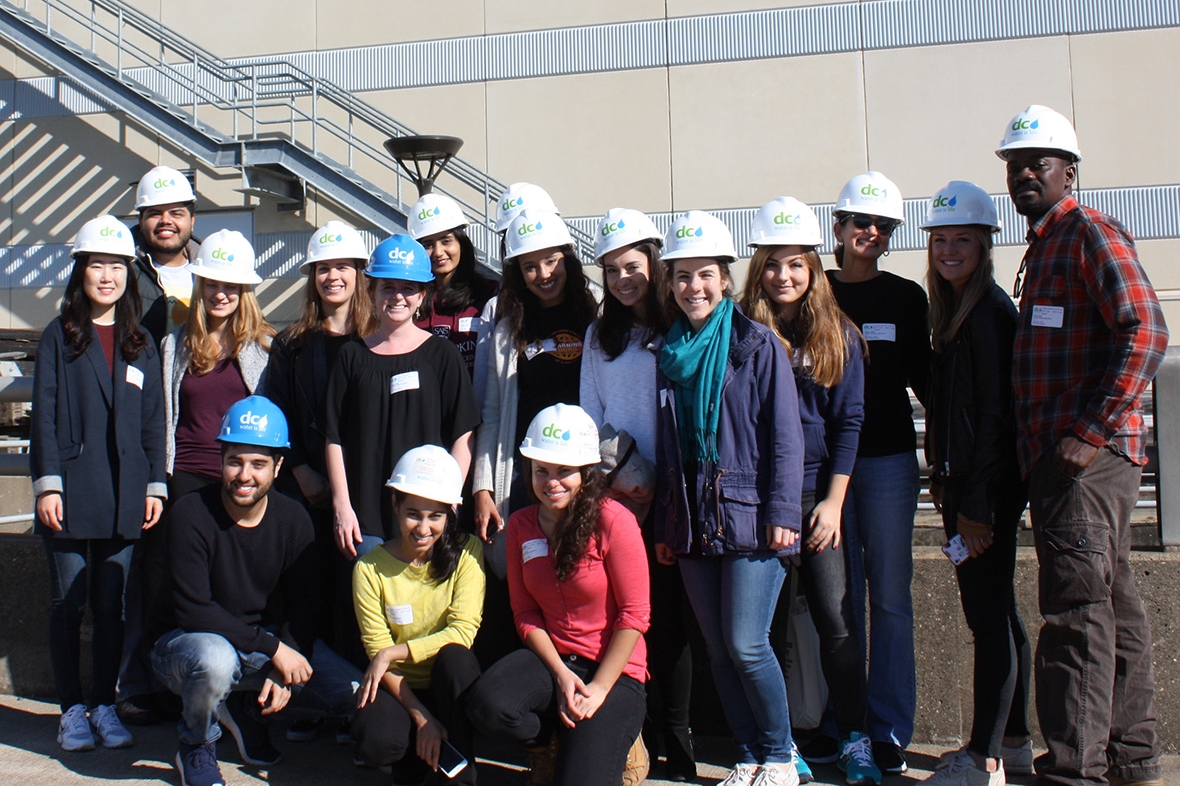 There's nothing like the strong smell of waste water to wake up Johns Hopkins SAIS IDEV students in the morning.
As part of the fall course "Improving Service Delivery in Developing Countries," Professor Tanvi Nagpal led her annual field trip to Washington, DC's Blue Plains Wastewater Treatment Plant, one of the world's largest and most advanced plants of its kind. On an average day, this treatment facility pipes in 300 million gallons of wastewater from local utility customers. According to the plant's expert tour guide, "That's enough poo-water to fill the Nationals Baseball Stadium once every 24 hours!"
The field trip provides students with an up-close dive into the inner-workings of a highly-improved sanitation system. As an industry-leader, Blue Plains utilizes a complex three-tiered sterilization process, including physical treatment methods as well as chemical and biological ones. This operation cleanses human excrement, recycles useful products such as bio-solids into organic fertilizers, and extracts energy for electricity generation in what the plant calls its "Poop-to-Power" program. In addition, the final product pumped out of Blue Plains and into the Potomac is completely clear, odorless, and ultimately cleaner than the river itself. At the end of their tour, Nagpal and her students took part in a fun exercise: guess which of two glasses contains drinkable tap water and which contains treated wastewater. Only a couple of individuals managed to choose the glass which held the facility's specialty aqua.
The Blue Plains field trip exposes students to a service delivery success story and highlights the real failures of sanitation provision in poorer parts of the world. Experiences like this tour are an essential way students at Johns Hopkins SAIS gain a better understanding of contemporary global challenges and begin thinking of innovations to address critical gaps going forward.