To gain skills in Transitional Justice, Peacebuilding, and Conflict Prevention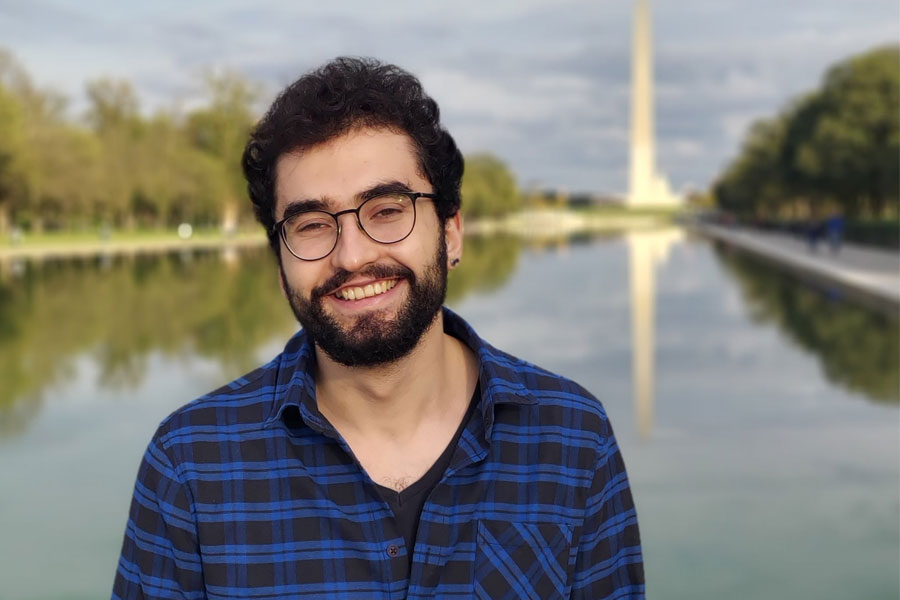 Aydin Ulu
Master of Arts in International Relations

What encouraged you to apply to Johns Hopkins SAIS?  
Prior to my studies at SAIS, I participated in different international programs on conflict resolution, where I met many professionals who suggested to me that Johns Hopkins SAIS would be a good fit for studying conflict resolution and international relations. The school's focus on economics as an integral part of conflict resolution primarily motivated me to apply to the school following my acceptance to the Fulbright Foreign Student Program. Coming from Turkey, the geographical crossroads of conflicts, I hope to equip myself with the necessary conflict management skills, tools, and knowledge to engage in transitional justice, peacebuilding, and conflict prevention efforts in the Middle East region. Having such career goals, I saw that the SAIS faculty, namely Prof. Vali Nasr, Dr. Lisel Hintz, and Dr. Siniša Vuković, would help me to broaden my perspective on the Middle East politics and the conflict management field. The school's location in DC is ideal for studying international affairs because it is home to prestigious think tanks and policymaking institutions.
 
What were you doing before attending school?  
Before attending SAIS, I completed my Bachelor of Laws degree at Galatasaray University in Istanbul, Turkey. During my time in law school, I focused on human rights and international law, participating in international moot court competitions organized by ICRC, ICC, and UNHCR. As I realized the shortcomings of international law regarding the inability to enforce policies and sanctions in a state-centered international system, I decided to study international relations to have a significant impact on state policies and implementations. More specifically, I decided to study Middle East politics because of my NGO-related activities for the Syrian refugees in Istanbul. Leading several projects for the livelihood and adaptation of refugees, I witnessed how conflicts broke up families and destroyed communities, which encouraged me to study conflict resolution. In addition to these experiences, I did my journalism internship in one of the few independent media outlets in Turkey and worked as a Turkey analyst at Cambridge Middle East and North Africa Forum.  
 
What program are you in and what do you hope to gain from it? 
I am part of the Master of Arts in International Relations (MAIR) program with the focus areas on the Middle East and Security, Strategy, and Statecraft. I hope to broaden my perspective in the international relations field, specifically in Middle East politics, not only through lectures but also with the help of extracurricular activities. Before SAIS, as a law student, I had primarily focused on the legal aspect of international conflicts, either through international criminal law or humanitarian law. MAIR is an opportunity for me to look at the world's most complex issues through states' eyes, understand parties' motives, and equip myself with the necessary practical tools to contribute to the resolution of different conflicts. Furthermore, thanks to the school's focus on economics, I hope to incorporate this knowledge into the international relations field. During the two semesters I have had here, I gained an extensive understanding of international trade theory and monetary policies. They have already helped me look at the world's current developments through analytical lenses. 
 
What has been one of your favorite experiences or classes at the school so far?  
One of my favorite experiences at SAIS has been my role in organizing events for the Middle East and North Africa Club. As communications director, I was responsible for designing event flyers, reaching out to the audience and speakers, and organizing social gatherings. Being active in the organization of club events helped me to get to know many people at SAIS who have similar interests and career goals. Incorporating my designing hobbies into club events also helped me increase my web design skills. As a first year MAIR student, I am also on the leadership team of the SAIS Israel-Palestine trek, which will take place in May 2022. These extra-curricular activities are helpful to contribute to my understanding of Middle East politics and a great opportunity to get to know many people at SAIS. 
 
As a first year, what are some things you are looking forward to?  
I applied for the SAIS Middle East Language Scholarship for my summer plans to participate in the Arabic Language Program in Jordan. It's an excellent window for Middle Eastern language learners at SAIS to maintain their studies in a country where the language is spoken. Furthermore, I am looking forward to being part of the organization of the upcoming Israel-Palestine trek. As one of the trip leaders, I hope it will be an informative experience for SAIS students. Next year, I will be leading the Middle East and North Africa Club, hoping to provide many more exciting events regarding the region's politics. In the meantime, I will keep learning Arabic thanks to the language study opportunities that SAIS provides.  
 
What do you hope to do with your degree after you graduate? 
As part of my career goals, I hope to promote refugees' representation and their influential roles in post-conflict reconstruction and state-building efforts in the Middle East region, specifically Syria and Yemen. For that reason, I want to work in international organizations and policymaking institutions in Jordan after my graduation. Therefore, learning Arabic is my priority in my studies at SAIS, and I hope I will be at a fluent level by the time of my graduation.

---
Enjoyed reading Aydin's experience? Learn more about our Master of Arts in International Relations.

Back to Student Stories