Gaining a Career-Building Edge in Clean Energy and National Security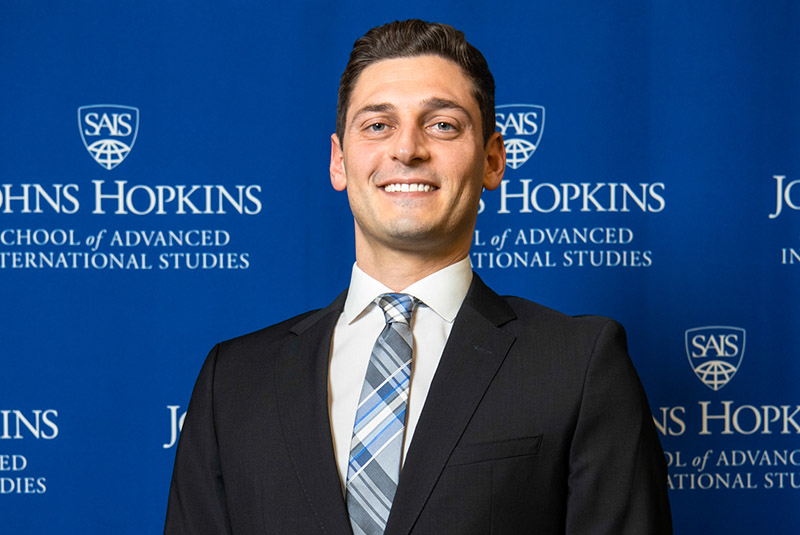 Nicholas Lucania
Master of International Public Policy '21

Q: What were you doing prior to attending SAIS?
A: My road to SAIS followed somewhat of an untraditional path. After completing my undergraduate studies in business, I joined JPMorgan Chase & Co. as part of a leadership development cohort, working to assist clients and businesses adversely impacted by the fallout from the 2007-08 financial crisis. Following, I was afforded the opportunity to commission in the U.S. Navy—a lifelong goal inspired by a lineage of family and friends who served. Throughout my time, I was challenged with diverse assignments around the world, which included serving aboard submarines in the Asia-Pacific region, deploying to the Middle East, working on exchange to the Australian Defence Force, and assisting with COVID-19 response in Europe & Africa.
Over the course of my professional career, I was exposed to a multitude of complex, global problems and was left wanting to develop solutions to better address them. After transitioning from active duty military service to do just that, pursuing an internationally-focused public policy degree was the clear next step in the process.
Q: What encouraged you to apply to SAIS? 
A: During my graduate school search, SAIS easily offered the most robust program that specifically catered to my interests across climate/energy and defense/foreign affairs. The distinguished faculty, multidisciplinary courses, and diverse student body solidified my decision to apply.
Since matriculating, the Master of International Public Policy (MIPP) program has exceeded my expectations. I have had the opportunity to take courses alongside peers from across the world, instructed by experts in their field, which include the former Director of the Central Intelligence Agency, energy economists, retired military generals, and various other executive-level professionals. Each class has challenged my perspective and encouraged me to incorporate the issues I am passionate about to better understand their interconnection and drive change. Further, being in Washington, DC has provided unparalleled access and engagement with US government officials, foreign ambassadors, scholars, and practitioners.
Q: What has been one of your favorite classes at SAIS?
A: Having taken a variety of classes across different departments, it is hard to choose just one! However, Energy Economics has particularly been of great importance and value to me. By applying economic, business, and policy perspectives to the complex topics of energy and climate in the US, this course has provided the foundation to critically assess and develop solutions to solve the issues facing our nation's energy markets—perfectly suited for my career transition into clean energy.
Q: How do you see your education helping build your expertise and expand your network? 
A: One of the greatest things about SAIS is the sheer diversity across the faculty, students, and alumni. Through engagement with each, I have been exposed to various perspectives that challenged how I evaluate tough, international problems, while simultaneously broadening my worldview. These professional relationships I have been fortunate to develop are invaluable and I very much look forward to continually engaging and growing alongside these individuals over time.
Q: What do you hope to do with your degree after you graduate?
A: I am extremely grateful that the MIPP program afforded the opportunity to focus on two areas of importance to me—climate change and national security—and that I am able to concurrently pursue careers in both. Following graduation, I will enter the clean energy space as a renewable energy developer, working to build large-scale wind and solar projects throughout the US. Further, I will continue my military career in a part-time capacity as a naval reservist, largely focused on achieving national security objectives and promoting US interests across the Asia-Pacific region.