Gaining Expertise in US-China Relations in a Close-Knit Community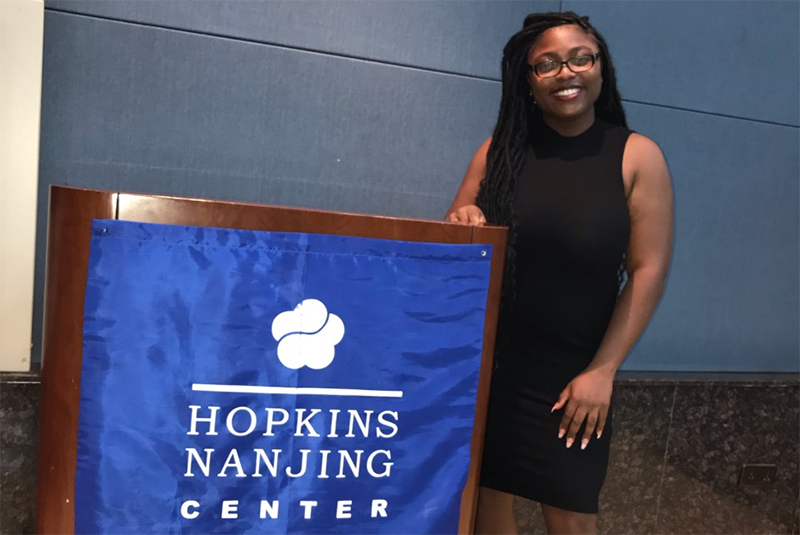 Brandy Darling
Hopkins-Nanjing Center Certificate in Chinese and American Studies + Johns Hopkins SAIS Master of Arts in International Affairs '21
 
Q: What encouraged you to apply to Johns Hopkins SAIS? 
 
A: Johns Hopkins SAIS is a prestigious institution and the school has an amazing reputation of producing international affairs experts. Attending The Hopkins-Nanjing Center (HNC) gave me the unique opportunity to expand my Mandarin Chinese providence while simultaneously pursing interdisciplinary courses. I also knew that the school would allow me to continue doing research in Sino-African relations. Furthermore, the China-Africa Research Institute (SAIS-CARI) was the cherry on top to my choice to come to Johns Hopkins SAIS. The papers that I saw connected to SAIS-CARI were impeccable and I knew that I wanted to contribute to the research there while attending Johns Hopkins SAIS.
 
Q: What was one of your favorite parts about studying at The HNC?
 
A: My favorite part about studying at The HNC was the community, which made learning so much more rewarding. We were all comfortable with one another which allowed us to make mistakes in class to learn from or challenge one another in different topics using Mandarin Chinese. Even giving presentations in class didn't seem like a nerve wrecking task because we all were willing to learn from one another. 
 
Q: What are some of the extracurricular activities you have participated in during your graduate studies? 
 
A: I work for The HNC admissions office which I love! I wrote blog posts for prospective students while in China and now I write blog posts to help students who might transition to Washington DC to learn how it might be. I give out tips, talk about experiences and highlight cool opportunities at the school. I also conduct interviews, which is a great transferable skill that I definitely want to apply post-graduation. The admissions office has amazing people and I could not be happier to work with them.
 
Q: What do you hope to do with your degree after you graduate?
 
A: I hope to use this degree to work for multilateral organizations and international non-profits. Johns Hopkins SAIS gives students a level of expertise in economics and at The HNC, expertise in China and Mandarin Chinese. I hope to use this expertise to be confident working in these fields to both break down cultural barriers, but also learn how other developing countries can mimic the success that China's economy has experienced. By the end of my career, I hope that everyone in the world can obtain three meals a day and China-US tensions can decrease significantly. My degree from Johns Hopkins SAIS can definitely help me make that happen.

Find out what a day in the life of a Hopkins-Nanjing Center student is like through a blog post written by Brandy.