International Law Moot Court Competition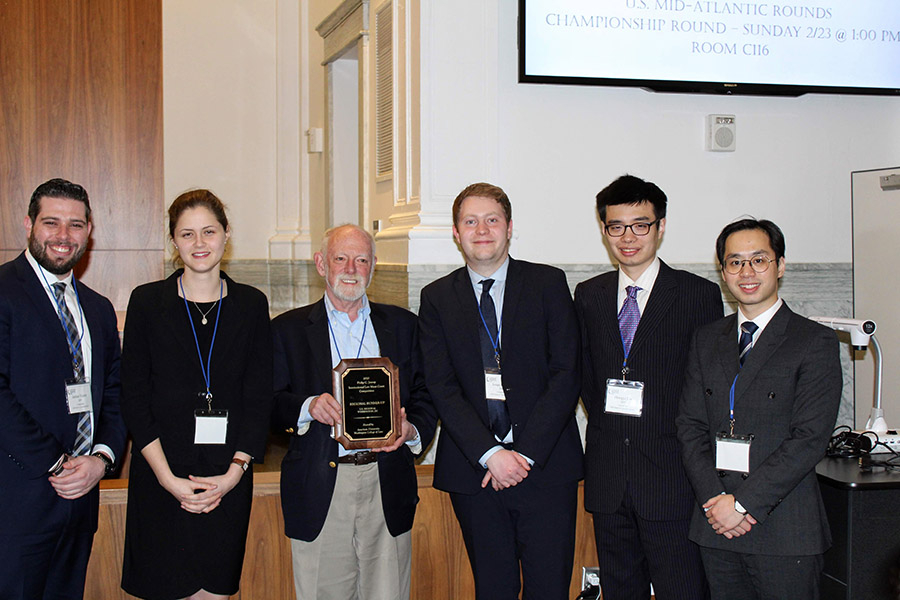 A team of students enrolled in Johns Hopkins SAIS' International Law and Organizations program have advanced to the international rounds of the 2020 Philip C. Jessup International Law Moot Court Competition. This is the second time in 30 years that the school will appear in the competition's international rounds.
 
The student team consists of Kangdi Cheng '21, Hongyi Lin '20, Jonas Präfke '20, Miriam Siemes '20, and Jordan Victor '20, who under the guidance of Steven Schneebaum, Interim Director of International Law and Organizations, submitted written briefs and presented oral arguments on complex international law issues during the Mid-Atlantic regional round of the competition.
 
"This group of students demonstrated extraordinary effort preparing for the competition," said Schneebaum. "The skills they've displayed so far will be valuable in a real-life courtroom, where real-life consequences are at stake."
 
As the lone non-law school in the Mid-Atlantic region of the competition, the team achieved a top-two finish during the weekend of Feb. 22 at American University's Washington College of Law by defeating Boston University, Seton Hall University, University of Richmond, West Virginia University, University of Maryland, and Georgetown University before falling short against American University in the finals.
 
The team will continue in the competition during the international rounds, scheduled for April 12-18 in Washington.