Johns Hopkins SAIS to host David Miliband, president and CEO of the International Rescue Committee, for a virtual conversation with Dean Eliot Cohen on May 10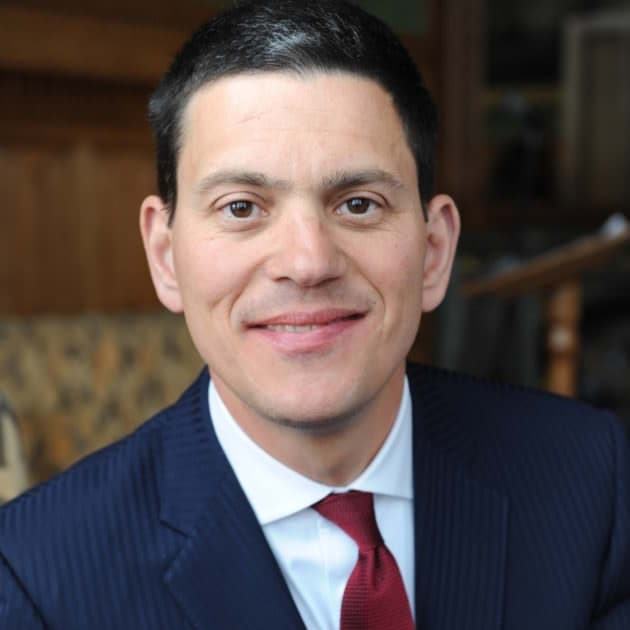 MEDIA ADVISORY 
Johns Hopkins SAIS Dean Eliot A. Cohen will host David Miliband, president and CEO of the International Rescue Committee (IRC), for a virtual conversation on the global refugee crisis as part of the Dean's Speaker Series on Monday, May 10. Miliband, author of Rescue: Refugees and the Political Crisis of Our Time, will join Cohen to discuss the Biden administration's upcoming decision on refugee admissions and its global impacts. 

Speakers
Eliot A. Cohen
Dean, Johns Hopkins SAIS
 
David Miliband
President and CEO, International Rescue Committee 

Date and Time
Monday, May 10, 2021
10:00 a.m.-11:00 a.m. EDT 

Registration
This virtual event is open to the public and media, with registration. 

Media Contact
Jason Lucas
Communications Manager
Johns Hopkins SAIS
+1 (202) 663-5620
jlucas27@jhu.edu 
 

About the Speaker 
David Miliband is president and CEO of the International Rescue Committee (IRC). He oversees the agency's humanitarian relief operations in more than 40 war-affected countries and its refugee resettlement and assistance programs in more than 20 United States cities. Miliband's parents fled to Britain from continental Europe during World War II and its aftermath. As a result, he brings a personal commitment to the IRC's work. Under Miliband's leadership, the IRC has expanded its ability to respond rapidly to humanitarian crises and meet the needs of an unprecedented number of people uprooted by conflict, war, and disaster.
 
From 2007 to 2010, Miliband was the 74th Secretary of State for Foreign Affairs of the United Kingdom. In 2006, as Secretary of State for the Environment, he pioneered the world's first legally binding emissions reduction requirements. He was a member of Parliament for South Shields from 2001 to 2013. In former President Bill Clinton's words, Miliband's accomplishments have earned him a reputation as "one of the ablest, most creative public servants of our time," and as an effective and passionate advocate for the world's uprooted and poor people. Miliband's first book, Rescue: Refugees and the Political Crisis of our Time, was published by TED Books in 2017. 

Dean's Speaker Series
The Dean's Speaker Series is the highest profile speaker series at Johns Hopkins SAIS. The series will host a diverse array of prominent international affairs practitioners and business leaders for insightful perspectives and thought-provoking discussions on international relations, leadership and other relevant topics that impact our focus areas. This fall will feature distinguished experts around themes such as American Foreign Policy and the 2020 Election, International Order after Coronavirus, Targets of Opportunity in the Global Arena, and Race Relations, Civic Engagement and Global Social Movements. All events require pre-registration and are free and open to the public. 

Johns Hopkins SAIS
A division of Johns Hopkins University, the School of Advanced International Studies (SAIS) is a global institution that offers students an international perspective on today's critical issues. For more than 75 years, Johns Hopkins SAIS has produced great leaders, thinkers, and practitioners of international relations. Public leaders and private sector executives alike seek the counsel of the faculty, whose ideas and research inform and shape policy. Johns Hopkins SAIS offers a global perspective across three campus locations: Bologna, Italy; Nanjing, China; and Washington, D.C. The school's interdisciplinary curriculum is strongly rooted in the study of international economics, international relations, and regional studies, preparing students to address multifaceted challenges in the world today.
 
For more information, visit sais.jhu.edu or on Twitter @SAISHopkins
 
###