Learning from the Greatest Minds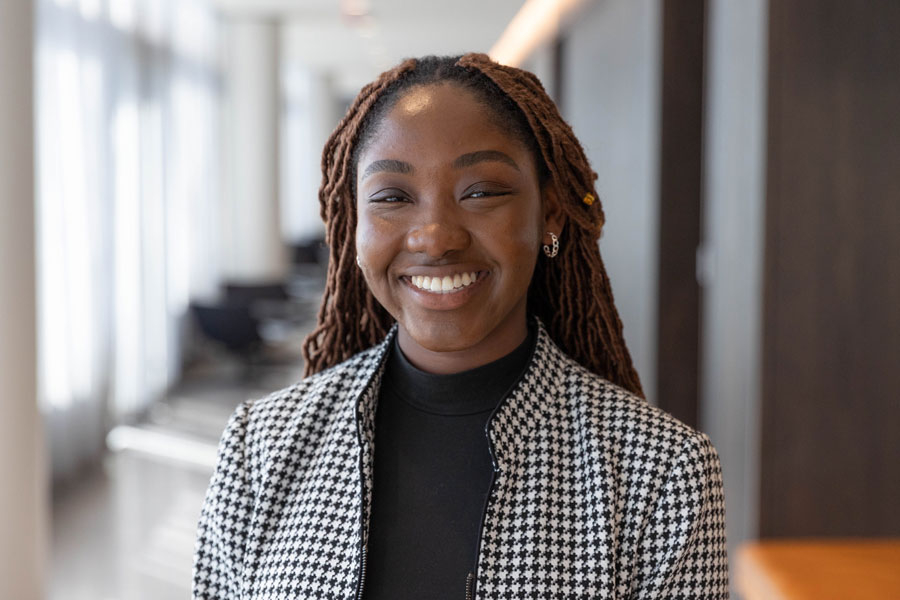 Esther Akosua Manu
Home Country:
Ghana
Degree:
Master of Arts in International Relations
Before joining the Johns Hopkins School of Advanced International Studies (SAIS), what were you doing?
My life before SAIS was characterized by travel, from spending my childhood in the Philippines and completing elementary school in the Ivory Coast, to attending high school in Kenya. I spent the last four years in Tennessee, where I completed my bachelor's degree in international development studies with an emphasis on business.
We are learning from some of the greatest minds in international relations, in the same room as some of the world's most influential leaders.
What led you to Johns Hopkins SAIS?
One of my professors at Southern Adventist University first introduced me to SAIS. After more research, I knew the world-class education, SAIS' unique resources, and vast alumni network would best position me to achieve my goals in life.
The location and new facility at 555 Pennsylvania Avenue was also appealing. Being in the heart of Washington, D.C., I knew that this would be a great place for me to step into the world of development and international relations. I would be able to connect with others who share my interests and passions while being surrounded by global organizations making phenomenal progress.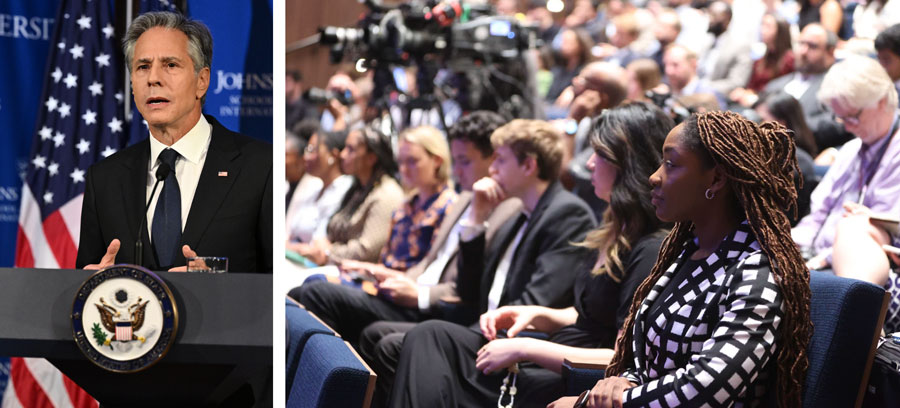 What has been your favorite experience at SAIS?
Attending U.S. Secretary of State Antony Blinken's speech has been a highlight, not just of my time at SAIS, but my academic journey as a whole. It was emblematic of the reason so many of us chose to attend SAIS — we are learning from some of the greatest minds in international relations, in the same room as some of the world's most influential leaders. It is an honor to attend such a momentous event and I look forward to using what I learn here to push for progress and equality all over the world.
"[We want to create a] world where individuals are free in their daily lives, and can shape their own futures, their communities, their countries," said Secretary Blinken. "A world where every nation can choose its own path and its own partners." These words will stick with me throughout my time at SAIS and in my career beyond.
What do you plan on pursuing after graduation?
My life goal is to bring dignity to those on the margins of society. I want to use my skills in public speaking and negotiation to advocate for those who have been silenced. I also plan to concentrate in economics and finance to learn the skills needed to help developing countries leverage world markets to create conditions at home that tackles youth underemployment, reduces public debt, and supports aspiring business owners.
One of my classes this semester, International Political Economy of Emerging Markets, has so far given me a better understanding of the complex relationship between world trade and international political decision making, and makes me optimistic that SAIS will position me well to succeed in that arena. As long as what I do improves the life of at least one other person in this world, I know I will be content with the life I am living.
What is one piece of advice you would give to students in the process of choosing graduate schools?
Graduate school is an investment. Take as much time as you need to understand the costs and benefits of the program you choose and prepare during undergrad to get internship and training experience.
Whose support has made your journey at SAIS possible and why?
I would not have made it to SAIS if not for the support of my family and several faculty at SAU. My faculty advisor, Professor Shannon Martin, has been a huge support of my entire education journey.
Along with Professor Martin, Dr. Karon Powell also encouraged me, helped me find internships and connected me to other professionals who guided me on my path.
My family has also been a significant part of my journey. Their prayers, love, and financial support is the only reason I can call SAIS home for the next two years.
---
If you are looking to learn more about what it's like to be a current student at Johns Hopkins SAIS, we encourage you to schedule a virtual appointment with one of our Admissions Fellows.
Enjoyed reading Esther's experience? Learn more about our Master of Arts in International Relations.

Back to Student Stories