Mapping Community Approaches to Gender Based Violence Prevention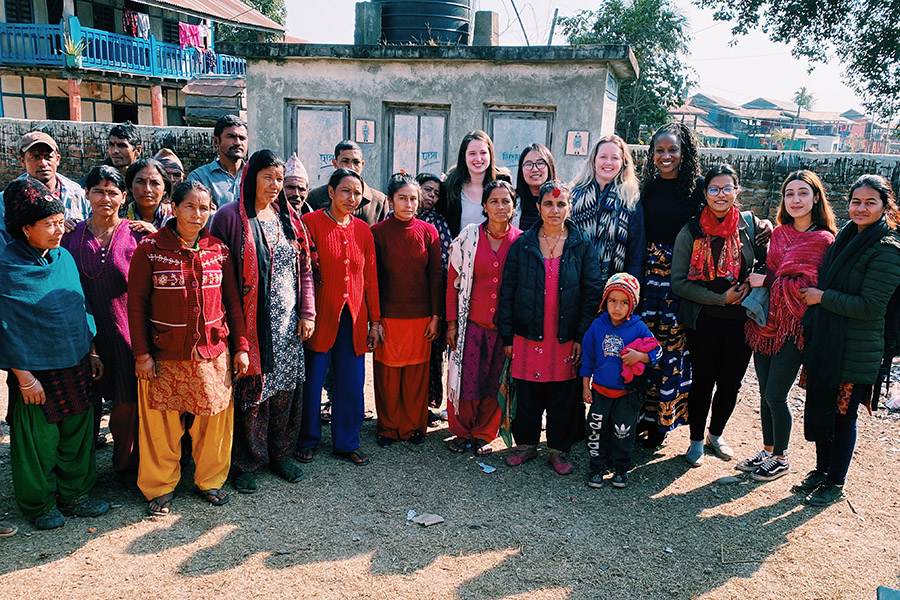 Pictured: The SAIS Women Lead Nepal Practicum Team take a photo with men and women from the Udayapur Mobile Workshop.

During the January 2020 winter break, a team of four students, Leah Danville, Emily Ing, Emily Koenig and Yiyuan Qi, traveled to Nepal to conduct field research on gender-based violence (GBV) for their SAIS Women Lead Practicum, which partners students with public, private, and non-governmental organizations through projects that advance women and contribute solutions to issues of global importance. This year, the students are working as consultants for the Nepal-based NGO Women's Rehabilitation Center (WOREC) to help evaluate their programming on GBV prevention and create media dissemination strategies to better spread WOREC's message and services.
 
The students began their trip in Kathmandu, the capital of Nepal. After three days, they spent 9 hours traveling through winding roads, up the side of mountains to a rural village, Udayapur, in the South-East of Nepal. Here, they met with women and men that benefited from WOREC's programs and services. WOREC provides technical trainings in agriculture, taka (a type of weaving), radio editing, and computer skills in addition to awareness programs on gender and gender roles in order to prevent GBV. While in Udayapur, they also met with women that were survivors of gender-based violence to hear their personal stories. Many of them emphasized the importance of education and fiscal independence as the key for women's empowerment and the prevention of GBV. After four days in Udayapur, they traveled back over the mountains to Kathmandu. For the last week, they spent their time meeting with other NGO's in the GBV prevention space and with local government officials.

The trip was an amazing experience. Nepal is a beautiful country and the view of the Himalayan Mountains from Kathmandu was absolutely breathtaking. By being able to conduct in-field research and travel to Nepal the students were able to gain invaluable skills of research design, data collection, and ethnographic research. More importantly though, they were able to understand the real world impact of our work and understand the true value that their research will have on the lives of women in Nepal.