Navigating the Complications of Sustainable Development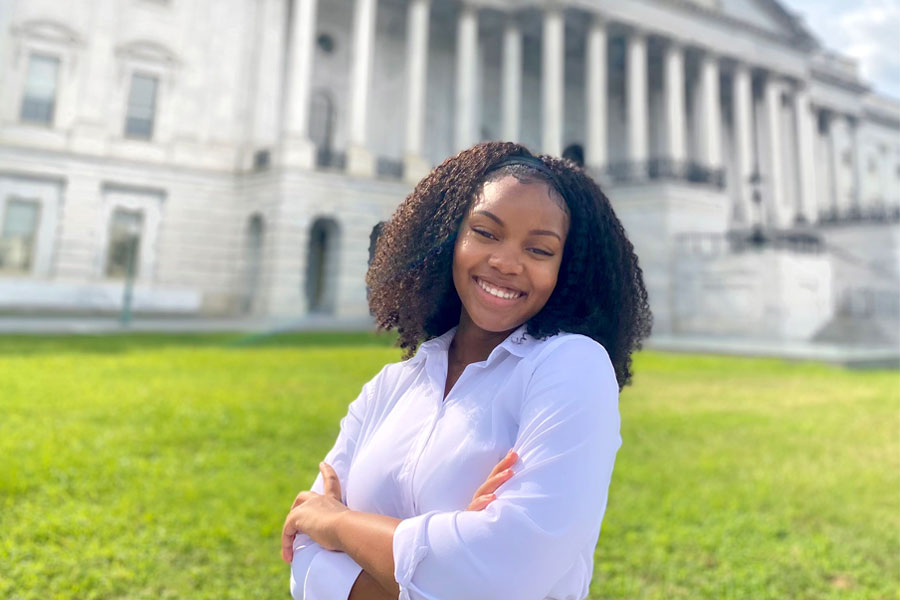 Cecilia Turner
Master of Arts in International Relations

As a prestigious Donald M. Payne Fellow, why did you choose Johns Hopkins SAIS? 
I chose SAIS for a multitude of reasons. One of the main reasons is that SAIS allowed me to choose my own functional and regional focus areas so that I could tailor my education to my interests and career aspirations. After spending time in the townships of South Africa, it has been my passion to further human rights as well as state and economic development in Africa. SAIS allows me to take classes on development and state institutions as well as classes specifically about Africa that will be invaluable in my career in development. Another important reason was the school's vast and knowledgeable alumni network that was always willing to lend a helping hand or listening ear to a newly admitted student.

What program are you in and what do you hope to gain from it?
As a first year in the Master of International Relations (MAIR) program, I've already gained so much from my classes and the on the ground, professional experience of my professors. I hope to further explore the complicated way in which states, markets, and institutions play a role in sustainable development. I am also taking French, as I hope to become fluent and be able to communicate with communities in need and aid in grassroots development initiatives. By the time of my graduation, I hope to have the necessary knowledge to be an effective Crisis, Stabilization, and Governance Officer for USAID.

What were you doing before attending the school? 
Last spring, I graduated from the University of Georgia with a BA in International Relations. Go Dawgs! The summer before coming to SAIS, I interned for the House Foreign Affairs Committee where I worked closely with staffers in the Africa and Western Hemisphere subcommittees to draft foreign policy initiatives. While pursuing my undergraduate degree, I coded human rights data for the Human Rights Measurement Initiative at the Center for the Study of Global Issues among other internship experiences. I've also spent time as a volunteer tutoring children in Kayamandi, South Africa when I studied abroad at Stellenbosch University as a Gilman Scholar.

What has been one of your favorite experiences or classes at the school so far? 
My favorite class at SAIS so far has been International and Comparative Political Economy of Developing Countries with Professor Francisco Gonzalez. Professor Gonzalez was extremely knowledgeable about economic development and the current state of developing nations. The topics we studied were relevant to today's society and included detailed analyses of the economy of developing nations. This class truly helped me to understand the nuances of development, politics, and economic growth outside of a Western perspective.

As a first year, what are some things you are looking forward to? 
I'm looking forward to tailoring my classes so that I can have a well-rounded course load that continues to challenge and intrigue me. I'm also looking forward to learning more from not only my professors, but also from my classmates and their varying experiences as well. Aside from academics, I'm excited to get more involved within the SAIS community, get to know my colleagues, and attend the multitude of student events.

How will your degree better prepare you for work at USAID?
My SAIS degree will give me the technical knowledge to serve as a Crisis, Stabilization, and Governance Officer. By taking classes that allow me to explore international economics, humanitarian aid and politics, development and more, SAIS is laying the foundation for me to be an effective and innovative Foreign Service Officer. Professional development courses give me further training and help to develop my professional skills so that I can become the confident and successful USAID officer I wish to become.

---
Enjoyed reading Cecilia's experience? Learn more about our Master of Arts in International Relations.

Back to Student Stories