From Nonprofit to Sustainability Consulting: How SAIS Equipped Me to Serve Communities with a Systemic Understanding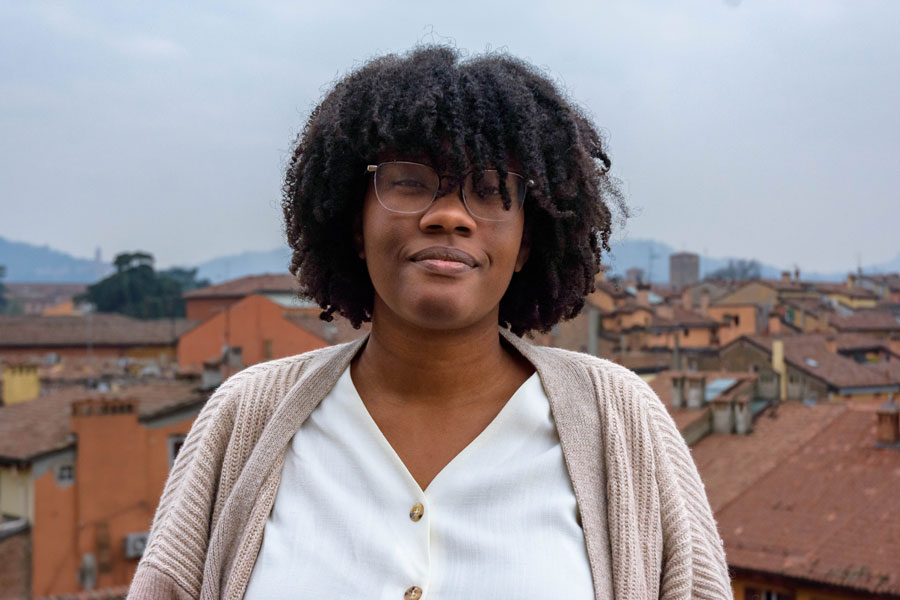 Rebecca Ash-Cervantes
Master of Arts in International Affairs
What encouraged you to apply to Johns Hopkins SAIS and what were you doing before you came here?
The one thing I regretted from my undergraduate studies was not taking more courses in international relations. During the pandemic I had lost my job and during that time of unemployment I needed a career change, and thought about that regret and made the decision to apply to SAIS. SAIS had stayed in my head because they did regular recruitment visits to the Chinese department at my alma mater, the University of Oklahoma, for the Hopkins-Nanjing Center. I never forgot it and the Chinese campus played a central role in my decision to apply.
Don't be afraid to pivot. If you don't like what you're doing, try something different until you figure out what works.
What program were you in and what do you hope to gain from it?
I am a MAIA+HNC student, which means that I spent my first year at the Chinese campus and my second year at SAIS Europe. I chose this combination because it 1) leveraged my Chinese language skills and increased my understanding of China, 2) allowing me to engage with general international relations and economics content, and 3) let me create my own degree plan since I only have to complete two mandatory courses and an extended research paper in order to graduate. With this flexibility I have been able to explore topics that I am interested in and built off of that interest each semester.
Tell us about one of your favorite experiences, classes, or memories at school.
My favorite memory is from my favorite class, International Political Economy (held in Mandarin). It was my first semester at SAIS and also my first semester taking any courses on international relations in Chinese or English. On the first day of class I told the professor this and he said, "Don't worry, we'll work on it." And we did. While he was fielding questions on the greater implications of political decisions with my classmates, he would turn to me with something similar, like, "What is hegemony?" and slowly asked me harder and more complex questions throughout the semester. Which was culminated in my 30-minute presentation + Q&A on US-China Maritime Relations and China's Maritime Silkroad, something I didn't foresee happening at any point of my degree, but is hands down my proudest moment.
Do you have an internship/job lined up for after SAIS/this summer?
This summer I'll be working as an intern with diiVe Consulting in their Consulting Mentor Program. Having the opportunity to work and learn in two countries, as well as learn about development, politics on local and international levels, and so on, will definitely contribute to my work on whatever project I am assigned this summer alongside the team I will be managing.
As a graduating student/second-year student what is some advice you'd give to future students?
Don't be afraid to pivot. If you don't like what you're doing, try something different until you figure out what works. This education should work for you in the end, yea?
What career pathways do you see for yourself following your studies at SAIS? How has your experience here changed you and your views for the future?
After my studies at SAIS, I hope to go into consulting, specifically sustainability consulting. Prior to my time at SAIS, I worked in the nonprofit sphere and sustainability consulting is kinda of an intersection between social-good and the private sector, which is still very important to me. Leaving SAIS, I have a clearer understanding of the systems by which the world works and understanding that alone will help me better serve communities in my work.
---
If you are looking to learn more about what it's like to be a current student at Johns Hopkins SAIS, we encourage you to schedule a virtual appointment with one of our Admissions Fellows.
Enjoyed reading Rebecca's experience? Learn more about our Master of Arts in International Affairs.

Back to Student Stories