Obiora Chinedu Okafor selected as Edward B. Burling Chair in International Law at Johns Hopkins SAIS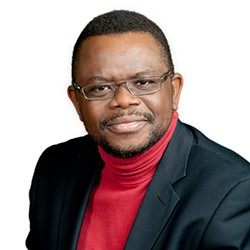 MEDIA ADVISORY
The Johns Hopkins University School of Advanced International Studies (SAIS) in Washington is pleased to announce that Obiora Chinedu Okafor has been appointed as the Edward B. Burling Chair in International Law, effective fall 2021. Okafor comes to SAIS from York University's Osgoode Hall Law School in Toronto where he has served as the inaugural York Research Chair in International and Transnational Legal Studies. Okafor is the first person of color to hold the Burling Chair, a role created for an international law scholar whose research relates to world politics or the global economy. The Chair is named in honor of Edward Burling, a colleague of SAIS founders Paul Nitze and Christian Herter.
 
"We are delighted to welcome Dr. Okafor to SAIS as the next Burling Chair." said Kent Calder, interim dean of Johns Hopkins SAIS. "His leadership and extensive research in international human rights and immigration law, as well as expertise in Third World Approaches to International Law (TWAIL) will greatly enhance our existing curriculum and allow our students to benefit from new dimensions of scholarship."
 
Okafor has published extensively in the fields of international human rights law and immigration/refugee law, as well as general international law. He is the author of a number of related publications including Refugee Law after 9/11: Sanctuary and Security in Canada and the United States; The African Human Rights System, Activist Forces, and International Institutions; and Legitimizing Human Rights NGOs: Lessons from Nigeria. Okafor was the founding general editor of Transnational Human Rights Review and currently serves as its co-editor-in-chief. He also sits on the editorial advisory boards of several scholarly periodicals.
 
Since August 2017, Okafor has served as an independent expert on human rights and international solidarity for the United Nations and is a former chairperson of the UN Human Rights Council's Advisory Committee. In these capacities, he has authored more than ten UN reports. He has also served as an expert panelist for the UN Security Council's Counter-Terrorism Committee and the UN Working Group on People of African Descent.
 
"Dr. Okafor is a noted scholar and practitioner of international law who will bring a new perspective to the classroom as a result of his professional experience," said Andrew Mertha, director of the SAIS China Global Research Center and member of the Burling Chair search committee. "His wealth of knowledge and broad view of the international legal field will be an asset to both our faculty and students."
 
Prior to joining Osgoode, Okafor held faculty positions at the University of Nigeria, Enugu Campus and at Carleton University in Ottawa, Canada. He also served as a Social Science Research Council-MacArthur Foundation Visiting Scholar at Harvard Law School's Human Rights Program; a Canada-U.S. Fulbright Scholar at Massachusetts Institute of Technology; Visiting Professor at the International Institute of Human Rights in Strasbourg, France; Visiting Professor at the St. Augustine International University in Kampala, Uganda; and as the Gani Fawehinmi Distinguished Chair of Human Rights Law at the Nigerian Institute of Advanced Legal Studies.
 
Okafor has received numerous honors throughout his career, including the Award of Excellence from the Canadian Association of Law Teachers in 2010, Gold Medal for Exceptional Research and Major Contributions to Jurisprudence of the Nigerian Institute of Advanced Legal Studies in 2013, and Osgoode's Teaching Excellence Award in 2002 and 2007. 
 
At SAIS, he will teach courses on Fundamentals of International Law and International Law and the Global South. 

Media Contact
Miji Bell, Senior Director of Marketing & Communications
Johns Hopkins SAIS
+1 (202) 587-3205
Miji.[email protected] 

Johns Hopkins SAIS
A division of Johns Hopkins University, the School of Advanced International Studies (SAIS) is a global institution that offers students an international perspective on today's critical issues. For more than 75 years, Johns Hopkins SAIS has produced great leaders, thinkers, and practitioners of international relations. Public leaders and private sector executives alike seek the counsel of its faculty, whose ideas and research inform and shape global policy. Johns Hopkins SAIS offers a presence across three campus locations: Bologna, Italy; Nanjing, China; and Washington, D.C. The school's interdisciplinary curriculum is strongly rooted in the study of international economics, international relations, and regional studies, preparing students to address multifaceted challenges in the world today.
 
For more information, visit sais.jhu.edu or on Twitter @SAISHopkins
 

###
Date:
Wednesday, August 4, 2021