From Planes to Pens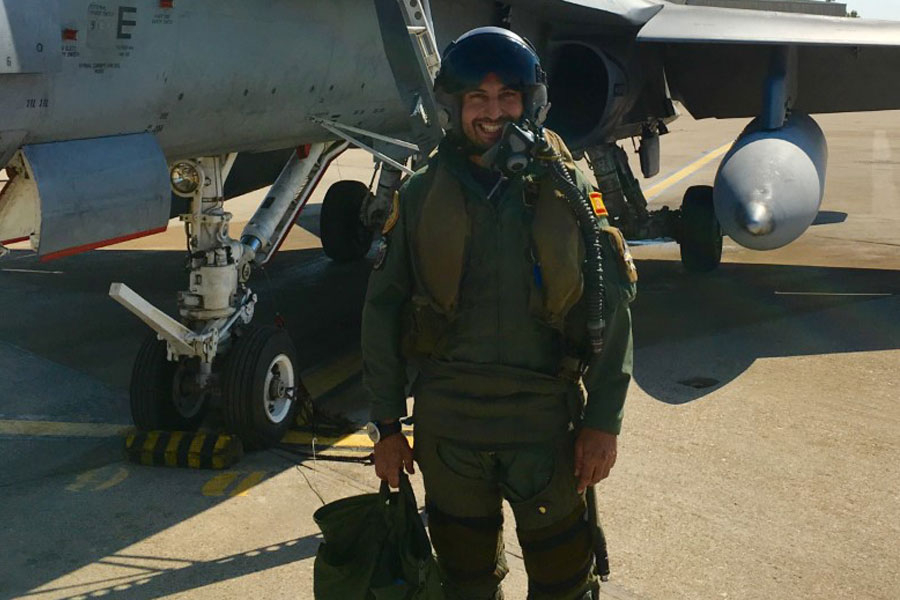 Juan José de Arriba Muñoz
Master of Arts in International Relations

What encouraged you to apply to Johns Hopkins SAIS?
After a handful of years flying the F-18 for the Spanish Air Force, I am in the middle of a career pivot, and I was looking for a reputable school with the right area of studies who was known for hosting experienced military personnel. It is the first time that an officer from Spain is studying in a two-year program abroad, and SAIS has an incredible reputation. The school was highly recommended by several of my foreign military colleagues, and the course offerings, the top-notch faculty, and its location in DC encouraged me to study at Johns Hopkins SAIS.

What program are you in and what do you hope to gain from it?
I chose to concentrate in Conflict Management. I hope to gain a better understanding of how foreign policy is designed, applied, and developed in different regions of the world. As it could be seen as an obvious combination with my previous experience, I hope to also gain a thorough understanding of how conflicts evolve and the range of policy challenges that could be applied. Additionally, I want to make it easier for the next generation of Spanish Officers who wish to attend undergraduate and graduate institutions abroad.

What were you doing before attending the school?
I have been in the Air Force since 2005. Prior to SAIS, I served in various stations for the Air Force with several deployments and missions abroad. In 2018, I was selected as an F-18 Instructor in the Operational Conversion Unit (OCU) of the Spanish Air Force. Just before joining SAIS, I was promoted to Major, the perfect time to face my two-year full-time program.

How has your military background contributed to your learning experiences? 
During my last assignment, I was deployed to the Baltics to enhance the Air Policing in the region with the F-18s. Having experienced the tactical part, now SAIS has enhanced my learning and now I am able to see the geopolitical arena from a wider lens. From my military background, I also learned about self-reliance and how to find ways to adapt and overcome obstacles in my academic career. My previous experiences have really helped me get through these non-standard semesters in which we deal with the pandemic, hybrid teaching, and strange times.

Tell us about one of your favorite memories, classes, or experiences, at SAIS.
This is an easy question: the people. There are so many brilliant and dedicated people here teaching and studying, sharing their experiences across a wide variety of critical areas. Across conversations with the student body, I was able to develop knowledge from so many different areas like the Federal Institutions, Environmental Issues, and even Chinese Leadership. Like in the military, everyone here is dedicated to something bigger than themselves. Due to the COVID-19 Pandemic, I feel that I missed some of the in-person experiences that SAIS offers, but I will remember classes like "Adaptation Under Fire" with Lieutenant General (Ret.) David W. Barno and Dr. Nora Bensahel.

What do you hope to do with your degree after you graduate? 
I will go into active duty in the Air Force again, but I am open to transitioning to civilian life. I have a profound sense of gratitude for the opportunities I have received from the Air Force, but I am ready to return to the International Institutions/DoD-related industries to apply what I have learned from SAIS. In the upcoming years, I hope to serve as a Public Policy Specialist in a period of 3 to 5 years.

---
Enjoyed reading Juan's experience? Learn more about our Master of Arts in International Relations.

Back to Student Stories