Professor John McLaughlin receives William Oliver Baker Award for service in security and intelligence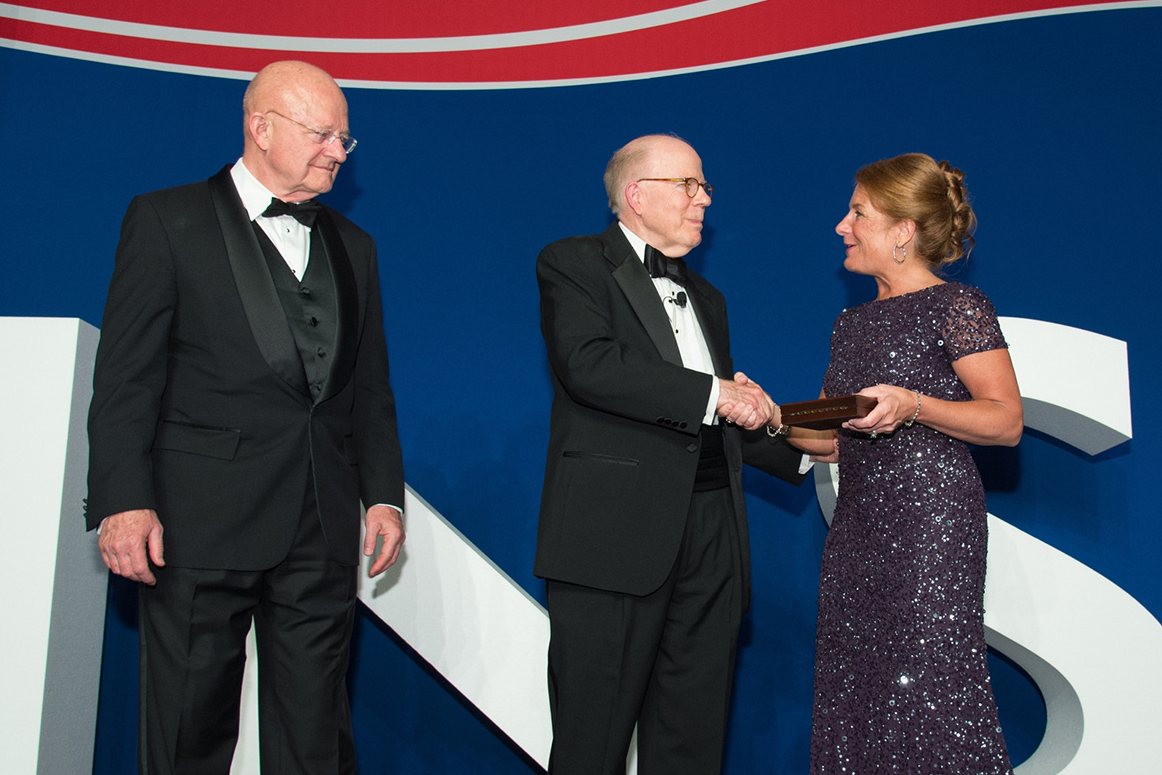 John McLaughlin, Distinguished Practitioner-in-Residence at the Philip Merrill Center for Strategic Studies at the Johns Hopkins University School of Advanced International Studies, was presented the 32nd William Oliver Baker Award on June 10, 2016 in Washington, D.C.
The award, one of the most highly regarded honors given outside of government, recognizes sustained contributions and exemplary service to intelligence and national security affairs.
McLaughlin said he was humbled to join what he considers the "Intelligence Hall of Fame" that has previously honored Director of National Intelligence James Clapper, former Secretaries of Defense Robert Gates and Leon Panetta, former CIA Director Richard Helms, and former Director of the National Security Agency Mike McConnell. "It is an honor to be included among these past winners because they've all made extraordinary contributions to public service," he said. "I am honored to be chosen, but I must tell you, I am more accustomed to giving awards than receiving them."
McLaughlin worked for more than three decades at the Central Intelligence Agency (CIA), including posts as Deputy Director and Acting Director before his retirement from government in 2005. During his time as deputy director, McLaughlin helped guide the CIA through a tumultuous period that included the September 11 terrorist attacks, the CIA's participation in Iraq, and the preliminary stages of the Intelligence Community's reorganization under the Intelligence Reform and Terrorism Prevention Act.
McLaughlin founded the Sherman Kent School for Intelligence Analysis, an institution dedicated to teaching the history, mission and essential skills of the analytic profession to incoming CIA employees. He is also credited for developing the Senior Analyst Service, a career track for CIA analysts to rise to senior rank, without branching into management.
He said retiring intelligence professionals often take other paths after public service, but he wanted to be in touch with the younger generation. McLaughlin said he has discovered the "fountain of youth" at Johns Hopkins SAIS. "That's what you're drinking from when you are teaching brilliant, dedicated, young people," he said. McLaughlin takes pride in seeing his former students — many whom attended the award presentation — put their graduate studies to work through significant roles in government and the private sector.
McLaughlin said Johns Hopkins SAIS is one of the most unique schools in the world because it offers a learning environment in three strategic locations around the world. He said the Washington, D.C. campus, which is surrounded by preeminent think tanks and embassies, is in the "epicenter of public policymaking in the United States."
"The student body is so diverse in nationality, ethnicity, language, and work experience, that every year, I learn as much from the students as I impart to them," he said.
McLaughlin said he has an emotional attachment to Johns Hopkins SAIS, where he earned his master's degree in 1966. This past April, he celebrated his 50th class year reunion at the school's campus in Bologna, Italy where he started his graduate studies. "There's a circle of life aspect to teaching at the very place where I walked in all those years ago in awe of the school — and now it's a privilege," he said. "It is refreshing to encounter students who are in so many ways exactly as you were when you were young. While they have technology that we could never imagine, they are asking the very same questions of values, integrity, and purpose, we pondered 50 years ago."
McLaughlin, who served with the U.S. Army in Vietnam, is chairman of the CIA Officers Memorial Foundation, which raises funds for the education of children and families who lose a parent in CIA service. He has also been honored with the Distinguished Intelligence Community Service Award, the National Security Medal, and was inducted into the Officer Candidate School Hall of Fame at Fort Benning in Georgia. He teaches a course on American intelligence, which draws in issues of defense policy, counterterrorism, irregular warfare, and U.S. homeland security.