Professor Mark White Awarded 2016 Max M. Fisher Prize for Excellence in Teaching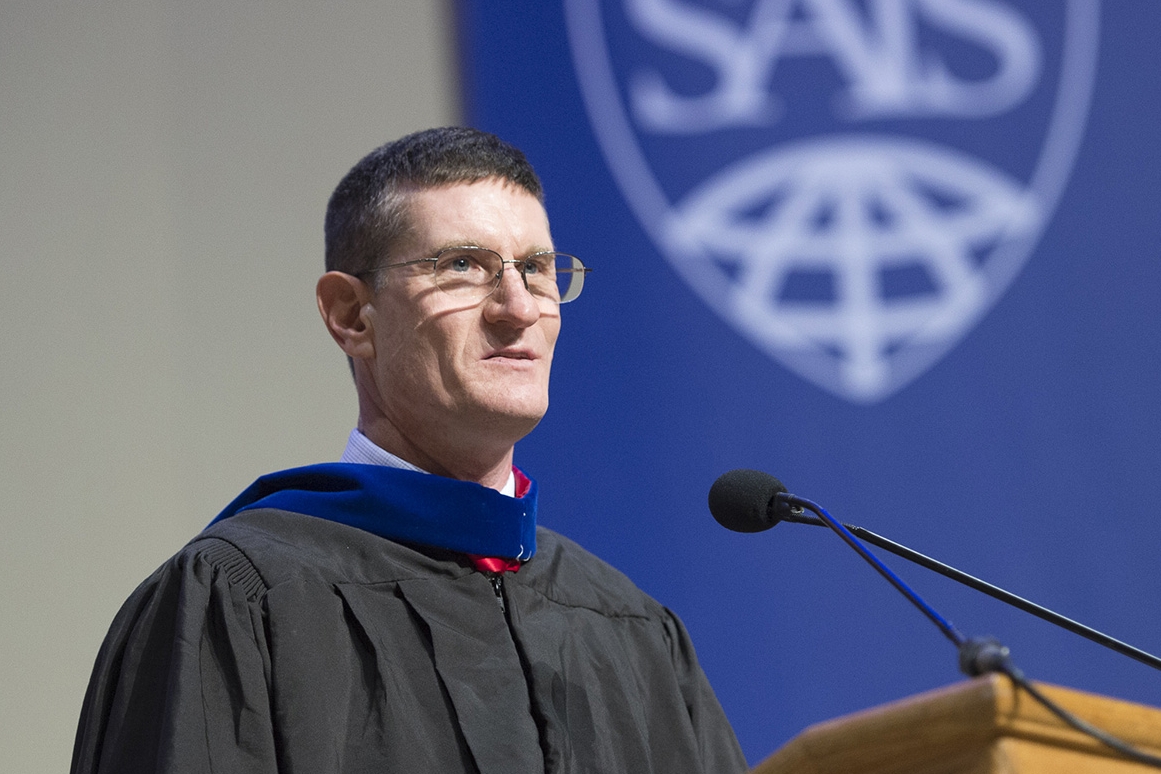 Mark White, associate practitioner-in-residence in the International Economics Program at the Johns Hopkins University School of Advanced International Studies (SAIS), is the recipient of the 2016 Max M. Fisher Prize for Excellence in Teaching. White received the recognition at the school's commencement ceremony on May 19, 2016 in Washington, D.C. The student-nominated award is presented each year to an outstanding professor who embodies teaching excellence.
White, who was previously awarded the distinguished prize in 2013, teaches courses in Statistical Methods for Business and Economics and Risk Analysis and Modeling and is known among students and faculty alike for his dedication in the classroom. Students describe him as patient, kind, and humble, with "mastery" for his expertise.
"Mark White embodies the very best of excellence in teaching at Johns Hopkins SAIS through sharing practical, real-life experiences and skills that prepare our students for career success," Dean Vali Nasr said. "And his commitment to his students extends beyond the classroom as evidenced by his contribution to student fellowships. We are pleased to recognize his impact and congratulate him on this achievement."
"Given that I teach what many might consider an uninteresting subject, or at least a very technical subject, I'm a little surprised to receive this prize," White said. "I think it says a lot about our students: that they're not afraid of difficult topics and that they want to learn."
White thanked the student body for the prize and said he is encouraged by the vote of confidence. "It reinforces the commitment that I put into teaching," he said.
He also had advice for the Class of 2016 as they pursue their next steps. "I hope you never stop learning. There will always be challenges and new things to master throughout your career," he said. "Apply the same energy and effort you have demonstrated during your time at Johns Hopkins SAIS." White added, "In general, it's not how talented you are, but how perseverant and determined you are and that will enable you to accomplish great things in life."
While his students took great lessons from the classroom, White said he has gained something from them as well. "I get so much enjoyment from my students. I really appreciate having the opportunity to teach," he said.
Prior to joining the school in 2009, White had a 30-year career as an actuary working on employee benefits and insurance, including 23 years with the global firm Watson Wyatt Worldwide (now Willis Towers Watson). He served as a Fellow of the Society of Actuaries and Member of the American Academy of Actuaries.
A native of Lamoni, Iowa, White earned his MA and BA degrees in mathematics from Boston University.
The Max M. Fisher Prize for Excellence in Teaching was established in 2007 by the family of Max Fisher as a tribute to his life and abiding interest in international affairs. Former chairman of Aurora Gasoline, Fisher was a dedicated advocate for the Jewish community and his hometown of Detroit. He served as an advisor to Republican presidents from Dwight Eisenhower to George H.W. Bush, and as an unofficial ambassador between the United States and Israel. His daughter, Marjorie Fisher, is a trustee of The Johns Hopkins University.