Reorienting Back to International Policy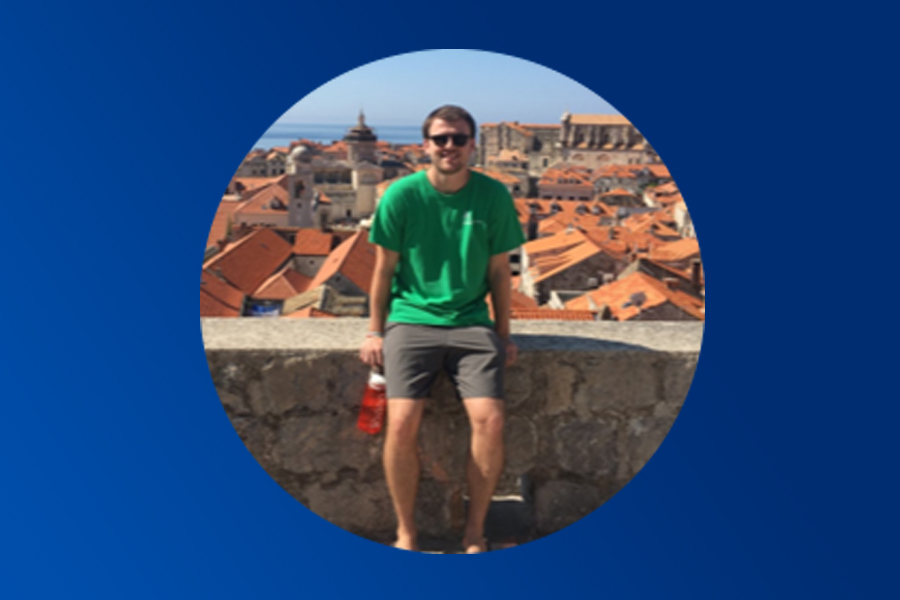 Jack Cox
Master of Arts in International Relations

What encouraged you to apply to Johns Hopkins SAIS? 
An IR major in undergrad, I have always been fascinated with the dynamic at play between the nations of the world and the ever-changing environment in which they strive to orient themselves. At once, a nation must hold all of the weight of its past and the issues currently at hand to progress into a desired future, making the study of IR a complicated but highly compelling story of diverging and converging interests. To me, making sense of it all demands a diverse and rigorous setting for study, and when I wanted to bring my career back towards this area of thought, I couldn't come up with a better fit than Johns Hopkins. Situated perfectly in Washington D.C. and boasting a number of distinguished faculty members – it just ticked all the boxes.

What were you doing before attending the school? 
Before school I had worked in the education field, a post-collegiate stint that consistently challenged me and provoked me to think more deeply about the public institutions in this country and the crucial services they provide. Out of college I was hoping to take on real responsibilities and strive towards real results, so I joined the Teach for America program in Eastern North Carolina. This journey taught me more about collective endeavors and problem-solving than I could've ever imagined, and I am deeply grateful for it. Following the classroom, I moved to Washington to try my hand at education policy at the U.S. Department of Education. There I managed programs tasked with accounting for funds disbursed to Institutions of Higher Education (IHEs), from local barber colleges to the nation's premier universities, and funds spent during the COVID-19 pandemic.

What program are you in and what do you hope to gain from it?
I am in the MAIR program, thoroughly enjoying my classes and exposure to the interchange between the public and private sectors on the world stage. On the one hand, there is a knowledge base I have hoped to develop from day one, from the deeply nuanced layout of international business and development the practitioner-professor faculty demystify for students like myself, to the "hard" skills any young professional should develop in their careers in a world augmented towards data analytics and technology. On the other hand, there's just so much to gain through osmosis and proximity to pervasive, intelligent discussions of today's hot topics, as I've really come to find with the crisis in Ukraine as it has unfolded this semester. I see my professors writing and speaking on the subject wherever I look, and I see peers engaging with them and each other to further understand and contribute to 21st century international affairs. All of these experiences combine for something truly special I hope to utilize for my own development as well.

What has been one of your favorite experiences or classes at the school so far? 
It's really hard to single out experiences individually, as the aggregation of the work you do during a semester can feel of a piece when looking back. For instance, only at SAIS could I push myself to develop my understanding of Corporate Finance, Economics/Econometrics, the histories of culture and conflict in regions around the world, and what "Leadership" means to successful organizations, while brushing up on my conversational Spanish. I am simultaneously improving myself in so many different but beneficial areas that at the end of the first semester I had felt accomplished, and a little out of breath! Combine this academic experience with the community-building "off-time" activities like competing on a SAIS soccer team or meeting up with friends for a beverage after class, it really all comes together to provide one larger, enriching experience.
 
As a first year, what are some things you are looking forward to?
In a perfect world, the pandemic will recede for good, and things will continue to open up and opportunities for in person activities will function uninhibited. As it seems, this all may be possible in the coming months, and I greatly look forward to all of the in-person events SAIS will be putting on. The in-person treks and industry days will provide a great compliment to those hosted online at the moment and showcase awesome opportunities to gain insight into the initiatives, institutions, and firms from the talented professionals and alumni working there. Apart from these events I'm really looking forward to the classes second-year students normally take, having endeavored to knock out many of the core courses in my first year. It'll be great to put these foundational courses to work when it comes to making an impact inside and outside the classroom.

What do you hope to do with your degree after you graduate?
I hope to spend time crafting my expertise in the private sector, particularly in the financing of investment projects overseas. Utilizing the toolkit, I've already developed as a public-school teacher and public servant in government and adding to it through my coursework, I see the opportunity to tap into an extensive SAIS network spanning the globe and brainstorming with our wonderful career services team as a great privilege, so I intend to use it to the fullest. I've demonstrated in my career so far that I am unafraid to dive headfirst into new challenges, so for now, all I can really say is that I am excited for whatever comes next.

---
Enjoyed reading Jack's experience? Learn more about our Master of Arts in International Relations.

Back to Student Stories