Researching Gender Roles in Ethiopia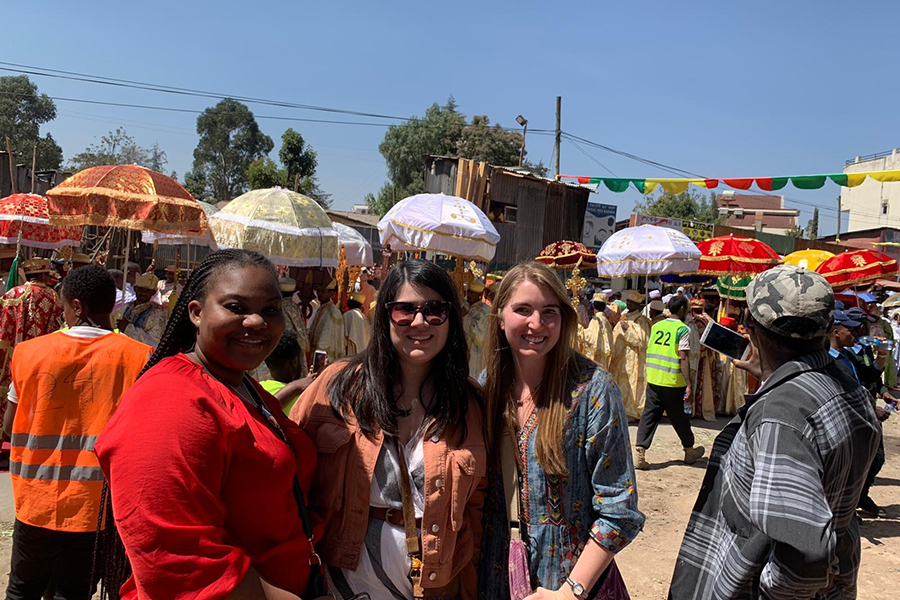 The land of origins, the land of coffee, the land of independence from colonialization, of women warriors; Ethiopia has been called many things. For Samantha Camilletti, Zarina Bentum, Mabel Alamu, and Stephanie Arzate of the SAIS Women Lead practicum team who explored the country to conduct field research over winter break. Ethiopia was a fascinating place.
 
Ethiopia is a relatively new democracy with a deep history of authoritarianism, violent political repression, and patrimonialism. Recently, however, there has been a new opening in civic space and decades of repression against nongovernmental organizations have been overturned by the new law.
 
The practicum team sought to understand how women are operating in civil society efforts and to map the boundaries that still exist. The team found a mixture of cultural, socioeconomic, political, and personal factors. For example, one of the most surprising findings was regarding language. Like many other languages in the world, Ethiopian languages are gendered. Responses from interviews revealed how the use of gendered language in society and the media is used to perpetuate traditional gender roles.
 
In response to 'How would you define a good Ethiopian citizen?', a majority of respondents described a good Ethiopian citizen using the pronoun 'he' or 'him.' Additionally, all information about politics or governance is presented with masculine pronouns and language and this is ingrained legally. This lack of neutrality of language can have an exclusionary effect on women. There is also a complex overlay of gender norms that continue to permeate throughout society, from influencing average levels of education to how much influence families, children, and husbands have over a women's choice to engage civically. Overall, the practicum team reported on transitions within Ethiopia and highlighted the challenges that women face, especially in regard to accessing––perhaps for the first time––participatory politics.