SAIS: An Extraordinary Experience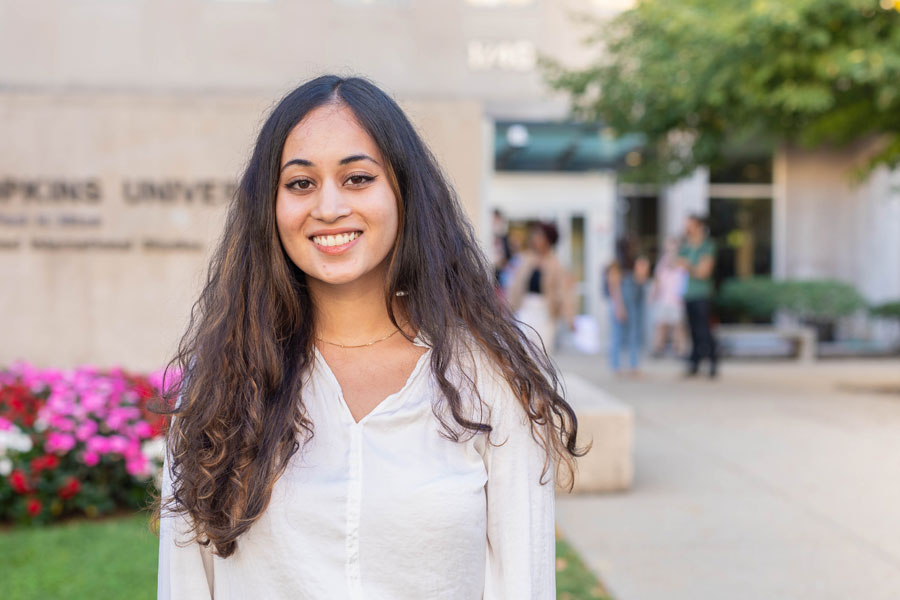 Tanvi Gupta
Master of Arts in International Relations
Before joining the Johns Hopkins School of Advanced International Studies (SAIS), what were you doing?
Before joining SAIS, I completed my bachelor's degree in political science and sociology at Ashoka University in India. It was there that I took an international relations class and quickly realized that this was the field I was most passionate about.
During an internship at the Haryana Institute of Public Policy and Indian Council for Research on International Economic Relations, I worked on projects addressing marginalized groups' needs — from government welfare to the political economy of the G20. I realized that complex problems often require complex solutions, and that I'd want to pursue graduate school in order to create the best possible solutions for those in need.
It hit me in that class — SAIS is such an extraordinarily diverse school, with so many valuable perspectives to learn from.
What led you to Johns Hopkins SAIS?
I knew from my undergraduate studies that I wanted to learn more about climate, conflict, women's issues, and the ways they are all tied together and shaped by the larger international system.
In my last year at Ashoka University, the head of the international relations department, Professor Srinath Raghavan, encouraged me to apply to SAIS. The more I learned about it, the more I knew it would be the perfect fit. SAIS offered the incredibly unique opportunity to study a range of topics — in two different continents! The rest is history.
What was one of the things you learned during your time at SAIS that transformed your perspective or way of thinking?
In my first semester, I had a class on democracy and its challenges. Coming from India, the world's largest democracy, I had a different perspective from the rest of my class. Through spirited debates, I learned so much about the recent democratic crisis in the U.S. and shared my knowledge on the challenges in India. It hit me in that class — SAIS is such an extraordinarily diverse school, with so many valuable perspectives to learn from.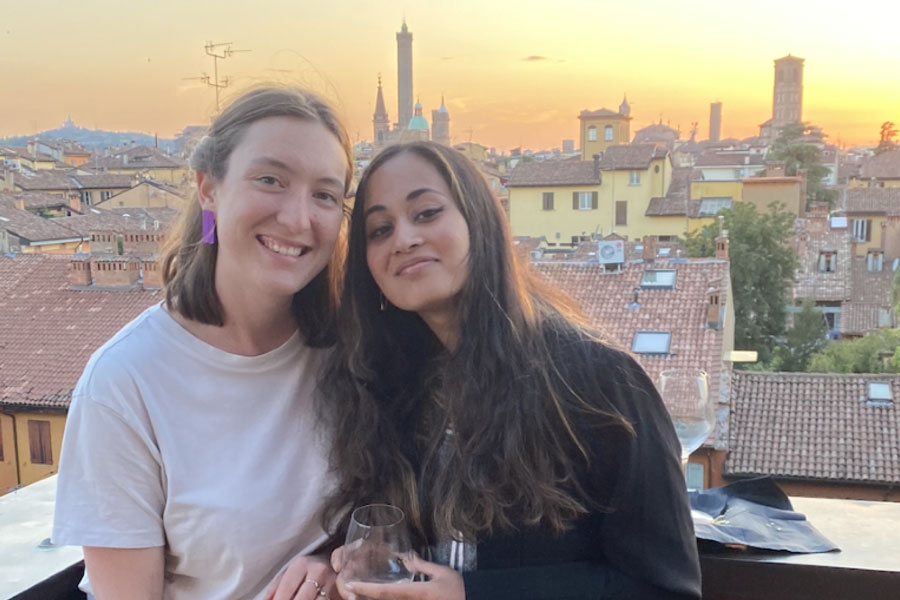 What has been your favorite experience at SAIS and why?
Living in Bologna, Italy for a year was an incredible experience. I also loved the Crisis Simulation capstone course. I am extremely interested in conflict and, because of this course, I've been able to engage in the material so much more since my last internship. Learning through a simulation-oriented class is really effective. I was able to grasp real-world dynamics and appreciate the complexity of every conflict now.
What do you plan on pursuing after graduation?
I'd love to work in policy or advocacy, particularly in an institution that deals with conflict and its impact on the environment and population. Long term, I'd like to be in a multilateral institution, positively affecting the lives of those often overlooked and in underreported areas, such as the global South.
What is your favorite SAIS tradition?
Aperitivo nights at Giulio's, the café at SAIS Europe! They were a perfect way to unwind after a busy week. The music, wine, and company of my peers and professors made for some unforgettable conversations. I truly got to know my cohort at those events, and the pizza afterwards was a bonus!
Whose support has made your journey at SAIS possible and why?
I could not be at SAIS without the unwavering support and love of my parents and grandparents. I am also so grateful to the friends I made at SAIS Europe, who became my family and stood by me through challenging times. I'm also very thankful for my professors, who have offered immense guidance and kindness!
---
If you are looking to learn more about what it's like to be a current student at Johns Hopkins SAIS, we encourage you to schedule a virtual appointment with one of our Admissions Fellows.
Enjoyed reading Tanvi 's experience? Learn more about our Master of Arts in International Relations.

Back to Student Stories