SAIS Gives Students Unparalleled Access to Global Network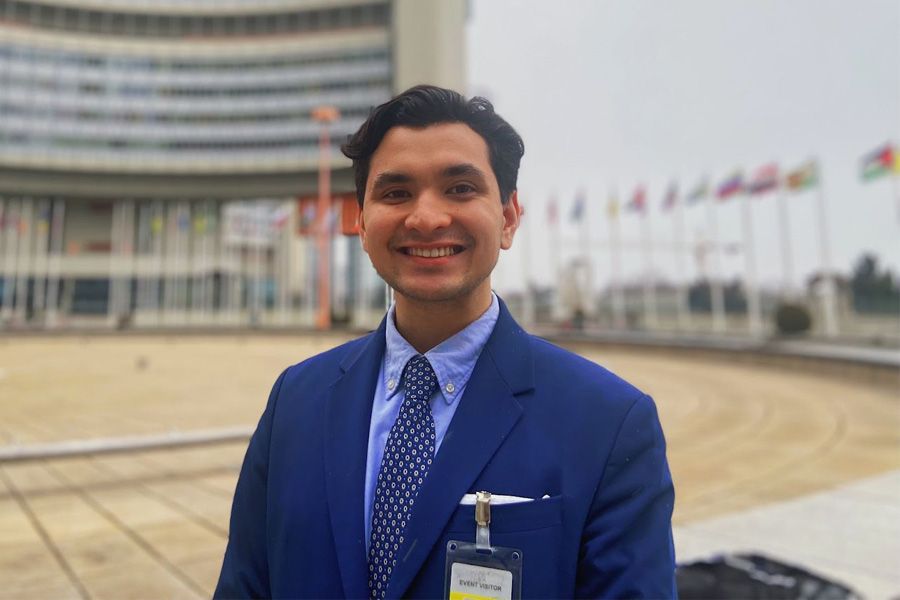 Michael K. Portillo
Master of Arts in International Relations
SAIS Europe
Before joining the Johns Hopkins School of Advanced International Studies (SAIS), what were you doing?
Prior to SAIS, I was an undergraduate student at Virginia Commonwealth University studying economics and statistics. There, I was a research assistant on papers covering financial regulation and economic inequality. During the summers of my junior and senior years, I interned at the U.S. Department of State in the economic sections of the Office of Chinese Affairs and Embassy Berlin.
SAIS' career treks … give students unparalleled access to professional networks across the U.S., Europe, and beyond.
What led you to SAIS?
I was drawn to Johns Hopkins SAIS due to its impressive post-graduation outcomes and multiple campuses. As an international relations student, I'm able to study at SAIS' campuses in Washington D.C. and Bologna, Italy with students from around the world. This has given me a unique perspective on the topics I am studying as I'm immersed in the history and culture from both sides of the Atlantic.
SAIS' career treks were also a big draw. They give students unparalleled access to professional networks across the U.S., Europe, and beyond — in government, energy, multinational institutions, consulting, and finance.
What has been your favorite experience at SAIS?
I loved Thanksgiving at SAIS Europe! It was great to see students from different cultures enjoying their first American Thanksgiving. Everybody brought dishes from their own cultures. Something was really special about a Thanksgiving meal with turkey, mac and cheese, Chinese dumplings, Jamaican jerk chicken, Latin American empanadas, and French wine!
What do you plan on pursuing after graduation?
After graduation, I will be joining the U.S. Foreign Service as an Economic Officer as part of the Thomas R. Pickering Fellowship.
Whose support has made your journey at SAIS possible?
The support of my parents, girlfriend, and roommates has made attending SAIS possible. Beginning graduate school and moving overseas are two major life changes. When those close to you back home and at school have your back, it makes it possible to do anything.
---
If you are looking to learn more about what it's like to be a current student at Johns Hopkins SAIS, we encourage you to schedule a virtual appointment with one of our Admissions Fellows.
Enjoyed reading Michael's experience? Learn more about our Master of Arts in International Relations.

Back to Student Stories