SAIS: A Global Reputation of Excellence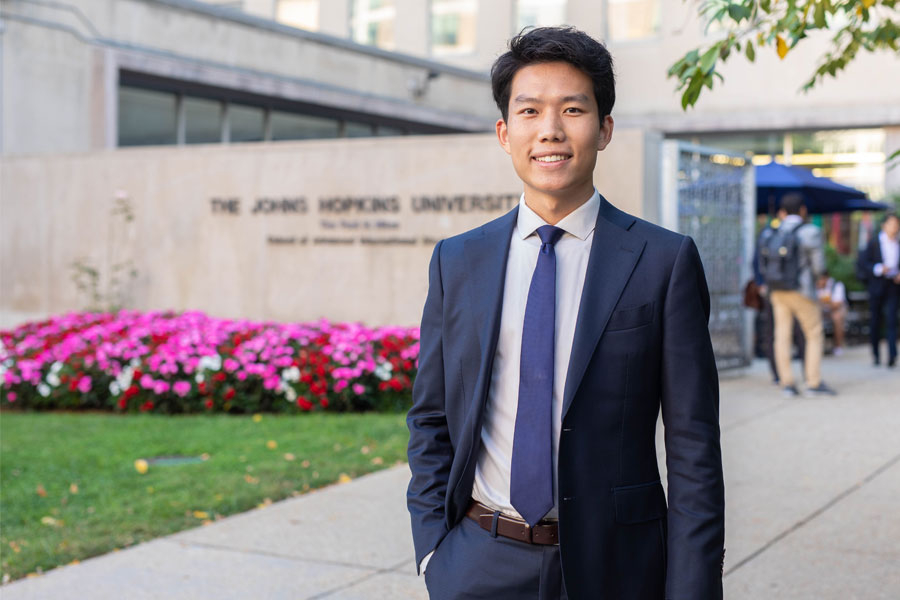 Jenson Zhencong Hu
Degree
:
Master of Arts in International Relations
Before joining the Johns Hopkins School of Advanced International Studies (SAIS), what were you doing?
While earning my bachelor's degree from the University of California, Los Angeles, I researched for the university's think tank and wrote columns for a student-led political journal. After a class on ethnic conflicts and identity politics in the former Soviet Union, I became very interested in the region. I learned Russian and worked in Kharkiv, Ukraine for a summer as part of the U.N.'s program to support and promote sustainable development.
Our proximity to the world's leaders, embassies, and renowned think tanks is an inspiring reminder of the importance of our studies.
What led you to Johns Hopkins SAIS?
SAIS has always been my top choice. SAIS' global prestige and location in the heart of Washington D.C. is unbeatable. Our proximity to the world's leaders, embassies, and renowned think tanks is an inspiring reminder of the importance of our studies.
I could see how unique the community at SAIS was, which extended far beyond the classroom. SAIS alumni are deeply engaged and committed to supporting the community of current students and recent graduates.
What has been your favorite experience at SAIS?
Following Russia's invasion of Ukraine, I worked with a group of amazing colleagues to produce a mini documentary series on Russia's war in Ukraine. We conducted extensive archival research, interviews, and attended anti-war rallies for the series. Embarking on this docu-series has been an incredibly rewarding experience, made possible by the education and resources available to me at SAIS.
What do you plan on pursuing after graduation?
I would like to pursue a career in political risk analysis and consulting, fully utilizing my geopolitical knowledge in China and Eurasia and my language skills in Chinese, English, and Russian to help people navigate the changing geopolitical landscape.
What is one piece of advice you would give to students in the process of choosing graduate schools?
Take advantage of SAIS' robust alumni community and network with as many new people as possible!
What was one of the things you learned during your time at SAIS that transformed your perspective?
Professor Patrick Pexton's class, Media and International Affairs, is an excellent combination of the main concepts and approaches about the media system and foreign policy. Through weekly guest speaker series featuring notable journalists from a variety of media outlets, I was able to deepen my understanding of journalism ethics and the role journalism plays in nation branding and empowering civil society.
---
If you are looking to learn more about what it's like to be a current student at Johns Hopkins SAIS, we encourage you to schedule a virtual appointment with one of our Admissions Fellows.
Enjoyed reading Jenson's experience? Learn more about our Master of Arts in International Relations.

Back to Student Stories