Strengthening My Expertise in the Politics of Eurasia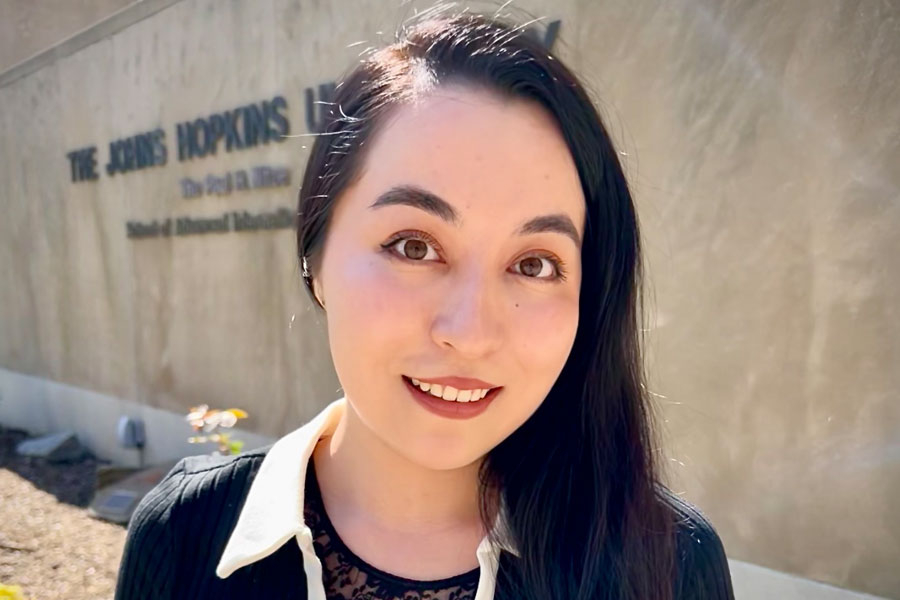 Ainur Temirbolat
Master of Arts in International Relations

What encouraged you to apply to Johns Hopkins SAIS?
After completing my undergraduate degree majoring in Political Science and International Relations, I had decided to continue my education and apply for a master's degree. Besides the fact that SAIS is a highly ranked international affairs school in the country, the diversity of the SAIS community, the opportunities to meet with exceptional politicians and ambassadors, and the wider possibilities for networking motivated me to join the school.

What program are you in and what do you hope to gain from it?
I am a second-year MAIR student focusing on States, Markets, and Institutions in Europe and Eurasia. I hope to strengthen my expertise in the politics of Eurasia and contribute to the literature on relatively unrepresented regions like Central Asia.

What were you doing before attending the school?
I came to SAIS after obtaining my bachelor's degree from Nazarbayev University in Kazakhstan. The high-skilled professors from the US, Canada, and other countries provided a solid theoretical basis for my future studies in the area of international relations. In addition, I was highly involved in student organizations, and volunteering activities and participated in the international summer and winter schools. I also gained some work experience as a Teaching Assistant and a consultant at the Office of the Registrar during my studies.

Tell us about one of your favorite experiences, classes, or memories at the school.
It was definitely meeting new people from different backgrounds and having frequent social events with my friends. Regarding the academic experience, one of my favorite courses that I have enjoyed so far is the Politics of Protest in Europe and Eurasia taught by Lisel Hintz. The course has captured a wide range of literature on both regions including my home country. I also liked the inclusion of media and other non-academic sources and the discussion of topics of my personal interest like women's movements and human rights.

Tell us about your work with the SAIS Global Women in Leadership. What would you like to see the school do to further empower women?
Joining the SAIS Global Women in Leadership has also been one of the wonderful things for several reasons such as making friends, being a part of a like-minded community, and gaining more confidence in my aspirations related to women's rights. Currently, I am the President of SAIS Global Women in Leadership and one of the things that we are working on is to expand on the variety of courses offered by including gender-related courses. I also believe that the inclusion of academic literature by female scholars into the course reading lists would also capture different views and transform the current institutional situation by contributing to female visibility. Obtaining support from the school on these student initiatives would be the first step in empowering women. We also organize events on women's issues and work on a monthly newsletter. I think that the diversity of students in the leadership team in terms of age, nationality, and race makes this student organization more unique by engaging different views, expertise, and personal experiences.

What do you hope to do with your degree after you graduate?
After graduating from SAIS, I hope to utilize all the skills and knowledge that I have gained to empower women in developing regions like Central Asia. I would like to be involved in policy-making processes to expand educational opportunities for women, support them in their career pathways and contribute to the integration of a women's rights framework into the family, social, economic, and political institutions to guarantee the protection of those rights. I believe that education is the key to development and the basis for building an open-minded society, opening the door for women's aspirations and embracing flexibility in a variety of roles that women would like to perform.

---
Enjoyed reading Ainur's experience? Learn more about our Master of Arts in International Relations.

Back to Student Stories