After Military Service, Poised to Tackle New Challenges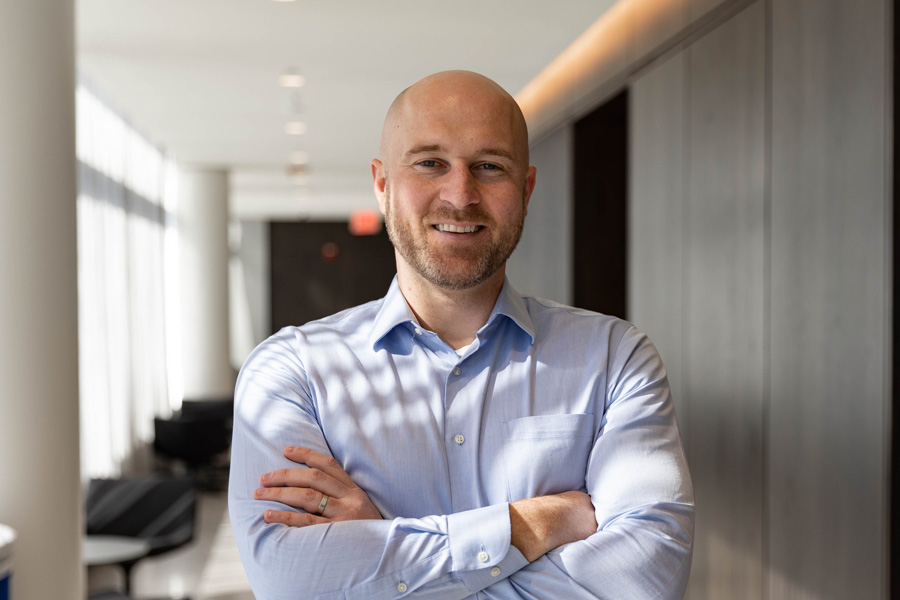 Full Name: Daniel White
Home Country: United States
Degree Program: Master of International Public Policy

Before joining the Johns Hopkins School of Advanced International Studies (SAIS), what were you doing?
Before coming to SAIS, I spent the past five years working as a senior management analyst at the Denver Police Department. It was an eventful time to be in that job. Among the normal challenges associated with public safety, we responded to the COVID-19 pandemic, incidents of violent extremism, rising crime, the fentanyl crisis, and an overall crisis of public confidence in law enforcement. Our small team of policy planners took a lead role in crafting responses to these challenges and developed some of the most significant changes to policing and local government seen in the city and state in decades. The experience provided me with an intimate appreciation of the challenges of democratic governance, which I believe has prepared me to be a better observer of foreign politics and a better analyst of the effects of policy.

Where did you grow up and what drew you to a career in the U.S. military?
I grew up in Northern New Jersey. I was a freshman in high school on 9/11. I remember after the attacks that morning seeing many of my friends and classmates waiting outside our school principals office, breaking down and waiting to hear from family members who commuted into New York City everyday to work at the World Trade Center. I can't honestly say that the 9/11 attacks are what drove me to serve, but they hit at an important time of my life and shaped my thinking about the world. Seeing war suddenly descend on people I knew shook my sense that the time of peace I was growing up in was the normal state of human affairs and could be expected to continue indefinitely on inertia alone. I think the impulse to join the military that followed when I came of age was the result of heritage. I didn't grow up around any bases and didn't have any connection to anyone who was actually on active duty, but I did grow up around family members who had served and in some cases sacrificed very dearly during the Second World War. I admired their sense of duty and their example of quiet patriotism. I had a sense that the Global War on Terrorism was my generation's call to service and I felt moved to follow the example of my elder family members and do my part as a soldier.

Why did you pick the service branch you joined and how long did you serve?
I joined the Army in 2006 and served for nine years. I don't have any good explanation as to why the army and not someone else, other than that it just seemed like the right place for me to be. My first four years were served as an enlisted infantryman in the Army National Guard while I finished my undergraduate degree. After graduating in 2010, I was commissioned as a field artillery officer in the Regular Army. I spent the next five years after that on active duty stationed at Joint Base Lewis-McChord with a deployment to Afghanistan.

How has your time in the military helped you with personal and/or professional growth?
The Army isn't for everyone, but it was for me, and I feel that I got significantly more from my service than I could have ever put in. It helped me learn important life lessons in how to handle difficult problems under difficult circumstances while remaining optimistic. It gave me the opportunity to know, become friends with and learn from wonderful and admirable people. In all I left the Army tougher, more public spirited, more intellectually curious and armed with a certainty I could handle anything that life throws my way.

But that is only part of the story. Those elements of self-oriented growth have come tempered with a permanent sense of humility and gratitude. Getting blown up in Afghanistan helped put my life in perspective. I was lucky enough to walk away from my baptism of fire, but I know others no less deserving of life than me come out a lot less fortunate in their brushes with death. The ways in which I have wrestled with this experience defies easy explanation but I think it has helped me grow into a better and more grounded person. I think it has helped me to live each day with greater urgency, to have greater empathy, to never lose my sense of humor and to do a little bit each day to make the world a little less tragic for others.

What led you to Johns Hopkins SAIS?
I enjoyed working in local government after I left the army, but I really came to miss working on issues of national security. After the U.S. withdrawal from Afghanistan and the Russian full scale invasion of Ukraine I found it really difficult to concentrate on my job or much else. I felt a burning desire to return to the calling that drew me to the military to begin with, the fight to defend the U.S., our allies, and our way of life.

Coming to SAIS has been an important part of my career transition. I ultimately decided to come to SAIS because I intend to play an active role in shaping the future responses to the many challenges America faces and want to be educated by the men and women currently shaping American foreign policy.

What has been your favorite experience at SAIS and why?
I love all my classes and professors, but I owe special gratitude to Professor Matt Boyse. Professor Boyse has really gone out of his way to get to know me and the other students in his Contemporary Germany class, to learn about our career goals, and to try to include us in events related to Germany and Central Europe that may help us in pursuit of those goals.

What do you plan on pursuing after graduation?
I just became a father this month, so family is the first thing that comes to mind when I consider any question about where I see myself in the future. Ten years from now, no matter where I am, I want to be a person who makes my wife and daughter proud. If I can do that I will consider myself a success regardless of what my future business card or paycheck says.

That said, I am aiming to work at a think tank and conduct research dedicated to transatlantic relations and security and democratization in Eastern Europe. I hope to have a few publications on these subjects completed within the next 10 years.

What is one piece of advice you would give to students in the process of choosing graduate schools?
My advice is to treat grad school as a genuine investment in the intellectual development you need to succeed in your professional life and not just as a pathway to earning a credential you can put on your resume. Pick a program that has a curriculum and professors that will challenge you and your assumptions about your career field and the world in general. A grad school of this kind is an opportunity to get the high level intellectual exercise that prepares you with a strong foundation for the rest of your life. It is an especially important foundation to have in a world that is increasingly complex and full of bad information.

---
If you are looking to learn more about what it's like to be a current student at Johns Hopkins SAIS, we encourage you to schedule a virtual appointment with one of our Admissions Fellows.
Enjoyed reading Daniel's experience? Learn more about our Master of International Public Policy.

Back to Student Stories